Recipe and video by: Shadi HasanzadeNemati "Unicorns in the Kitchen" on Instagram
Pofaki Gerdooyi is a Persian Walnut Cookie. They are crispy on the outside and hollow on the inside. The main flavor comes from walnuts and one batch gives you about 30 cookies, and they're gluten free.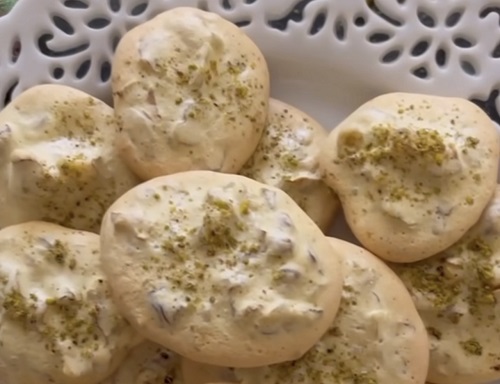 Ingredients:
3 large egg yolks
¼ cup powdered sugar
¼ teaspoon cardamom
½ tsp vanilla extract
¾ cup walnuts chopped
1 tablespoon powdered pistachios optional
–Preheat the oven to 325 degrees F and line a baking sheet with parchment paper.
–In a bowl, beat the egg yolks, powdered sugar, cardamom and vanilla extract on high for 7 to 10 minutes until the mixture is creamy and very light in color.
–Fold in the chopped walnuts using a spatula. Make sure every piece of walnut is coated with the egg mixture.
–Using a small spoon, drop about 1 teaspoon of the cookie mixture onto the baking sheet. Continue with the remaining batter and make sure there is a 1 ½ inch space between each cookie. Top the cookies with powdered pistachios if using.
–Bake for 15 minutes. The cookies will be slightly golden when baked. Let the cookies cool completely and then transfer them to a platter.
Similar Articles to This Post