---
By Chef Nicole Dayani
---
In this episode of #FarhangFlavor Farhang Foundation visits Chef Nicole Dayani of Nicole's Kitchen.
Chef Nicole and her guest Maryam Tabatabaei, founder of Simply Sesame, prepare Chef Nicole's original Saffron-Halva Pound Cake.
Ingredients:
2 sticks unsalted butter (8 oz), at room temperature, plus more for lining the cake pan
1 cup granulated sugar
1/4 cup honey
3 large eggs
2 cups all-purpose flour, sifted
1/3 cup whole milk
1 teaspoon vanilla bean paste or extract
2/3 cup ground pistachios
1/8 cup hot water, diluted in 1/4 tsp ground saffron
1/2 tsp ground cardamom
1/3 cup pistachio cardamom sesame butter (Simply Sesame)
For the glaze
1/2 cup confectioners' sugar
1/4 cup heavy cream
1/4 cup crushed pistachios
2 tbsp dried rose buds
DIRECTIONS:
1.  Preheat the oven to 350 F. With grape seed oil, spray line a 9-by-5-inch loaf pan or 4 (4 oz loaf pans) with oil!
2.  In the bowl of a stand mixer fitted with the paddle attachment, cream the butter, sugar, and honey on medium-high until light and fluffy, about 3-4 minutes, stopping and scraping down the sides of the bowl as necessary. Add the eggs, 1 at a time, beating well after each addition.
3.  Add the sifted flour and the milk to the creamed egg mixture, beginning and ending with the flour. Beat on medium-high for about 20 seconds between additions, stopping and scraping the sides of the bowl as necessary. Add the vanilla, cardamom, pistachios and saffron water, beat on low just until combined.
4. Pour the batter into the prepared pan, dollop sesame butter on top of the cake batter and using a bamboo stick drag out lines to create a marble effect! Put the cake in the oven for 45-50 minutes, or until the cake is cracked on top and a toothpick inserted in the center of the cake comes out clean. Take a peek at the cake after around 45 minutes! Let the cake cool off for one hour!
5. Drizzle the glaze over the cake and sprinkle crushed pistachios and dried rose petals to garnish.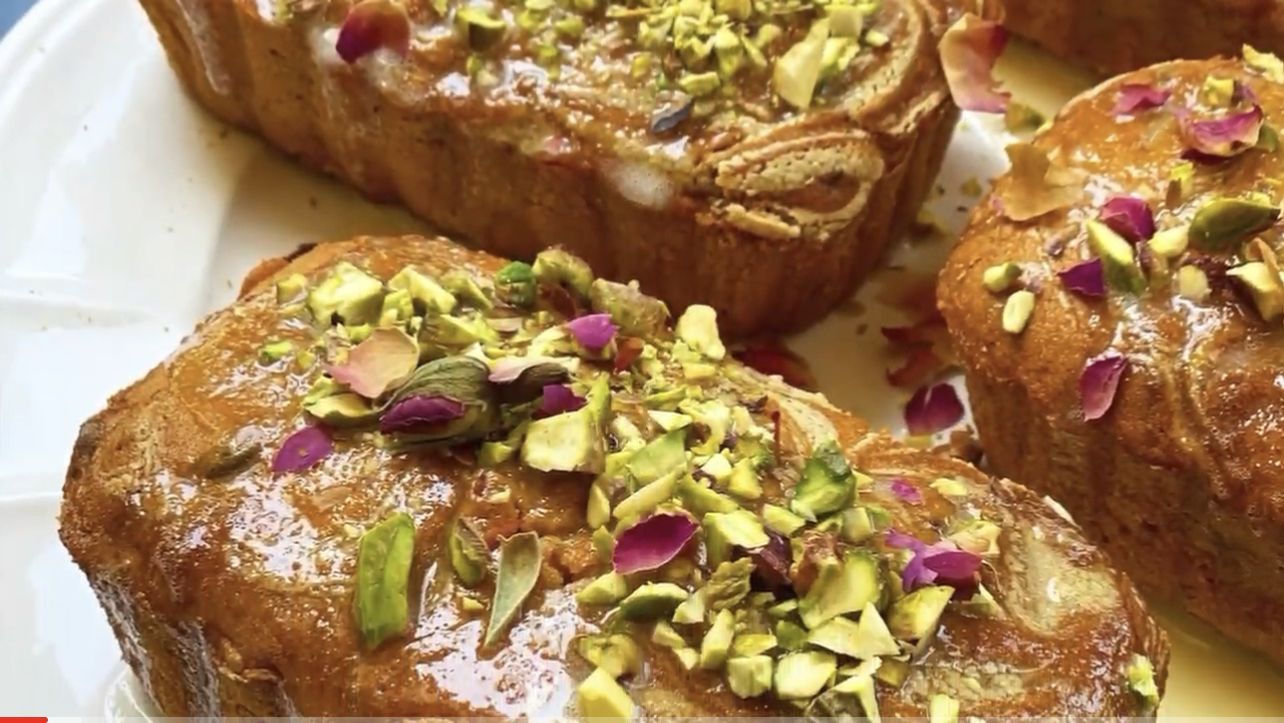 Similar Articles to This Post