---
By Chef Yavar Gharibi
---
In this episode of #FarhangFlavor Farhang Foundation travels to Vancouver, British Columbia and visits private Chef Yavar Gharibi's kitchen to learn about his inventive recipe for "Baghali Polow" (Fava Bean and Dill Rice with Lamb Shank).
Chef Yavar is extremely passionate about presenting Iranian cuisine with innovative and modern techniques, all while still preserving the traditional flavors and authentic roots of each dish. "Baghali Polow" is one of his all-time favorite Iranian dishes, and he has chosen to present it in two formats today, one inspired by Japanese sushi as an appetizer, and one as a plated main course.
Ingredients:
2 lamb shanks
3 cups basmati rice
2 cups smoked basmati rice
250 grams of chopped fresh dill
150 grams of fresh fava beans
2 medium-size carrots diced
2 garlic cloves diced
3 to 4 romaine lettuce leaves
1 tsp. turmeric powder
1 tsp. of nutmeg powder
1 tsp. cumin powder
2 bay leaves
1 cinnamon stick
3 tsp. rosewater
2 tbsp. tomato paste
Brewed saffron powder
Salt & pepper
Garnish Ingredients:
Saffron Caviar (as demonstrated)
150 ml of brewed saffron powder
1 tsp. Agar-Agar flakes
Sugar (optional)
250 ml of cold vegetable oil
Instructions:
Heat a pan with cooking oil, in the meantime season the lamb shanks with salt and pepper and add to the heated pan to sear all over in order to get a nice golden brown color, then take them out of the pan and add in the onions and carrots and start sautéing.  After three minutes add all the spices (cumin, nutmeg, bay leaves, cinnamon, and turmeric) and keep sautéing until the aroma of the spices rises out of them.  Then add your tomato paste at the very end and return your lamb shanks into the pot, add boiling water to the top and let them simmer for three hours.  At the end of the cooking process add the brewed saffron and rosewater to your lambs' stew.
Sauce: Strain the sauce out of the cooked stew in order to have a smooth textured sauce. Then to thicken the smooth sauce add an equal mixture of one teaspoon of cornstarch to cold water and mix completely before adding to the sauce.
Instructions for the rice:
Soak your rice with salty water for at least three hours.  Then boil a pot of water and add your strained soaked rice to the pot and let boil for two to three minutes before adding your fresh dill.  Then strain the parboiled rice/dill mixture and rinse with water and set aside.  In a large pot add the vegetable oil and layer the bottom of the pot with the romaine lettuce leaves for a crispy "tahdig" bottom of the pot, then layer on the parboiled rice mixture and alternate the layers with the fresh fava beans.  Reduce the heat to medium, cover with a towel-covered lid, and let the rice steam for 30 to 45 minutes.
Instructions for the saffron caviar:
In a pot mix your agar-agar and brewed saffron until it is completely dissolved, and set aside to cool down.  Then use a syringe or eye dropper to drop the cooled saffron mixture drop by drop into the very cold oil.  Strain the droplets of saffron to remove all the oil and rinse gently.  The saffron caviar is now ready for garnishing.
Instructions for the dill garnish:
Saran wrap a microwave-safe plate and lay your dill pieces on top and brush them with oil, then lay another layer of saran wrap on top of the dill and make small holes in the saran wrap for air circulation.  Microwave the plate for two minutes and you will then have beautiful dried dill leaves to use as garnish.
Instructions for the sushi-style sticky smoked rice:
In a pot add your smoky rice, salt, and water and let it simmer slowly.  Meanwhile, mix it in the dill and let the rice cook slowly until the water evaporates and the rice gets dense and sticky.  Let the sticky rice cool down and then shape it with your hands into sushi style morsels for the appetizer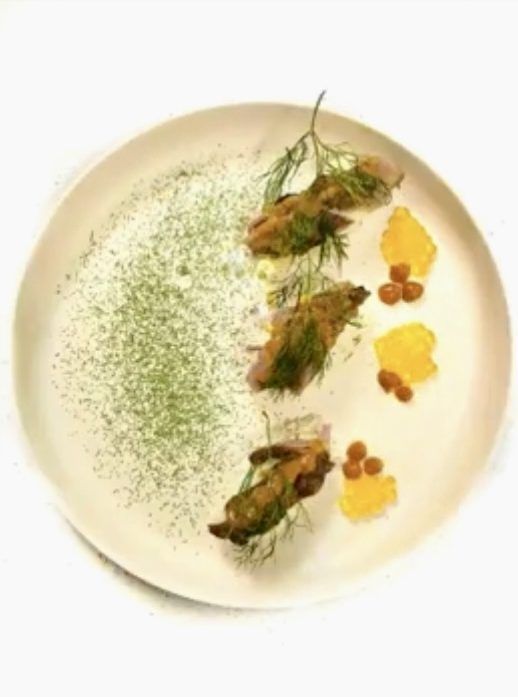 Similar Articles to This Post