---
By Ahmad Rafat
---
The Iranian New Year, 1401, started on March 21 with nationwide protests by women. Iranian women, who have been victims of systematic and legally sanctioned discrimination under the Islamic Republic for the past 43 years, celebrated the new year's arrival by fighting for their inalienable human and civil rights.
Women in Iran have suffered grave injustices in recent years. The discriminatory laws of the Islamic Republic deprive half of the country's population of their rights and sanction legalized violence against women.
On March 29, authorities in the holy city of Mashhad, the capital of the northeastern province of Khorasan Razavi, prevented female football fans from entering a sports stadium to watch a match between the Iranian and Lebanese national football teams.
Hundreds of female ticket-holders queued outside for hours in freezing temperatures before being told that they could not enter the stadium in Mashhad. The police reportedly used pepper spray and tear gas to disperse the crowd.
A few days later, some 300 women working in the Iranian film industry broke their silence and released a statement calling for an end to sexual harassment, abuse, and violence in the industry. This statement marks the first time in the past 43 years that women working in various film industry sectors in Iran have shown such solidarity.
The statement reveals sexual abuse and violence against women in Iran and exposes a system that has been complicit in these crimes by creating a climate in which such violence can occur with impunity.
Revelations of discrimination, sexual harassment, and violence against women have sparked a public outcry.
Narges Mohammadi, a human rights activist due to return to prison on April 13 to serve her sentence, told Kayhan Life: "The Islamic Republic's policies are based on the three principles of despotism, theocracy, and misogyny. The regime has tried to strengthen its illegitimate and false authority by promoting its autocratic rule inside the country and abroad."
"The Islamic Republic is a religious state with extremely rigid religious elements occupying various layers of its leadership," Ms. Mohammadi, who is the deputy director of the Tehran-based Defenders of Human Rights Center (DHRC), noted. "The third characteristic of the regime is its misogynistic policies, which are evident in its laws and behavior, which we have witnessed since its inception."
Speaking about the recent incident in Mashhad where authorities barred female football fans from entering a sports stadium, Mohammadi added: "This was not a new practice, but the continuation of a violent, despotic, religious and misogynistic rule which we have experienced in the past 43 years."
Nazanin Boniadi, a British-Iranian actress and an ambassador for Amnesty International U.K., told Kayhan Life: "The IRI's [Islamic Republic of Iran] continued exclusion of women from sports stadiums and their use of pepper spray at close range to disperse women at Iran's recent World Cup [Qatar 2022] qualifier against Lebanon are abhorrent human rights violations."
"I agree with the United for Navid campaign that the Islamic Republic must be suspended from international football until it abides by the Olympic Charter and FIFA [International Federation of Association Football] regulations," Ms. Boniadi added.
The United for Navid campaign consists of Iranian activists and athletes who advocate banning Iran from international sports competitions and events.
Navid Afkari was a 27-year-old Iranian champion wrestler who was charged with murdering a security guard at the Shiraz Water and Wastewater Management Company during the nationwide protests of 2018. He was hanged hurriedly and secretly on Sept. 12, 2020 in Shiraz without prior notice to himself, his family, or his lawyer.
Speaking about a global call for expelling Iran from FIFA, Narges Mohammadi said: "A few years ago, FIFA suspended Iran's membership in the organization for a few months so it could reassess its charter to remove politics from football. Why doesn't FIFA take such a tough stance against banning women from sports stadiums? Does this international federation consider women an inferior [gender], as does the Islamic Republic?"
EXCLUSIVE- FIFA Officials to Visit Iran After Death of "Blue Girl"
Writing on her Instagram page, Darya Safai, a Belgian-Iranian human rights activist who in 2014 launched a website dedicated to promoting women's rights to attend matches in sports stadiums, said: "Once again, hundreds of women were refused entry into a stadium to watch a qualifying World Cup football match. Despite FIFA's repeated promises, the women were refused entry into the stadium. Large sports stadiums do not take gender equality seriously."
Ms. Safai noted Article 3 of FIFA's charter, which states: "FIFA is committed to respecting all internationally recognized human rights and shall strive to promote the protection of these rights."
Darya Safai, a dentist by profession, became the first Iranian-born politician to enter the Belgian parliament. Elected in late May 2019 to the Chamber of Representatives in Brussels, Ms. Safai represents the center-right Flemish nationalist party, Nieuw-Vlaamse Alliantie or N-VA (New Flemish Alliance.) Safai launched a website in 2014 advocating the rights of women to attend matches in large sports stadiums.
"FIFA should stand with Iranian women, not Ayatollahs and misogynous policies," Safai added.
Nobel Prizewinner Shirin Ebadi Joins Campaign To Ban Iran From International Sporting Events 
In a statement, several famous athletes, musicians, authors, journalists, and families of the victims of recent protests in Iran condemned barring women from sports stadiums.
"The pain inflicted on Iranian women rendered the victory [of the Iranian national football team] meaningless," the letter said. "We call on you [the Iranian national football team] to give greater importance to defending the women of your country than being on a [football] pitch and highlight their freedom to attend matches in the sports stadium as a precondition for you to play in the World Cup."
Ali Daei, former captain of the Iranian national football team (from 2000 to 2006), called barring women from the large stadium in Mashhad "shameful."
Writing on his Instagram page, Mr. Daei, a former player in the German Bundesliga for Arminia Bielefeld, Bayern Munich, and Hertha Berlin, said: "I hope Iranian women can freely attend matches in a sports stadium and shed tears of joy in reaction to the victory of their favorite team and not because of being doused with a pepper spray or a tear gas."
Voria Ghafouri, captain of Tehran's Esteghlal Football Club, tweeted: "As a football player, I am truly embarrassed to play when mothers and sisters do not have the right to enter sports stadiums."
Alireza Jahanbakhsh, a member of the Iranian football team, said: "Debating the rights of women to enter stadiums in 2022 is ridiculous and painful."
Another member of the Iranian national football team, Sardar Azmoun, who scored the first goal in the World Cup Qatar 2022 qualifying match on March 29 in Mashhad, posted a picture on his Instagram page with the accompanying English word "Shame."
Mojtaba Jabbari, a former member of the Iranian national football team, also posted a message on his Instagram page, saying he would not go to another football match until all women are allowed into sports stadiums.
Kayhan Life reached out to FIFA for a comment on the Islamic Republic's ban on women football fans to attend matches in large sports stadiums.
FIFA responded with a short and inadequate statement: "FIFA has heard with concern reports that women were not allowed at the match in Mashhad and is asking the Iranian Football Federation for more information on this matter."
 "FIFA's position concerning women at football matches in IR Iran is clear: historic progress has been achieved, exemplified by the milestone in October 2019, when thousands of women were allowed into the stadium for the first time in 40 years, and more recently when some women were allowed again at the FIFA World Cup qualifier match in Tehran in January — and FIFA expects this to continue, as there can be no turning back. Best regards." the statement added.
The statement by some 300 women working in the film industry, calling for an end to sexual abuse and violence in the industry, sent a shock wave through the creative community. Many signatories are prominent women's rights activists working in the Iranian film industry.
 "Any powerful person in the Iranian film industry can use their position to bully, threaten, insult, humiliate and abuse women without fearing that they could be held accountable by Judicial institutions, House of Cinema's associations, filmmakers and critics," the statement said.
Who is Mohammad Rasoulof, Winner of the Berlin Film Festival's Golden Bear Award?
Expressing her support for the signatories of the statement, Nazanin Boniadi told Kayhan Life: "I stand in solidarity with my counterparts in Iran, who are calling for equal pay and condemning the systematic violence and harassment against women in Iranian cinema, as well as demanding mechanisms to hold perpetrators and enablers accountable. Working safely, without fear of verbal, sexual or physical abuse, is a basic human right."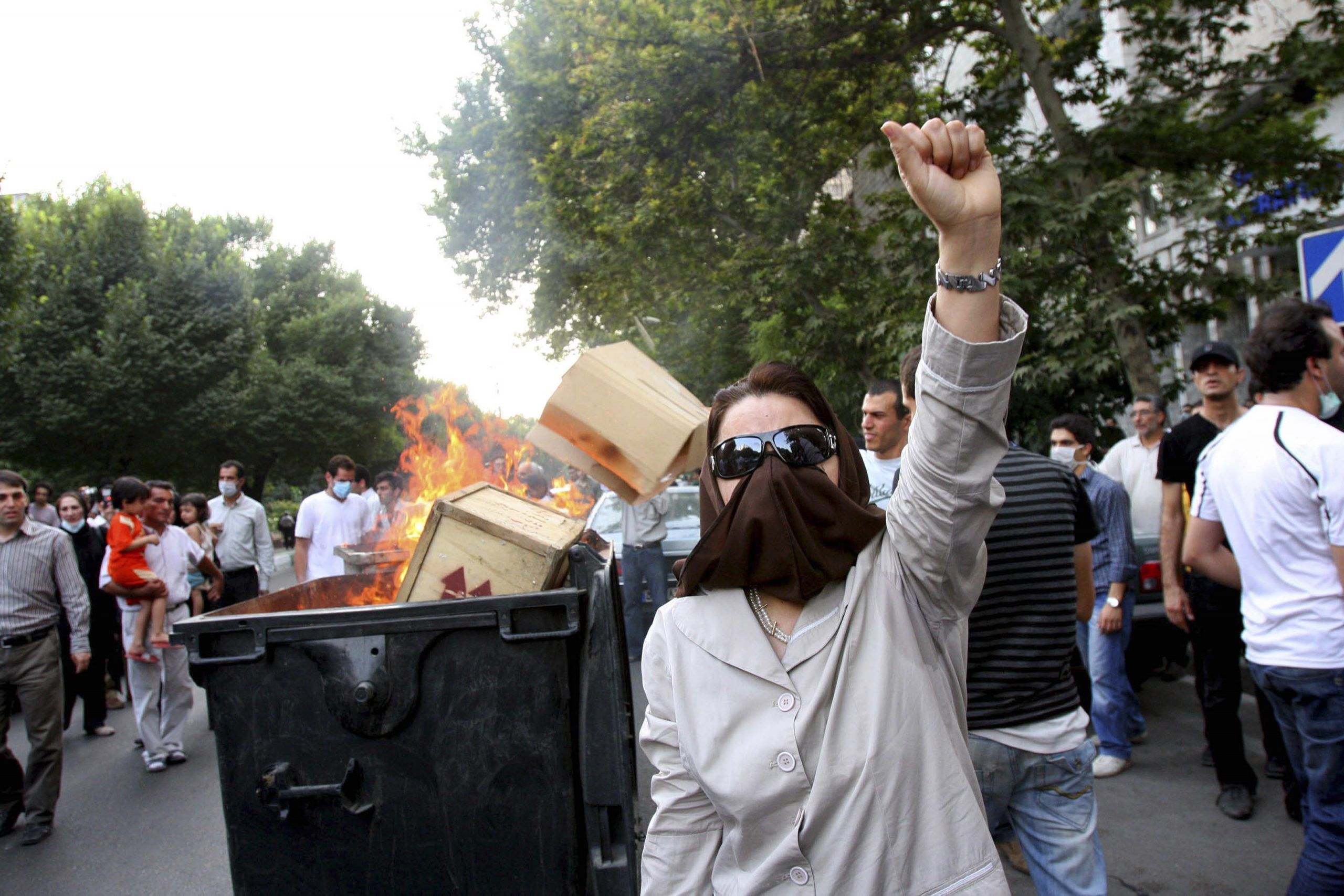 Speaking with Kayhan Life about the statement by some 300 women in the Iranian film industry, Narges Mohammadi said: "The second part of the letter, which says the voices of protesters go unheard, is even more important than exposing harassment and sexual abuse. It shows systematic and targeted discrimination and abuse against women in the Islamic Republic."
"We can see that the current discriminatory laws have allowed violence to spread among various segments of society," Mohammadi argued. "Fortunately, women working in the film industry have stood up and made their voices heard and have called for an investigation. They have taken a big step and showed they are ready to pay a high price for not remaining silent."
Mohammadi highlighted the refusal by the statement's signatories to accept the House of Cinema's proposal to refer the matter to the "Protection Council" — which has only one female member. Some 500 women working in the Iranian film industry voted to select an independent 5-member committee. The names suggested for the committee members included Hatiyeh Tavassoli, Taraneh Alidoosti, Maral Jeyrani, Ghazaleh Motamed, and Somayeh Mirhashemi.
Somayeh Mirhashemi, an assistant director, was the first woman who accused an actor of sexual harassment, but her complaint fell on deaf ears. Instead, she was allegedly threatened and urged to keep quiet.
Narges Mohammadi believes that many Iranian men have, through their silence, allowed misogynistic attitudes and behavior to become widespread in the Islamic Republic.
"Men, whose silence perpetuates discrimination against women, deserve criticism," Mohammadi argued. "They benefit from discriminatory practices such as being allowed to have more than one wife, marry underage girls, have the sole right of divorce, and get twice as much as the female share under the Islamic Republic's inheritance law."
"The state has used these men to suppress the women's rights," Mohammadi added. "It is time for these men to challenge this law and refuse to accept the Islamic Republic's ongoing attempt to treat half of the country's population as second-class citizens."