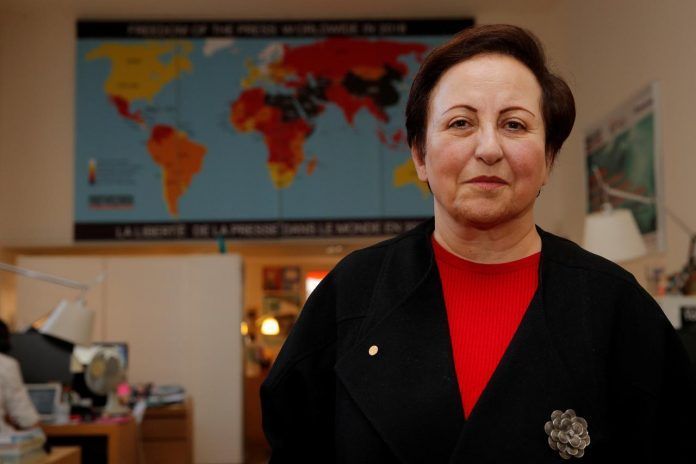 ---
---
Shirin Ebadi, a former judge who won the Nobel Peace Prize in 2003 for pioneering the rights of children, women and refugees in Iran, has joined a campaign led by human-rights activists and athletes to ban the Islamic Republic from international sports tournaments, following Iran's state execution of champion wrestler Navid Afkari.
The viral campaign, United4Navid, was launched by anti-compulsory hijab campaigner Masih Alinejad on Twitter last Friday.
Navid Afkari was sentenced to death for the murder of a security guard during anti-government protests in 2018. Afkari said he had been tortured into making a false confession. The U.S., the EU, Britain, Sweden, Germany, international human rights organizations and the International Olympic Committee (IOC) called on Iran to overturn Afkari's death sentence. The execution, which took place on September 12, sparked a global outcry.
The United4Navid campaign has been supported by Navid Afkari's mother and at least 15 prominent Iran-born athletes, as well as by actress and Amnesty International UK board member Nazanin Boniadi, and has received more than 15,000 likes and shares since it launched last week.
Concerns from the EU over Iran's human rights record were raised in a statement issued by the High Representative of the European Union, Josep Borrell, in October, who condemned Navid Afkari's execution and called on Iran to investigate allegations that Afkari had been tortured in detention.
Meanwhile, John Coates, the vice-president of the IOC, said it was unlikely the Committee would place a ban on Iran as Afkari's death did not relate to a sporting event.
In a video statement sent to Kayhan Life, Masih Alinejad said, "I, in defense of sportsmen and so that another Sahar Khodayari and Navid don't die, and for the sake of our own human dignity, would like a ban on the Islamic Republic of Iran in sports."
1-We've launched a new campaign: #United4Navid. Gold-medal athletes from Iran's national teams join human rights activists. We're calling on international sporting federations & Olympic Committee to suspend Islamic Republic of Iran from sporting events for killing #NavidAfkari pic.twitter.com/HGuwLMMqR3

— Masih Alinejad ?️ (@AlinejadMasih) October 9, 2020

Sahar Khodayari, known as Blue Girl on social media for her support of the Iranian soccer team Esteghlal whose uniform is blue, died after setting herself on fire in front of Tehran's Islamic Revolutionary Court, following her arrest for trying to enter a soccer stadium in 2019. Women in Iran are not able to enter stadiums freely and watch matches, and only men can buy tickets for games.
Speaking to Kayhan Life, Alinejad said the current rules around sports in Iran had created an "apartheid regime, which discriminates against women and religious and ethnic minorities."
She added that a precedent already existed for countries that discriminated against sections of their society, and referenced a decision by the IOC in the 1960s which led to South Africa being banned from sports tournaments because of government sanctioned apartheid policies. Nobel Prize Laureate and theologian Desmond Tutu said the ban had played a crucial role in ending apartheid in South Africa, during a speech at the Lord's Cricket ground in 2008, in London.
Alinejad believes the ban would send a powerful message to Iranians, and their government.
"Such a ban would show the Iranian people that the international community cares about human rights in the country. The regime cares about its international image and such a ban would be a huge blow. The Islamic Republic should be suspended for how it treats sports and its athletes," she said.
In a video posted on Twitter for the campaign, Shirin Ebadi said, "The Involvement of politics in sports by the regime has led some of our best athletes to leave Iran and to compete under another country's flag. People's and athletes' protests won't lead anywhere. That is why we're asking all international federations, for a period of one year, to ban Iran from these tournaments."
Ebadi added that under the campaign's proposals, a failure by the government to remove political and religious agendas from the sports sector in Iran should lead to permanent suspension. She urged the international community to "listen to the voices of Iranians, who are against the involvement of religion and politics in areas like sports."
Amir Kamali, a medal-winning high jumper and long jumper at the Asian Games who left Iran and settled in the UK in 2011 after criticizing the regime's approach to the sports sector, shared a video on Twitter for the United4Navid campaign urging international sports bodies to boycott Iran.
In an interview with Kayhan Life, Kamali, who is blind, said he had learned about Navid Afkari after listening to one of his audio messages on Twitter, which Afkari had recorded while in Adel-Abad prison in Shiraz, south-central Iran.
According to Kamali, top athletes in Iran competing in high-level competitions have to follow strict political and religious rules, which he says include making official statements to please authorities, and instances where athletes are required to gift their medals to officials. Kamali said he chose not to follow those rules, and openly criticised the regime for failing to fund the sports sector properly. Kamali said his conduct upset government officials, and he decided to leave Iran.
Kamali, who is training for the 2021 Paralympics taking place in Tokyo, hopes the campaign will bring equality to the sports industry in Iran.
"Navid is a symbol for this campaign, because the outcome of his life was terribly unfair. We don't expect an immediate result, but we will use our power to show the Olympic and Paralympic committees, and all the major sports bodies, that Iran doesn't have fair sport and that it discriminates," he said, adding, " We want equal opportunities for men and women. Women are a part of our lives — our mothers, our sisters, our partners — we should not deny them equality."
Navid Afkari's execution has ignited debate about the death penalty in Iran, which is viewed by some as a means to suppress dissent rather than deter crime.
A survey published by the Group for Analyzing and Measuring Attitudes in IRAN (GAMAAN) in October found that 44 percent of the population opposed the death penalty outright, and 26 percent agreed with the death penalty, but only in unique cases. A further 14 percent agreed with the death penalty for pre-meditated murder, 13 percent agreed with the penalty as mandated by Sharia law, and 4 percent did not feel they were sufficiently informed to comment. The poll surveyed more than 24,000 people, 86 percent of whom lived in Iran, in rural and urban areas.
The survey was commissioned by Iran Human Rights (IHR), an international non-profit human rights organization based in Oslow, Norway, which focuses on the death penalty.
Professor Mahmood Amiry-Moghaddam, who founded IHR and also received Amnesty International Norway's human rights prize in 2007 for his work against human rights violations in Iran, said the survey was unique because it had gathered views from Iranians around the country, and it reflected how ordinary Iranians looked at the death penalty.
Professor Amiry-Moghaddam hopes the survey will create debate on the death penalty in Iran, and highlight the limited options available to victims when it is time to request a punishment for crimes such as murder during a trial. Currently family members of victims can only ask for the death penalty or financial compensation, which Amiry-Moghaddam says are no longer choices most people want.
"At the present moment these are the only two options families have. If people had other options such as long prison terms most respondents would have chosen that measure, but this option is not available under current Iranian law. If the authorities really want to make a change, then prison sentences would be included for murder and we would see the number of executions drop," he said.
Addressing the idea of banning Iran from sporting events, Amiry-Moghaddam said an investigation into Afkari's case was a priority.
"In relation to the execution of Navid Afkari, IHR has issued a statement saying verbal condemnations and expressions of concern are not enough. International communities should call for an independent fact finding mission, and we are also of the view that sporting bodies should consider suspending the Islamic Republic from sports events until a fact finding commission has entered Iran and conducted its research," he said.
---