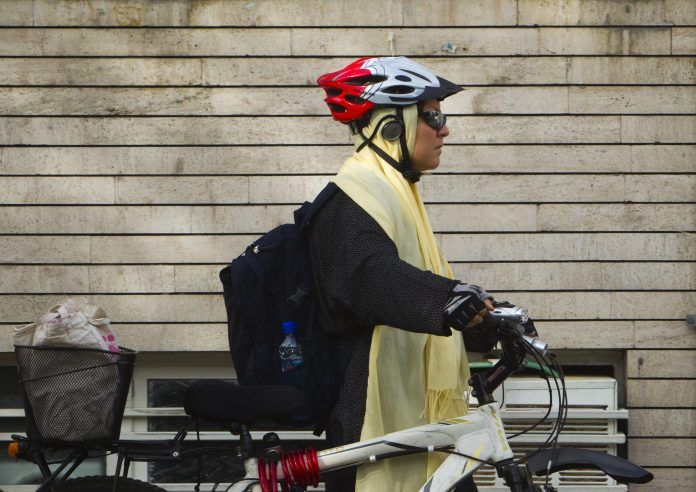 ---
By Reza Hamidi
---
Women who ride bicycles in public do not violate any religious laws, Hojatoleslam Mohammad Taghi Fazel Meybodi, a religious scholar and an instructor at the Qom Seminary, has said.
In comments reported by the Tehran-based Asre Iran online newspaper, Hojatoleslam Meybodi noted: "We should not prohibit a woman from riding a bicycle, or harass her about her hijab. Those who call for reforms should instead reexamine our culture."
"Superstition poses a genuine threat to religion. It is also dangerous to ban certain activities in the name of religion when, in fact, they are not prohibited by religious laws," Mr. Meybodi noted. "Ignorant people encourage superstitious beliefs. There are also others, who despite being knowledgeable about religious matters, still want to prohibit women from riding bicycles. So, this issue is not limited to ill-informed people."
"I do not think such fatwas [religious decrees] should be issued because women riding bicycles in public are no different from women driving cars in our streets," Meybodi explained. "A woman who rides a bicycle to exercise or to protect the environment or save money is not violating any religious laws. It is irrational and against religious principles to harass a woman over her hijab. It also harms Islam and the country."
"We must, therefore, allow people to enjoy their chosen recreational activities as long as they do not violate public morality," Meybodi noted. "A woman is not guilty of disorderly conduct if her hijab is not perfect. It is entirely her business if she has committed an indiscretion. We should not prevent her from riding a bicycle or caution her over wearing an improper hijab."
"As a member of society, a woman has inalienable civil and human rights, including the right to exercise, engage in recreational activities, speak to whoever she wishes, and socialize with others. Some issues have, unfortunately, persisted in our culture for the past 100 years. However, we should not perpetuate them in the name of religion."
In an interview with the Iranian Students News Agency (ISNA) two weeks earlier, Meybodi had called for the nation to revisit the last will of the late Ayatollah Ruhollah Khomeini (1902-1989), the founder of the Islamic Republic.
"The Imam [Ayatollah Khomeini] always called on the country's officials to respect people's views and votes. Many seminarians initially thought a republic was a Western and non-Islamic concept. Others opposed the Islamic nature of the governing system. Imam Khomeini, however, was uncompromising in his vision of a marriage between an Islamic system and the Republic form of government."
"I believe Imam Khomeini's will must be revisited and executed in its entirety. Nowadays, we find Imam's will only in books and on paper. It is not implemented in society," Meybodi added.
This article was translated and adapted from Persian by Fardine Hamidi.