---
---
While the world's attention was focused on indirect negotiations to salvage the Iran nuclear — the 2015 JCPOA, or Joint Comprehensive Plan of Action — international policies on Iran were examined in a conference organized by the National Union for Democracy in Iran  (NUFDI) in Washington DC.
It was the first public encounter between former US officials and policymakers, and leading Iran experts and activists from across the political spectrum. Topics of discussion included the turbulence inside Iran, the regional shadow cast by the Islamic Republic, and US-Iran foreign policy beyond the nuclear deal.
Dr. Saeed Ganji, NUFDI's President and CEO, explained that his Iranian-American organization opposed both appeasement and war with Iran, and instead proposed "a third path of supporting human rights and democracy which guarantees Iran's territorial integrity."
Dr. @SGanjiNUFDI at the #IranConference:

"We carry out our mission with some core values… our opposition to appeasement, our opposition to war with #Iran, and our support of a third path of supporting human rights and democracy which guarantees Iran's territorial integrity." pic.twitter.com/n74v6yC9XO

— NUFDI (@NUFDIran) February 15, 2022
A high-ranking participant at the conference was Elliott Abrams — who served under Presidents Ronald Reagan and George W. Bush in foreign policy roles positions and was Special Representative for Iran and Venezuela under President Donald Trump.
"It's pretty clear that we're not going to get the JCPOA (Joint Comprehensive Plan of Action)," he said, "but we're going to get something less. We have a big problem here.  Whatever the agreement, it has not solved even the nuclear problem."
Another high-ranking conference speaker, Brian Hook — who served as U.S. Special Representative for Iran and Senior Policy Advisor to Secretary of State Mike Pompeo — also expressed his concerns.   "I'm very worried that if we decide to act like Tehran's Chamber of Commerce in the Iran nuclear deal, and encourage business, lifting all the oil sanctions, putting them back on the SWIFT system, opening up Iran's economy, that money doesn't go to the Iranian people. It goes to Hezbollah, Hamas, Palestinian Islamic Jihad, and the Houthis in Yemen."
Abrams called on the US and its allies to deal with the multi-pronged problem of the Islamic Republic by supporting the Iranian people. He proposed that the US approach should be "not to threaten war, not to invade. "
Instead, he urged the US to support the Iranians' desire for peaceful change to a democratic regime. "We want regime change in Iran. To say the alternative would be to say: 'We think it's fine that this vicious and brutal Islamic Republic dominates the people of Iran forever!' How could you morally say that? "
Forty-three years after the Revolution, the regime in Tehran is facing an economy on the brink of collapse, mounting popular unrest, and a make-or-break situation in Vienna over its nuclear ambitions. Protests challenging the legitimacy and competence of the state have increased by almost 50 percent, and the number of protesters has nearly doubled over the past year. Iranian society is in a "state of an explosion," according to a "highly confidential" leaked document from the Islamic Revolutionary Guards Corps (IRGC). 
Despite heavy repression and an increasing number of state security organs, protests have been surging over the past four years.
Speaking via a recorded message in hiding, Mehdi Hajati, a former member of the Shiraz City Council said,  "We neither want your money nor your soldiers. We urge you to recognize Iranian popular uprisings, and stop going along with the Islamic Republic." Mr. Hajati was fired and arrested for speaking on behalf of Baha'is.  He is currently in a safe location outside Iran.  
Large numbers of protesters have been arrested in Iran, but the demonstrations are nevertheless growing all across the country. According to Ladan Boroumand, co-founder of the Abdorrahman Boroumand Center for Human Rights in Iran: "There is no social category that has not taken part in protests. "
One question that arose at the conference was whether the US and other Western powers had the necessary tools and communications channels to connect with and protect their Iranian allies inside Iran, meaning some of those who were protesting against the regime.
Behnam Taleblu, Senior Fellow at the Foundation for the Defense of Democracies, wondered whether the US had  a "protest playbook."
Under U.S. President Barack Obama, the US launched its  "virtual Iranian embassy" and social media platforms such as @USAbehFarsi to "enhance outreach and dialogue between the American and Iranian people."
The administration of President Donald Trump "supercharged these programs" and increased followers by 2 million, according to Gabrial Noronha, who was Director of Communications and Congressional Relations for both Brian Hook and Elliott Abrams.  "We were the 18th most powerful social media platform in the world, and the second most popular political account in America besides President Trump's account."
During the nationwide protests in November 2019 against the regime, Tehran forced an Internet shutdown that affected more than 80 million people. In just over a week, security forces killed more than 1,500 people and detained thousands of others.  It was the deadliest street violence since the 1979 revolution.
Internet Blackouts Endanger Lives of Iranians, Says NetBlocks Founder 
According to Abrams, the Trump administration talked to technology companies about intervening to help the country's communications networks, but the ideas put forth then were not practical.   "There was an idea of putting balloons up for Internet access. The idea might work in a disaster area where the host country welcomes assistance, but not in Iran where it can be shot down by the IRGC. There are people in some of those companies that were thinking about this. Maybe next time, we'll be able to do more."
As the policy focus under the Biden administration changed to the revival of the nuclear deal, so did the focus of the social media platforms. According to Noronha, some of those channels, such as the one on Telegram, were closed. @USAbehFarsi lost 50,000 followers on Instagram.
During the conference, Kaveh Shahrooz, a lawyer and human rights activist, warned against allowing the Iranian regime and its lobbies in the West to set the framework for discussions and "subvert our discourse and get it off course."
Shahrooz, who led the effort to convince Canada's parliament to recognize the 1988 massacre of political prisoners in Iran as constituting crimes against humanity, emphasized that the messaging in Canada and the US should focus on "the fact that the Iranian people want peace with the world.  They want to enjoy the very things that we enjoy living here in the West."
Nobel Prize nominee Masih Alinejad, who has been campaigning  social media platforms  to "kick [Supreme Leader Ayatollah Ali] Khamenei off," called on all human rights activists and freedom fighters to unite and "ask tech companies to kick out all dictators from social media."
IRGC Officer Tells Tribunal of Khamenei's Alleged Role in Suppressing 2019 Protests
Nobel Prize Nominee Masih Alinejad Interviewed by Kayhan Life: Q&A
Representative Mike Waltz (a Republican from Florida), the ranking Republican on the Armed Services Subcommittee on Readiness, assured the conference that they had the support of the US Congress.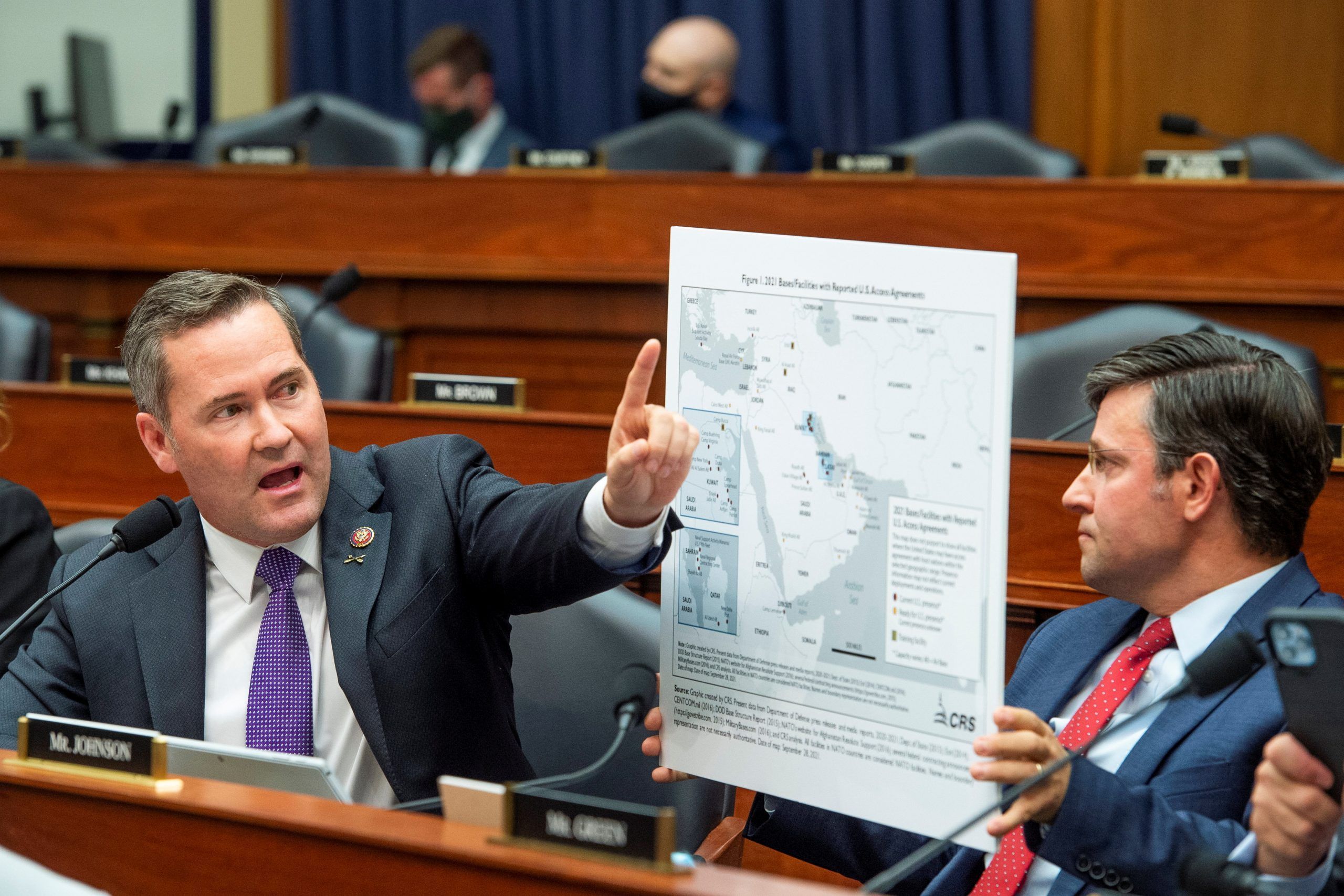 "We are going to spend the time and effort in the capital to take on this fight. We want to 100 percent have your back. "
Along with Representative Mike Gallagher (a Republican from Wisconsin), Waltz led the effort to get 200 House Republicans to write to President Biden warning that any nuclear deal made with the regime in Tehran without Congress' approval "will meet the same fate" as the 2015 agreement by President Obama, which was later abandoned by President Trump.
The Iran Conference was covered by major Persian media outlets and broadcasters outside Iran. Mark Dubowitz, the chief executive officer for the Foundation for Defense of Democracies tweeted,  "Washington finally has a serious Iranian-American organization that doesn't defend the clerical regime, doesn't whitewash its atrocities & stands up for millions of Iranians & Iranian-Americans who despise the regime."
The demonstrations against the Islamic Republic are wide-reaching.
In hundreds of cities across the country and in front of the Parliament building in Tehran, angry teachers, investors, pensioners, nurses, judiciary, and oil workers are protesting against the inability of the state to remedy an untold number of economic and social crises. Grievances are at an all-time high because of water shortages, unpaid wages, human rights abuses, government corruption, and mismanagement, most visibly in response to the Covid-19 pandemic, and to the collapse of the Tehran Stock Exchange.
Below are some of the slogans that have been shouted out:
"Thieves roam free, teachers waste in jail!"
"No Gaza, No Lebanon, My Life is Only for Iran!"
"They lie when they say our enemy is America, our enemy is right here!"
The administration of U.S. President George Biden is concerned that a failure to salvage the 2015 nuclear deal will lead to war.  It hopes that through concessions and sanctions relief, it can curb Tehran's appetite for acquiring a bomb and convince it to end its hostage diplomacy and nefarious terrorist and proxy activities in the Middle East.
Following the signing of the deal in 2015, the regime in Tehran increased its military spending by more than 40 percent in two consecutive budgets.  A disproportionate amount of windfall from sanctions relief was diverted to missile development and proxy intervention in Iraq, Lebanon, Syria, Iraq, Yemen.
---
Similar Articles to This Post