---
By Firouzeh Nabavi
---
Since the start of the nationwide protests that broke out in Iran in mid-September, France's president, politicians and artists have been among the most powerful defenders of the movement. Slogans in support of Iran have even been beamed on the Eiffel Tower.
In November, French President Emmanuel Macron personally met with a delegation of prominent human-rights activists, including Masih Alinejad, Shima Babaei, Ladan Boroumand, and Roya Pirayi.
"We welcomed, with great honor and pleasure, a delegation of Iranian women," he commented afterwards. "I want to emphasize our respect and our admiration for the revolution that they are leading."
France's Macron: Children of Iran's Revolution Carrying Out Their Own Revolution
Later that month, on Nov. 25, French senators stood up and applauded the Iranian protest movement during a Senate conference on Iran attended by Empress Farah Pahlavi and her granddaughter Nour Pahlavi. The conference was titled "Women, Life, Freedom! – Iran, revolt or revolution?"
French Senate Hosts Empress Farah Pahlavi and Princess Nour Pahlavi
French senators hailed the exceptional courage of Iranian women, and announced that they would table a motion for a resolution calling for the strengthening of sanctions against the Iranian regime.
Nous apprécions et remercions tous ceux qui soutiennent et restent au côté du peuple Iranien.#IranRevoIution https://t.co/CmQGyQIfKv

— Reza Pahlavi (@PahlaviReza) November 28, 2022
The previous month, some 50 French actresses and performers showed solidarity with the plight of Iranian women by releasing an Instagram video where they were each shown cutting off locks of their hair. It was their way of paying homage to the innumerable women in Iran who were cutting their hair or shaving their heads in protest at state repression.
The video opened with the Oscar-winning actress Juliette Binoche cutting off a lock of her hair while pronouncing the words: "For Freedom." Other artists featured in the Instagram video included Julie Gayet (the wife of former President François Hollande), Marion Cotillard, Isabelle Adjani, Charlotte Rampling, Jane Birkin, and Charlotte Gainsbourg.
"Iranian women need to know that they are not alone," Gayet said in an interview on France Inter radio. "Silence can be the worst form of violence."
In December, the French-based Collectif Barayé (a group of 16 personalities from the worlds of music, publishing, etc.) gathered some 40 artists and intellectuals in an exceptional concert featuring a mix of musical genres in support of the Iranian people. The concert was broadcast a month later on French national television.
The performance, "Woman, life, freedom – Concert for Iran," took place on Dec. 12 at the Trianon theater in Paris. Iranian artists present included Roya Arab, Arshid Azarine, Keyvan Chemirani, Sahar Dehghan, Sepideh Farsi, Rana Gorgani, Mina Kavani, Babak Amir Mobasher, Aida Nosrat, Barbara Pravi (granddaughter of the renowned Iranian artist Hossein Zenderoudi), the renowned photojournalist Reza, Golnar Shahyar, and the Afghani group Mashal Arman & the Kaboul orchestra.
The city of Paris has also gone out of its way to express solidarity with Iranian women.
In the most spectacular show of support, the Eiffel Tower lit up at 6:30 p.m. on January 16th with the words: "Woman, Life, Freedom" and #StopExecutionsInIran.  The initiative was overseen by the Mayor of Paris, Anne Hidalgo.
On October 6, the words "Woman, life, freedom" were put up on the façade of Paris City Hall. Mayor Hidalgo, standing outside the building with several elected officials, cut off a lock of her hair in support of Iranian women.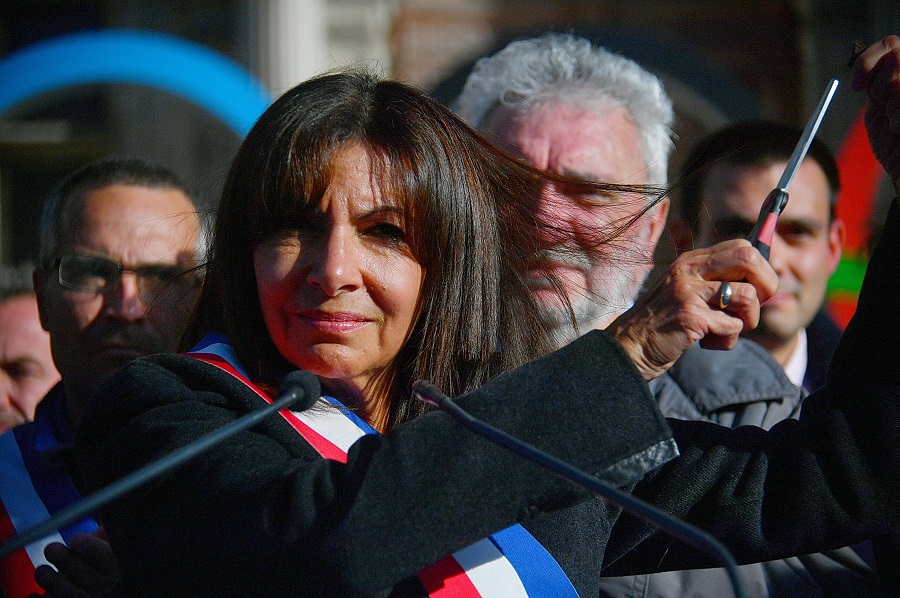 On October 11, the Council of Paris (Paris City Hall's legislative body) awarded an honorary citizenship to Mahsa Amini. The Council also recommended that a public space in Paris be named after her.
That same month, the French-Iranian artist Rana Gorgani, accompanied by the Iranian opera singer Ariana Vafadari, performed a whirling dance in front of Paris City Hall – a tribute to the courage of Iranian women.  Rana Gorgani is one of the few female whirling dervishes. (The Sufi dance is traditionally reserved for men in Muslim countries.)
Prince Reza Pahlavi : 'The Alternative to the Islamic Republic is the Iranian nation'
OPINION: The Solution to the 'Iran Problem' is Regime Change
Similar Articles to This Post