---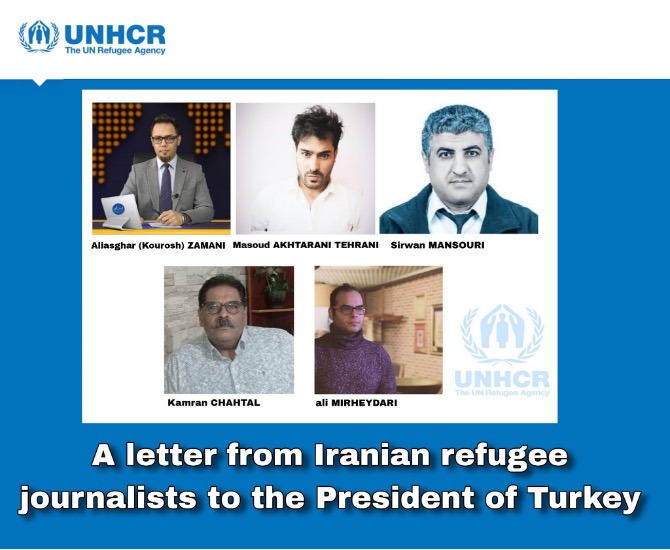 To: The Honorable Rajab Tayeb Erdogan, President of the Republic of Turkey
From: A number of endangered Iranian reporters and journalists residing in Turkey
Subject: Report of status and request to facilitate relocation to a third country
We, a number of Iranian refugee reporters and journalists in Turkey, would like to remind you that according to the Convention on the Status of Refugees, adopted July 28, 1951 in Geneva by the United Nations, which is emphasized and implemented by the signatories of the treaty, this decree clearly states that all human beings must enjoy human rights and fundamental freedoms, completely equality and without discrimination.
Therefore, given the failure to observe justice from the international community, we are sending this letter to you to protect our most basic human right, which is the right to life.
We are a group of Iranian refugee reporters and journalists and journalists in Turkey who, due to our legitimate political and confessional stances, have not been able to continue our professional activities in our country of origin and have had to leave our homeland.
Therefore, we would like to inform the Honorable President of the Republic of Turkey that all of us the signatories of this letter have been in Turkey for more than six years without being assigned to a third country. In the meantime, we have been pursuing our situation with many organizations catering to refugees, including the UN High Commissioner for Refugees, but unfortunately have not achieved any tangible results and have not received a specific response for years.
In recent years, the rulers of the Islamic Republic and its security services, with the increasing threats and pressures that it has inflicted on us and our families in Iran, intended to keep us in any way possible from continuing our legal and professional activities in the field of reporting and journalism. This approach included summoning and interrogating families – sending threatening messages to us, and in some cases plotting our abduction.
As you are aware, in recent years, dozens of reports from Turkish official media have been published about the Islamic Republic of Iran's terrorist operations on Turkish soil, including the assassination and abduction of Iranians, of which most of them are journalists. Some of the Islamic Republic's intelligence operatives and their operations have been identified and detained with the vigilance of your country's security-intelligence services.
Accordingly, we, the signatories of this letter, while confirming the existence of potential and imminent threats to our lives, and being exposed to intimidation and terror due to continuous threats by the Islamic Republic's security agents on Turkish soil; We call for pursuing and accelerating the process of investigating our asylum cases within the framework of the administrative and legal structure of Turkey.
It should be noted that each of the signatories of this letter, after repeatedly calling and corresponding with the office of the United Nations High Commissioner for Refugees in Turkey, concluded that Turkish government is the only authority that has the sufficient means to ensure our security and take action with regard to our critical situation. At the same time, the Turkish Immigration Agency also delegates this responsibility to the UN High Commissioner for Refugees and does not provide us with any desirable solutions to resolve our critical conditions.
Therefore, according to the above explanations and with reference to the Geneva Conventions, which Turkey as one of the signatories of the treaty recognizes the right to asylum, protection and permanent residence in Turkey only for European refugees and does not give such a right to non-European refugees, we beseech you to please take the necessary measures to facilitate the urgent departure of us Iranian reporters and journalists from Turkey and employ all the existing tools and solutions at your disposal for our resettlement in a third country.
Signatories:
 – Aliasghar (Kourosh) Zamani
 – Masoud Akhtarani Tehrani
 – Ali Mirheydari
 – Sirwan Mansouri
 – Kamran Chahtal
Send a copy to:
– General management of the Turkish Immigration Organization
– United Nations High Commissioner for Refugees (UNHCR)
– International Federation of Journalists (IFJ)
– Committee to Protect Journalists (CPJ)
– Turkish Journalists Syndicate (TGS)
– Reporters Without Borders (RSF)
Similar Articles to This Post