---
April 28 (Reuters) – Iran's intelligence ministry on Friday accused foreign "enemies" and dissidents of fomenting fears over suspected poisonings of schoolgirls, saying its investigation found no actual poisoning.
The wave of suspected attacks has affected thousands of schoolgirls and provoked public anger, after months of protests against Iran's clerical rulers following the death of a young woman held by police for allegedly flouting strict hijab rules.
Parents in Zanjan, #Iran guard their children's schools so they're not poisoned by the Islamic Republic like hundreds of other schools. pic.twitter.com/9BlrlroFJb

— Alireza Nader علیرضا نادر (@AlirezaNader) April 28, 2023
"The enemies' role in fuelling this crisis is certain and undeniable. Individuals, groups and Western media (especially in Persian language)… have focused on this in the past few months, as well as foreign politicians and international bodies," said a ministry report carried by state media.
The Islamic Republic's attack with chemical gas on Chamran school in Hamedan, today, April 19, 2023.pic.twitter.com/KFOgAQ7HSI

— +1500tasvir_en (@1500tasvir_en) April 19, 2023
🧵⬇️
The Islamic Republic's attacks with chemical gas on schools in Iran, April 18, 2023:
1. Ardabil city, Baharan school
2. Ardabil city, Shahed school
3. Urmia city, Hadaf school
4. Eslamshahr city, SAIPA school
5. Eslamshahr city, Niayesh school
6. Ahvaz city, Kosar school

— +1500tasvir_en (@1500tasvir_en) April 18, 2023
"In field findings and laboratory investigations … no toxic substance able to cause poisoning was observed … and there have been no deaths or long-term physical conditions," the report said, blaming mischievousness and mass hysteria among students.
The report accused unnamed dissidents of provoking fears to produce propaganda videos and warned of "prosecution of individuals, groups, media who accused the government … and aligned themselves with enemies".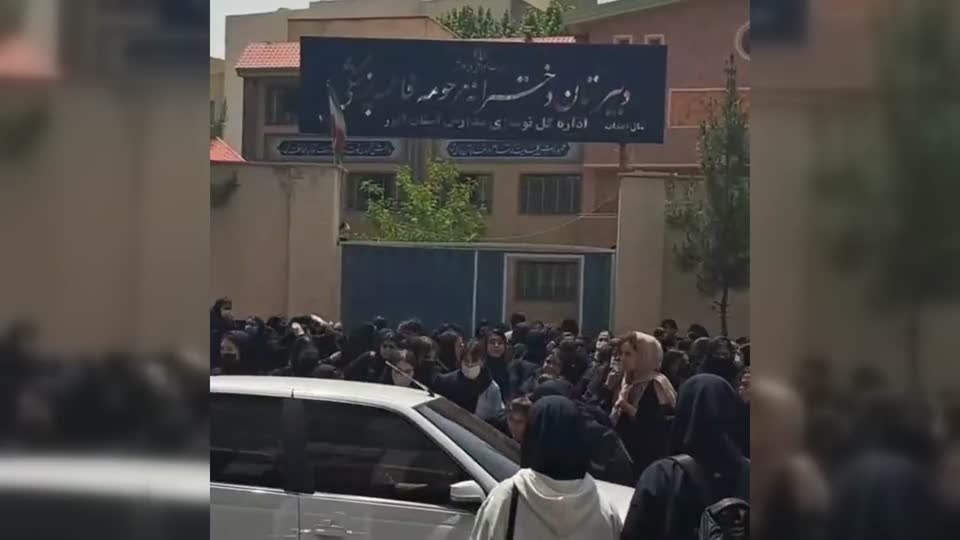 Poisoning of Thousands of Schoolgirls in Iran Piles More Pressure on Islamic Republic Struggling for Survival
"We'll stand to the end."
Large anti-regime protests in Zahedan, #Iran. pic.twitter.com/mYPTzun4BE

— Alireza Nader علیرضا نادر (@AlirezaNader) April 28, 2023
Authorities have accused the Islamic Republic's "enemies" of using the suspected attacks to undermine the clerical establishment. But suspicions have fallen on hardline groups operating as self-declared guardians of their interpretation of Islam.
The suspected poisonings began in November in the holy Shi'ite Muslim city of Qom and spread to 28 of Iran's 31 provinces, according to activist HRANA news agency, prompting some parents to take children out of school and protest.
For the first time since the Islamic Revolution in 1979, schoolgirls have joined the protests that spiralled after Mahsa Amini's death in morality police custody.
---
(Reporting by Dubai newsroom; Editing by Leslie Adler)
---
Similar Articles to This Post