---
By Parisa Hafezi
---
ANKARA, April 26 (Reuters) – A top adviser to Iran's supreme leader said on Thursday Tehran would not accept any change to its nuclear deal, as Western signatories prepare a new package in the hope of persuading U.S. President Donald Trump to stick with the accord.
A May 12 deadline is looming for Trump to decide on whether to re-impose U.S. economic sanctions on Tehran. French President Emmanuel Macron said on Tuesday he had discussed a "new deal" with Trump in which the United States and Europe would tackle outstanding concerns about Iran beyond its nuclear programme.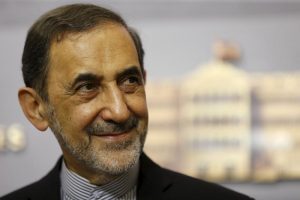 "Any change or amendment to the current deal will not be accepted by Iran," said Ali Akbar Velayati, a senior adviser to Iran's Supreme Leader Ayatollah Ali Khamenei, the semi-official Iranian news agency Fars reported.
"If Trump exits the deal, Iran will surely pull out of it … Iran will not accept a nuclear deal with no benefits for us," Velayati told journalists.
Under Macron's proposal, the United States and Europe would agree to block any Iranian nuclear activity until 2025 and beyond, address Iran's ballistic missile programme and generate conditions for a political solution to contain Iran in Yemen, Syria, Iraq and Lebanon.
Trump has said that unless European allies fix the "terrible flaws" in the Iran nuclear deal by May 12, he will refuse to extend U.S. sanctions relief on oil-producing Iran.
Under Iran's settlement with the United States, France, Germany, Britain, Russia and China, Tehran agreed to curb its nuclear programme to satisfy the powers that it could not be used to develop weapons. In exchange, Iran received relief from sanctions, most of which were lifted in January 2016.
REGIONAL INFLUENCE
The EU says it is in full agreement with China and Russia over the need to preserve the deal, but has expressed concerns about Iran's missile programme and its role in the Middle East.
"Keeping sanctions on Iran, under any name or pretext, will be unacceptable by Tehran," Velayati said, adding that making changes to encourage Trump to stay in the deal would make it "ineffective".
The collapse of the multinational accord could trigger an arms race in the Middle East.
Velayati said Iran had no intention of reining in its influence across the region, as demanded by the United States and its European allies.
"This is our region. We are in our own region and it is legitimate," he said.
Shi'ite Muslim Iran backs President Bashar al-Assad in Syria's civil war, Shi'ite militias in Iraq, Houthi rebels in Yemen's conflict and Lebanon's Hezbollah.
Trump sees Iran as a rising threat and has pledged to work with Gulf Arab states and Israel to curb its regional influence.
Israel and Sunni Muslim Saudi Arabia have welcomed Trump's opposition to the nuclear deal.
---
(Writing by Parisa Hafezi; Editing by Andrew Roche)
---