---
GENEVA, April 19 (Reuters) – The United States hopes to reach agreement with Britain, France and Germany to address President Donald Trump's concerns about the 2015 Iran nuclear deal, Washington's disarmament ambassador said on Thursday.
The crux of the accord between Iran and six major powers – Britain, China, France, Germany, Russia and the United States – was that Tehran would restrict its nuclear programme in return for relief from sanctions that have crippled its economy.
On Jan. 12, Trump delivered an ultimatum to Britain, France and Germany, saying they must agree to "fix the terrible flaws of the Iran nuclear deal" or he would refuse to extend the U.S. sanctions relief that it calls for.
U.S. sanctions will resume unless Trump issues new "waivers" to suspend them on May 12, although it is unclear how fast they would go into effect. Iran has ruled out renegotiating the deal.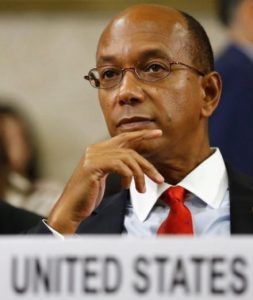 U.S. disarmament ambassador Robert Wood said discussions with the three European powers were "intense" ahead of the May 12 deadline. He said Washington had concerns about a failure to address Iran's ballistic missile programme, 10-year "sunset" clauses for limits on its nuclear activity and Iran's general behaviour in the Middle East.
"These issues have to be dealt with. We are hopeful that an agreement can be reached that the president can feel comfortable with," Wood told a news conference in Geneva,
The United States is also pushing for broader terms under which U.N. inspectors from the International Atomic Energy Agency can visit Iranian sites – whether they are declared to be for civilian nuclear activity or not.
"We want the IAEA to get access to all the sites they need to. The Iranians obfuscate and deny, say they'll offer access and then deny it. It's important for the IAEA to go anywhere it needs to, including military sites," Wood said.
Iran, which pledged under the 2015 deal not to seek nuclear arms, says its nuclear programme is only for peaceful purposes only and its ballistic missiles solely for defence.
It has said it will stick to the accord as long as the other parties do, but will "shred" the deal if Washington pulls out.
Diplomats say European Union governments are showing more support for the idea of new, non-nuclear-related sanctions on Iran proposed by Britain, France and Germany as a way of dissuading Trump from ditching the 2015 deal.
They said EU governments were under more pressure to protest against Iran's role in Syria's civil war following an April 7 suspected chemical weapons attack near Damascus which the West blames on Syrian President Bashar al-Assad.
(Reporting by Tom Miles; editing by Stephanie Nebehay and Mark Heinrich)