---
By Elika Ashoori and Mariam Claren
---
On this Human Rights Day, we demand humanity and justice for our parents and for all those who are suffering wrongful imprisonment. 
One only starts to miss a quiet, ordinary life when it has been taken away.
My name is Elika Ashoori and my father Anoosheh Ashoori – a gentle, family-oriented retired businessman — is a political hostage in the Islamic Republic of Iran. He was arrested in 2017 while visiting his sickly 86-year-old mother in Iran who needed nursing and care after surgery. He was held for months in solitary confinement with no access to independent legal counsel, and subsequently sentenced to 10 years in prison after a secret, sham trial.
My name is Mariam Claren and I have a similar story, with a different cast. My German-Iranian mother Nahid Taghavi — a retired architect and women's rights activist — was arrested in 2020, held in prolonged solitary confinement, interrogated for over 1,000 hours with no legal counsel, and then sentenced to more than 10 years in prison.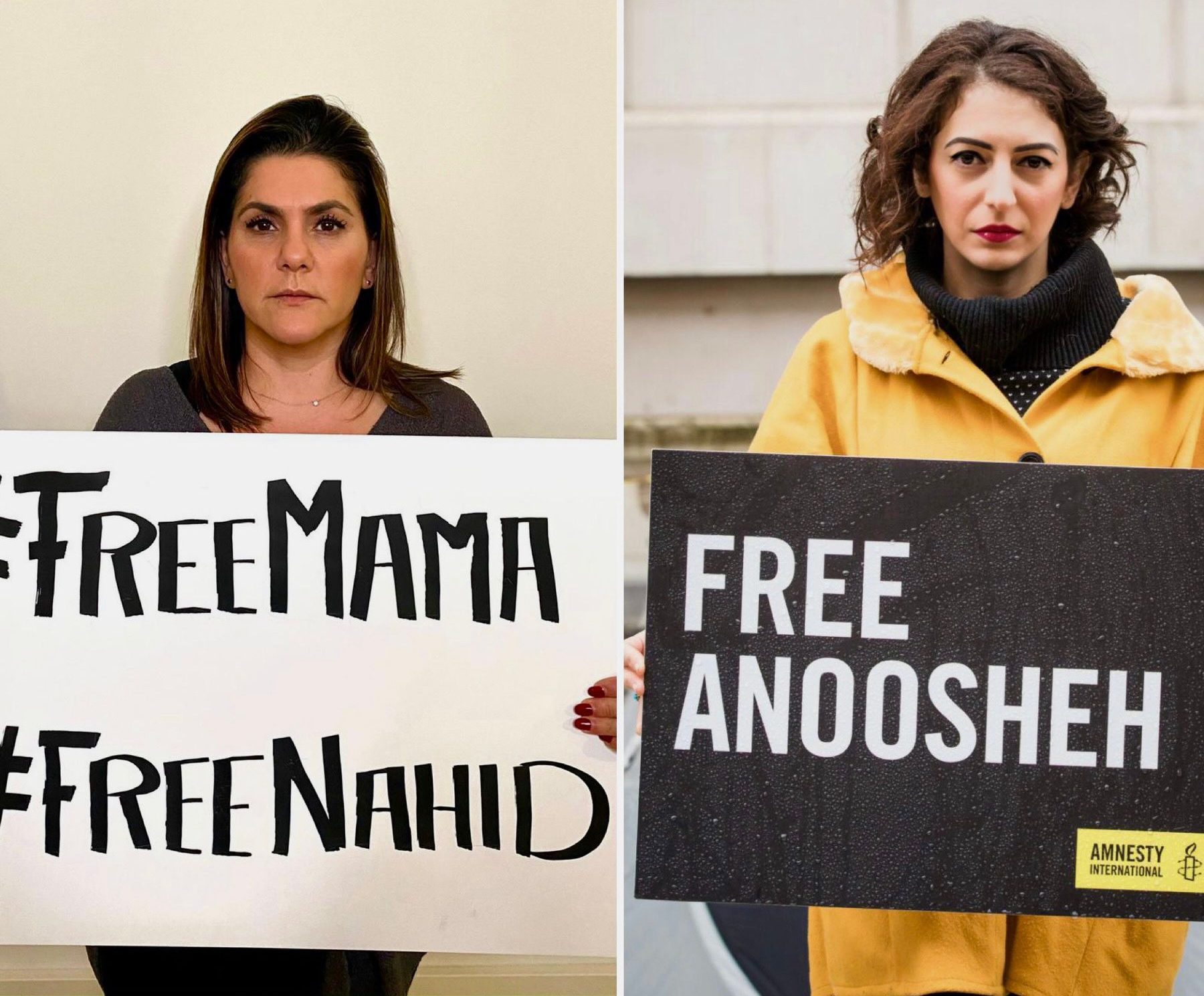 It is safe to say that our lives were turned upside down from that point on. The notion that a government would take their elderly innocent citizens hostage for financial and political gain is not something that life prepares you for. We were thrown into the deep end of world politics, with very little or no knowledge of it. We had to learn to become proficient in campaigning, political activism and raising awareness in such a short space of time — all the while trying to deal with the emotional and psychological turmoil that this situation brings.
Our loved ones are being held in one of the world's most notoriously horrendous prisons in their old age, and we cannot visit Iran to see or help them in any tangible way. We are completely at the mercy of governments to negotiate the safety and freedom of our loved ones, who are no more than chess pieces in a game much bigger than them.
Anoosheh and Nahid are both being held in Iran's Evin prison, a ghastly place known for its continued practices of mass execution and physical and psychological torture.
Despite their British and German citizenship, they've been denied consular access. Iran has a long history of arresting their dual nationals and using them as bargaining chips. These individuals and their families are caught in the middle of a political game between governments in which humanity and justice do not seem to play a role. They are essentially collateral damage.
Anoosheh's and Nahid's cases are not the only ones – they are just the tip of the iceberg in a wave of unjust arrests in Iran. The Islamic Republic's judicial "process" is no more about truth and justice than the medieval inquisitions of 12th-century Europe. Systematic human rights violations are commonplace. Lawyers, journalists and religious minorities of all backgrounds are arbitrarily arrested. "Propaganda against the state" is one of the most frequent charges in politically motivated imprisonments. When translated, it means: "Thinking is forbidden and speaking your thoughts is a crime." 
Western governments are turning a blind eye and putting their economic and political interests above these human rights violations.
Having to face the trauma of our parents' arrest and horrific treatment has turned us — two ordinary women with a background in food and hospitality — into human rights activists. The experience has taught us that that speaking out against injustice and raising awareness of the horrors prevalent in Iran are the only ways to stand up to this cruelty. We have also learned that applying and maintaining pressure on our governments is key to keeping their cases alive and not allowing them for be forgotten and pushed aside.
Our parents' arrest opened our eyes to the array of other unjust arrests that are currently happening in Iran. The prisoners have nicknamed the place 'University of Evin', seeing as most of those arrested are educated, enlightened individuals such as lawyers, poets, filmmakers, environmentalists, and human rights activists, who have dared to speak the truth, stand up to injustice or simply have an opinion that challenges the authority of those in charge. These people deserve awards, not prison bars – and we feel that it is now our duty to make sure that none of them is forgotten by offering them a constant show of solidarity.
If there's one thing that we've learned in our long struggle, it is that the pressure on our government comes from the people. People who sign our petitions, complain and protest against this injustice, as well as the key role the media plays in covering our plight.
This is why we started working with human rights organizations such as Amnesty International to publicize Anoosheh and Nahid's cases. We have strategized with various legal teams to fight for their release and joined forces with prominent voices of conscience such as the Nobel Peace Laureate Jody Williams, the women's rights pioneer Gloria Steinem, the renowned author and playwright Ariel Dorfman, and over 3,000 signatories in an Emergency Appeal to free Iran's political prisoners.
Our common struggle — two daughters fighting for the freedom of their loved ones — has brought us together. Through this path, we have formed a rare bond and an unexpected friendship, which gives us the strength to fight and allows us to open up to each other about something that is extremely difficult for anyone else not going through this ordeal to understand.
Today is the 10th of December, International Human Rights Day. The two of us alone will not be able to free our parents or make a big enough difference so we would live in a world where these violations cease to exist, but we are going to mark this day to help ensure that our loved ones and many hundreds more are not forgotten, and encourage everyone to speak out and fight with us. Change only happens when enough people join in standing up against social injustice. For Anoosheh, for Nahid, and for everyone else who is wrongly imprisoned in the Islamic Republic of Iran. #FreeThemAll!
---
About the authors:
Elika Ashoori is the daughter of Anoosheh Ashoori. She is a patisserie chef and cake designer working in Greenwich market, London and living the countryside of Kent.
Mariam Claren is the daughter of Nahid Taghavi. She is a marketing expert and lives in Cologne Germany. Their campaigns can be found on Twitter: @FreeAnoosheh and @mariam_claren
---