---
By Kayhan Life Staff
---
In a powerful show of solidarity with the "Woman Life Freedom" movement in Iran, lawmakers from all major political parties in the UK and leading British personalities met with Iranian activists, artists, experts, and journalists on Sep. 19 in the British Parliament. The meeting, commemorating one year since 22-year-old Mahsa Jina Amini's unlawful death in police custody in Iran, was hosted by the Azadi Network, a non-partisan, fact-based advocacy network focusing on human rights in Iran.
"What we are watching in Iran is femicide, the weaponization of chauvinism in the pursuit of power, and that word femicide matters because if we do not call it out for what it truly is, we fail every single woman whose lives have been taken, whether it's brutal tactics and gassing girls and their schools, or employing sexual violence as a weapon," said Alicia Kearns, Chair of the UK Foreign Affairs Select Committee.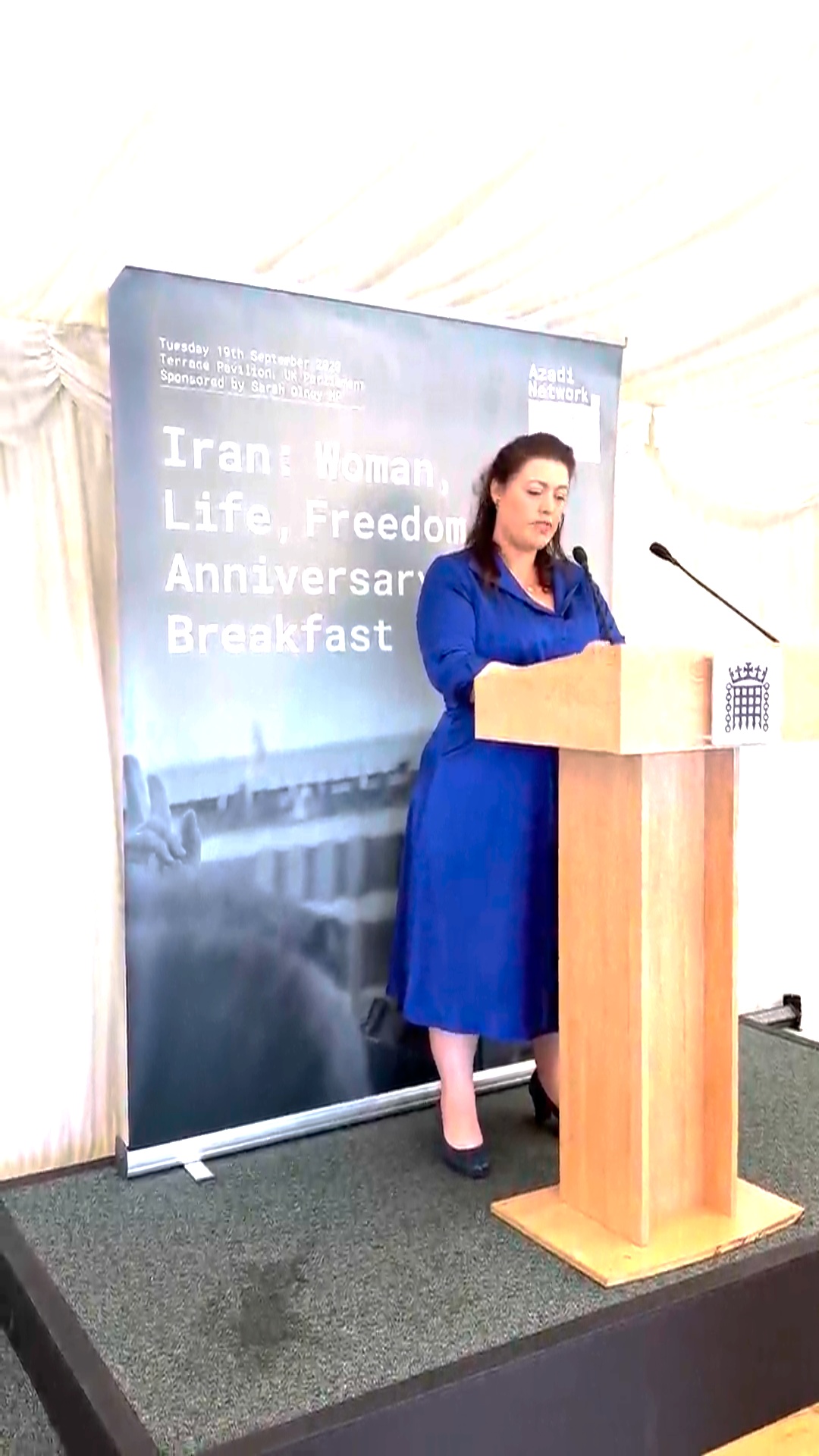 According to human rights groups and government officials, between November 2022 and March 2023, up to 7,000 schoolgirls were poisoned at dozens of schools in at least 28 of Iran's 31 provinces,
In a more somber development, the parliament of the Islamic Republic has approved the "Hijab and Chastity" law, which broadens the implementation of gender segregation in universities, government offices, parks, and the healthcare sector, including hospitals.
Iranian Women Protest Against Mandatory Veiling on 'Chastity and Hijab Day'
It also authorizes intelligence agencies, such as the Intelligence Organization of the Islamic Revolutionary Guards Corps (IRGC), to directly engage with women who do not adhere to veiling regulations. This authority would extend beyond public spaces to cover vehicles, commercial areas, businesses, and virtual platforms. Women face up to 10 years in prison if they continue to defy the hijab rules. The bill will be presented to Iran's Guardian Council for approval before it becomes law.
Baroness Kennedy of The Shaws KC, the Director of the International Bar Association's Human Rights Institute, stressed that denying women in Iran full participation in society indicates that the Islamic Republic is committing gender apartheid. "It is really important to call the situation as is and use the right language. This is important, given our experience with campaigning for South Africa," she said.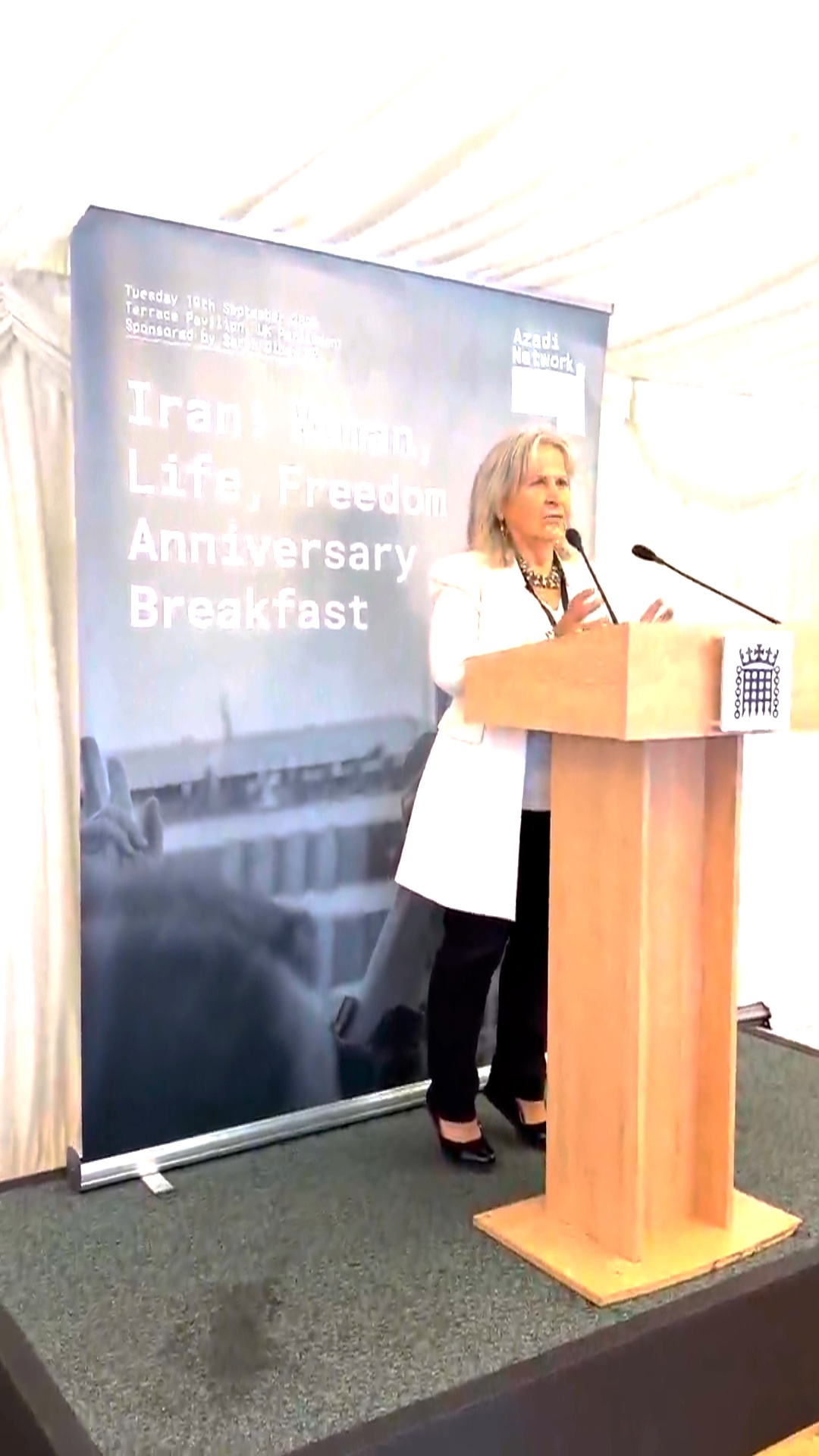 A year after the state-murder of Jina Mahsa Amini and the start of the nationwide "Woman, Life, Freedom" revolution, Iran Human Rights , a non-profit, human rights organization with members inside and outside Iran,  has verified the killing of 551 protesters including 68 children and 49 women. Additionally, at least 22 protesters including four children and eight women have died by suicide.  Some were beaten to death just like Mahsa was.
Thus far, at least seven protestors have been executed.  Revolutionary courts  have sentenced another 10 protestors to death, and 82 are facing charges that include the death penalty.  Trials are unfair by international standards often occurring behind closed doors presided over by clerics, with none of the standard guarantees of criminal procedure such as allowing time and access to lawyers to prepare a defense.
Professor Javaid Rehman, the United Nations Special Rapporteur on the situation of human rights in the Islamic Republic of Iran, pointed out the absence of accountability on the part of the regime in Tehran for serious human rights violations, which he said were tantamount to "crimes against humanity."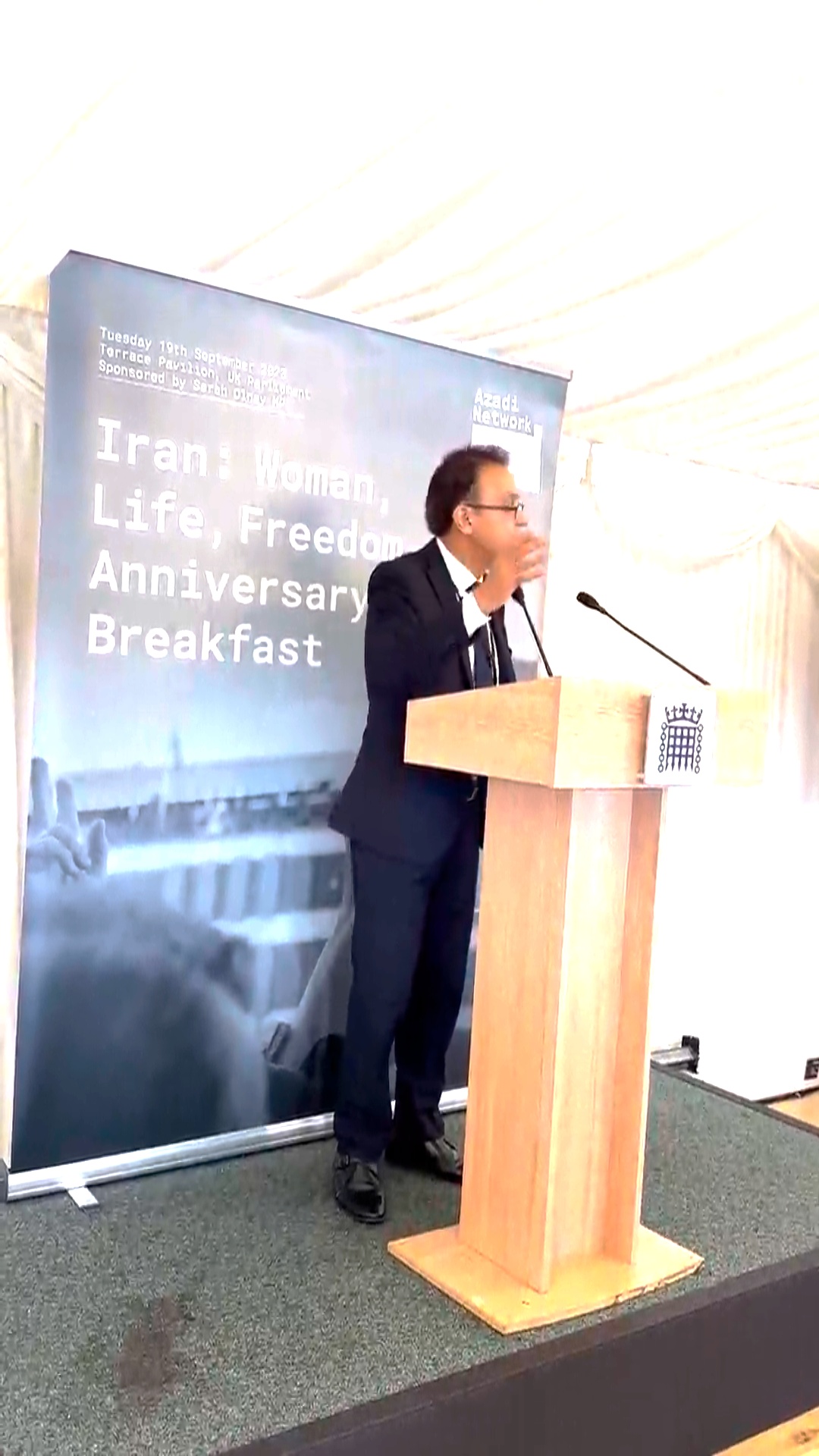 Do we want to support the people of Iran, the brave women and girls of Iran, or do we succumb to those who are unaccountable, undemocratic, authoritarian, and repressive? It is very important for us to look at our conscience," he asked.
In his February 2023 report on the situation of human rights in Iran, Dr Rahman noted that there was evidence of deliberate killings in many cases with security forces shooting at individuals at close range, particularly to the head.  The security forces shot scores of young protesters directly in the eyes, resulting in the loss of sight in one or both eyes.  A significant number of young women were blinded. Shooting directly at peaceful protesters' eyes is a  violation of the UN Basic Principles on the Use of Force and Firearms by Law Enforcement Officials, and a violation of the International Covenant on Civil and Political Rights.
Members of Parliament were united in their call for the proscription of the IRGC in the UK and support for freedom and democracy in Iran, as well as the need for international cooperation, particularly with the US and Europe.  The Labour Party's Shadow Minister for the Middle East, Wayne David, emphasized that although IRGC proscription is necessary, sanctions must be enforced. Kearns also called for Britain to shut down Tehran's network of UK-based cultural institutions to protect the voices of the opposition.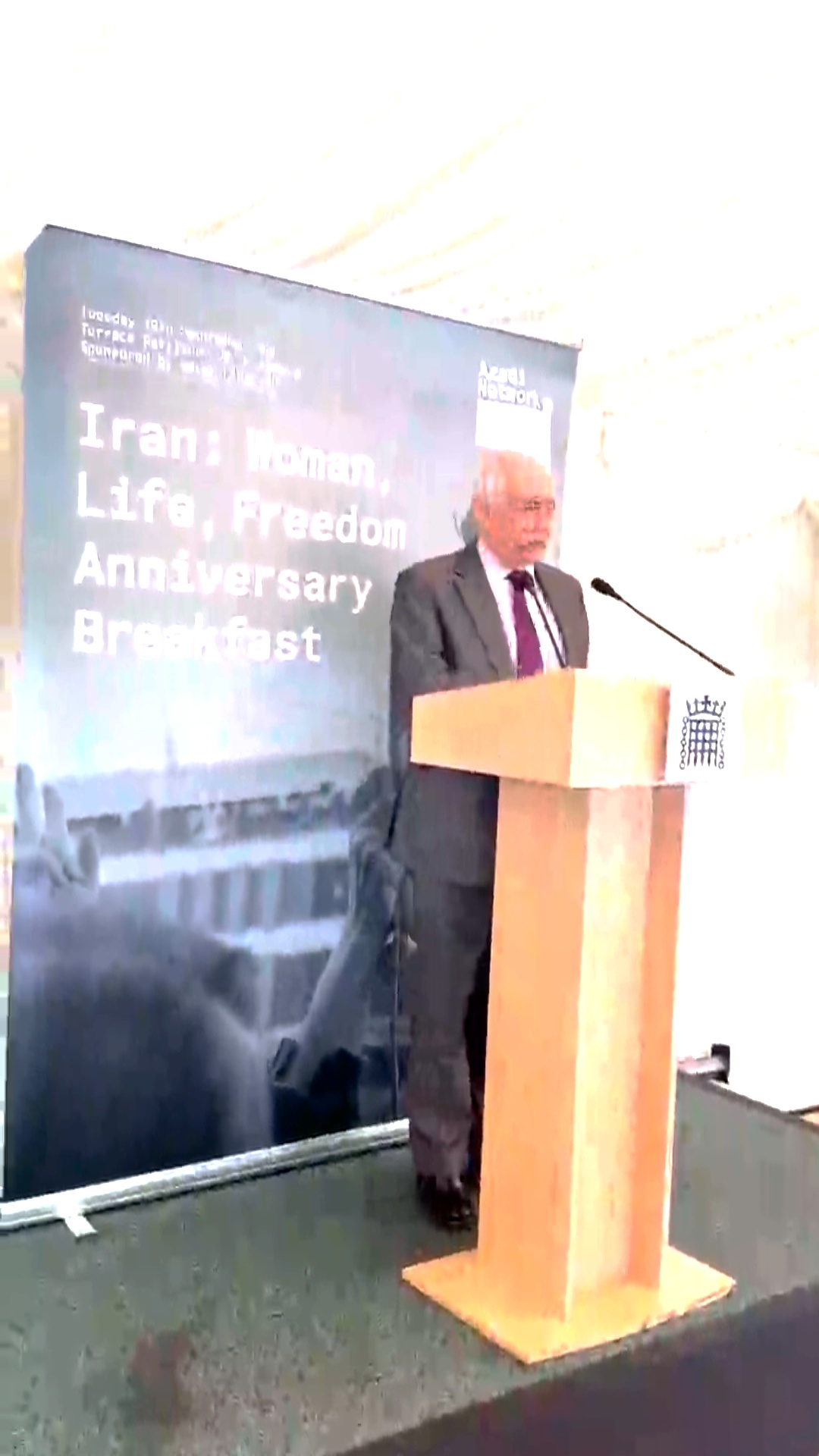 A message from Iran was read by the British-Iranian comedian Omid Djalili, a vocal supporter of human rights in Iran.
"The majority of the 80-million-plus people residing here share a common goal to overthrow this regime entirely. But we exist in isolation, with no independent outlets reporting on our situation. Our only hope of being heard is through international outlets. We thank you for your solidarity, but we would also like to point out that your governments have repeatedly let us down."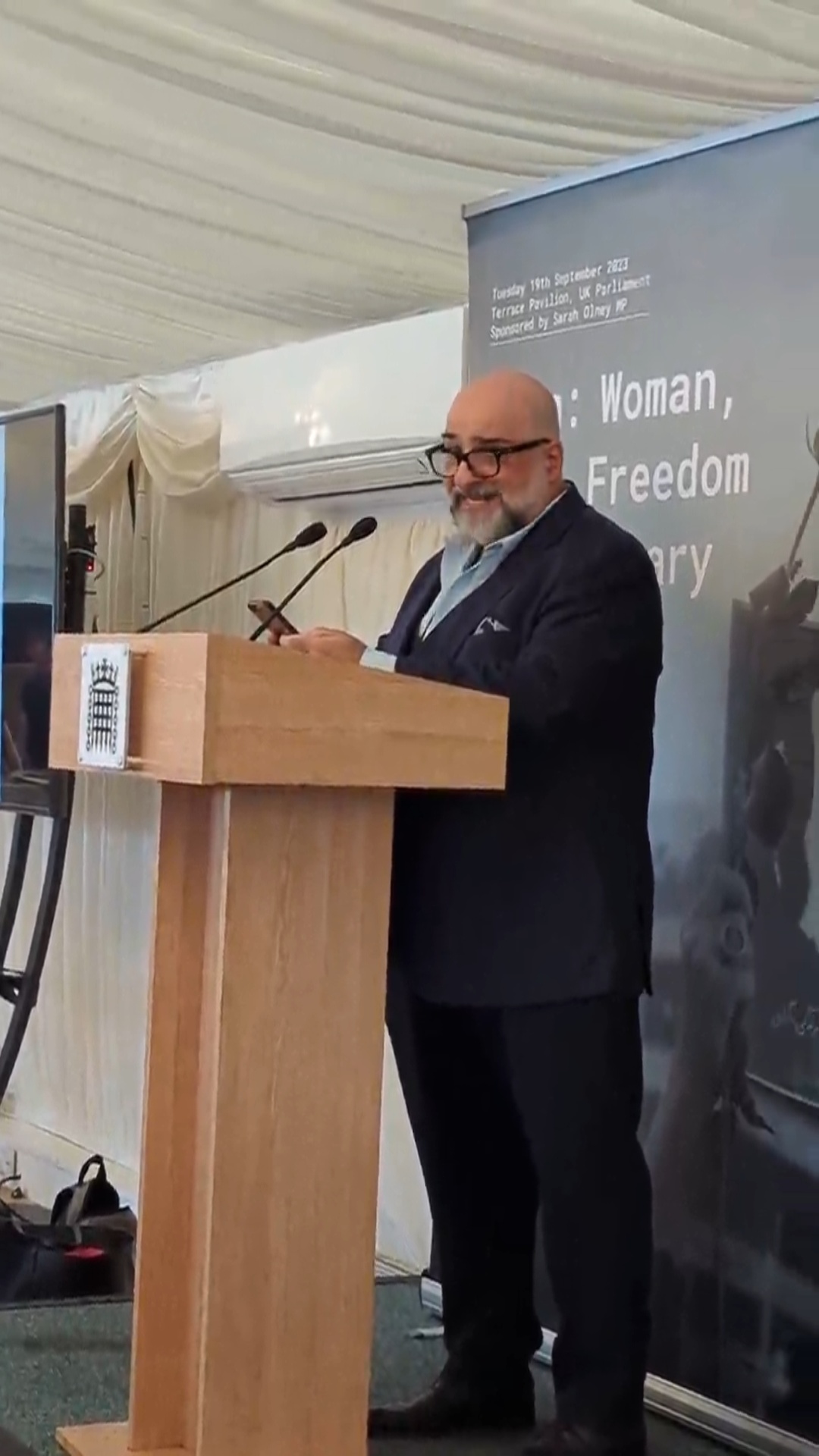 The meeting, which the Emmy-award-winning journalist Ramita Navai chaired, included video messages from Sir Richard Branson, founder and chairman of the Virgin Group, and Anoosheh Ashoori, a British-Iranian businessman who was detained in Tehran's Evin prison for over three years. Ashoori warned that the lack of decisive action against the regime "has allowed this cancer to spread as we have tragically seen in Ukraine. If the world does not act swiftly, this calamity will knock on the doors of Europe and the United Kingdom. "
Speaking to Kayhan Life, Negin Shiraghaie, the CEO of Azadi Network, explained that the event resulted from more than nine months of daily advocacy and personal engagement with lawmakers from all major political parties. "This meeting was our first step to unite the British-Iranian electorate for the upcoming elections," she said. "The UK needs a single yet influential, powerful, democratic voice supporting democracy and freedom in Iran."
UK House of Lords Marks Mahsa Amini Death With Human Rights Conference
Similar Articles to This Post