---
By Reza Hamidi
---
The accclaimed Iranian photographer and documentary filmmaker Kioumars Derambakhsh died of coronavirus on March 31 in Paris. He was 74.
"Kioumars contracted coronavirus and was hospitalized a few days ago," his brother Kambiz Derambakhsh, the renowned cartoonist, said. "My brother had been living in Paris for many years, and will be buried there."
"My father was a great director," Derambakhsh's son Arash wrote on his Facebook. "I will do my utmost to remain committed to the humanitarian values that I learned from him."
The Directors Guild of Iran released a statement that said: "So far, this spring has felt more like autumn with scores of people around the world perishing like fallen leaves — succumbing to a pandemic that has now robbed Iranian cinema of one of its pioneering filmmakers."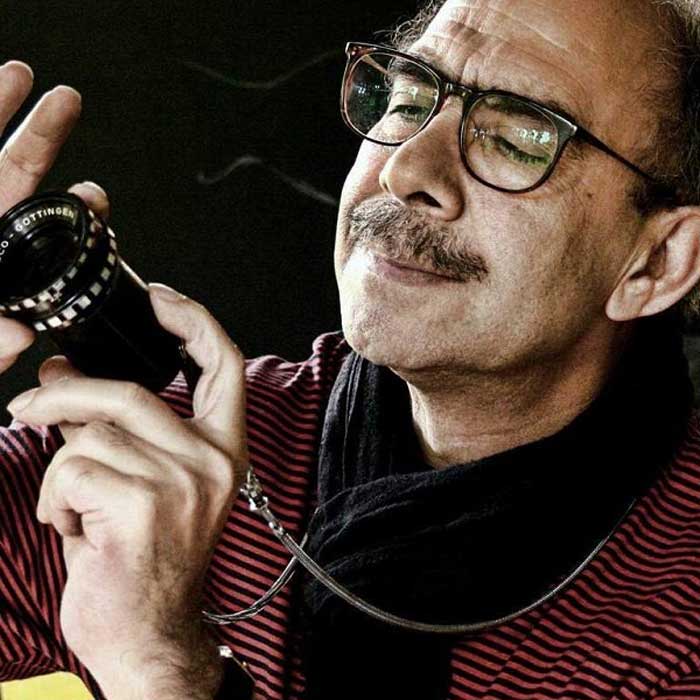 The former French-Iranian professional tennis player Mansour Bahrami, a long-time friend of the Derambakhsh family, told Kayhan Life: "My friendship with Derambakhsh family dates back to when my memoirs were published."
"I met several times with Arash Derambarsh to discuss my book," Mr. Bahrami, who is a popular figure in invitational tournaments, said. "We became friends and saw each other at various events. I attended an exhibition of Iranian artists organized by him and even bought a few pieces."
"I offer my heartfelt sympathy and sincere condolences to Derambakhsh family," Bahrami added.
Mr. Derambakhsh was born on December 25, 1945, in Teheran, the day the U.S. dropped an atomic bomb on the Japanese city of Nagasaki, which ended World War II.
He moved to Paris in 1966 to continue his education. After returning to Iran, he worked as a photographer on film sets. He worked on Amir Naderi's 1973 film titled "Tangsir" (Tight Spot) and Massoud Kimiai's 1975 "Gavaznha" (The Deer).
Derambakhsh was a shining star of modern Iranian cinema who distinguished himself through innovative, thought-provoking, and memorable documentary films about Iranian culture and nature.
Derambakhsh directed the stage and film actor Parviz Fannizadeh (1938-80) in his 1975 feature film "Boof-e Koor" (The Blind Owl), based on a book with the same title by Sadegh Hedayat (1903-51), one of Iran's foremost modern writers.
Derambakhsh and Fannizadeh also collaborated on a docudrama in the same year titled "Safar-e Bahari" (Spring Journey), which explored Hedayat's life, writing, and suicide.
Derambakhsh's work centered on building a better world through peace, international cooperation, and environmental issues.
---
[Translated from Persian by Fardine Hamidi]