---
By Ahmad Rafat
---
While some White House remarks reveal that there are serious problems with the rebooting of the JCPOA, they also signal a new diplomatic game, which began when President Biden took office a few weeks ago.
Both sides have been working on their strategy in that game before they sit down to any official negotiations.
Tehran's principal goal is to revive the JCPOA, which it hopes will cause the lifting of crippling economic sanctions. Iran's power and influence have significantly diminished in the region. Its failing economy is Joe Biden's trump card, and one that the U.S. will play at a convenient time.
Meanwhile, there has been no significant shift in U.S. policy on Iran since Joe Biden took office almost a month ago. The only notable change has been replacing Trump's "maximum pressure" campaign with Biden's "maximum diplomacy" policy. Biden has neither lifted nor eased the economic sanctions imposed on Iran by former President Trump.
U.S. Will Not Lift Sanctions to Get Iran to Negotiating Table -Biden
An official at the U.S. Justice Department recently said that the U.S. had sold more than a million barrels of Iranian fuel — originally destined for Venezuela, and seized last year under the Department of Treasury's sanctions program.
Also, while the Biden administration has ended U.S. involvement in the war in Yemen, it continues to support Saudi Arabia in its fight against the Houthi rebels.
The U.S. cannot return to the deal under the same terms agreed to by former President Barack Obama's team in 2015. Mr. Biden and his administration must consult with the U.S.'s European partners and regional allies — especially Israel, Saudi Arabia, and both sides of the aisle in Congress — before revisiting the JCPOA.
Saudi Arabia has argued that "those countries in the region which have been threatened and harmed by the Islamic Republic the most must be included in some parts of any international discussions on Iran's nuclear program."
In an interview with the Dubai-based Al Arabiya on Jan. 29, French President Emmanuel Macron said: "Saudi Arabia must be involved in fresh talks on Iran deal," adding that "talks with Tehran will be rigorous."
France's Macron Says Any New Nuclear Talks With Iran to Be 'Strict' -Arabiya TV
The U.S. and its European allies believe that the JCPOA in its current state is inadequate and must be expanded to include Iran's missile program and regional activities.
In an interview with the Islamic Republic of Iran Broadcasting (IRIB) TV on Feb. 7, Iran's Foreign Minister Mohammad Javad Zarif said there was no reason to include Saudi Arabia in future nuclear talks. Nor was there any need for a fresh round of negotiations, because the U.S. left the JCPOA unilaterally, so it must return to the talks with no preconditions, he added.
On Dec. 1, the Majlis (Iranian Parliament) passed a resolution which said that if all economic sanctions on the sale of oil, banking, and financial systems were not lifted by Feb. 21, Iran would expel the International Atomic Energy Agency's (IAEA) inspectors and withdraw from the Non-Proliferation Treaty (NPT).
Iran could also play its ballistic missile program card, which involves collaborating with North Korea on developing ballistic missiles that can carry nuclear warheads. Some news outlets have seen an unpublished UN report in which a UN official supervising North Korea's sanctions claims that Tehran and Pyongyang have been working together on developing long-range missiles since January 2020.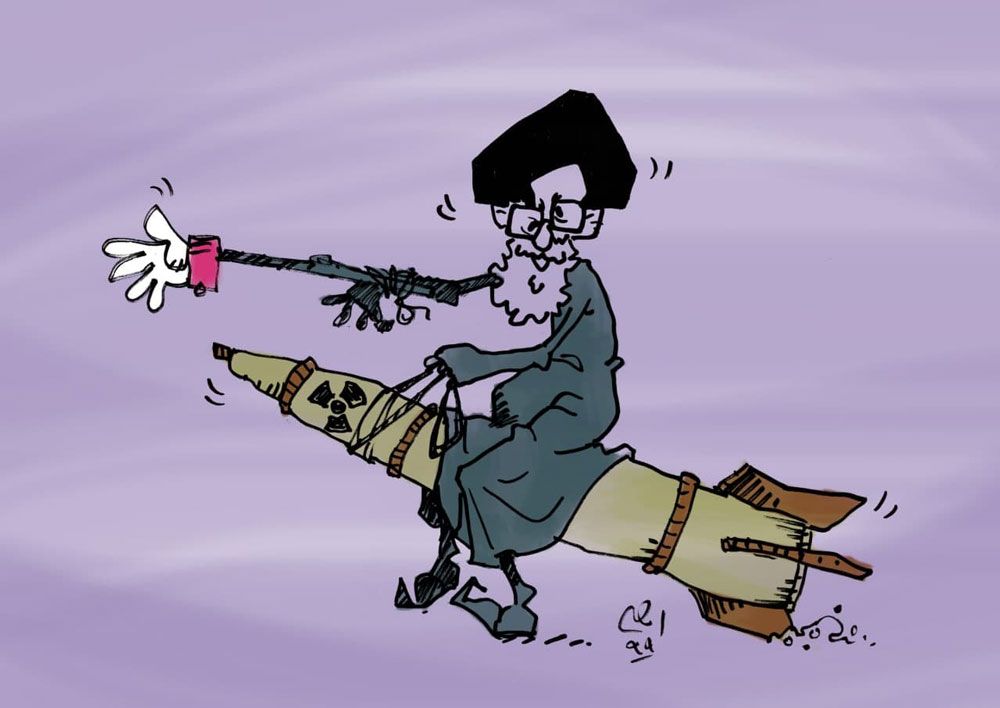 "A confidential report by the IAEA said Iran had produced uranium metal on Feb. 6 at a nuclear facility in Isfahan that is under the agency's inspection," The Wall Street Journal reported on Feb. 10. "The material produced was a small amount of natural uranium metal, the IAEA reported, meaning it wasn't enriched. To use uranium metal for a nuclear weapon's core, Iran would need around half a kilogram of highly enriched uranium metal, experts say."
European governments, particularly France, Germany, and Britain, have described the news as "very worrying." In comments reported by the Western media, Russian Foreign Minister Sergei Lavrov called on Iran to exercise "self-restraint and act responsibly."
While confirming some recent reports about its nuclear activities, Iran has tried to convince the international community that it is nowhere near developing nuclear weapons.
The head of Iran's Atomic Energy Organization of Iran (AEOI), Ali Akbar Salehi, has said that "over 50 nuclear achievements will be unveiled concurrently with the National Day of Nuclear Technology next year [Iranian year starting Mar. 21, 2021.]"
Mr. Salehi made the announcement at the "Second Iran Permanent Nuclear Industry Exhibition" in Qazvin, the capital of the northeastern province of Qazvin, on Feb. 9.
"The talented and expert youth of the country in the Atomic Energy Organization of Iran have made their utmost efforts to advance and develop the nuclear industry of the country comprehensively, and we have witnessed its effects in activities of the organization in reproducing 20 percent nuclear fuel," Salehi was quoted by the Mehr News Agency's English edition as saying.
Iran's Intelligence Minister Mahmoud Alavi told IRIB TV earlier this month: "The supreme leader has issued a fatwa [religious decree], forbidding the development and use of nuclear weapons."
"A cat that has been cornered behaves differently than a free one. It will not be Iran's fault if it is pushed in that direction," Mr. Alavi added.
Iran's Spy Chief Says Tehran Could Seek Nuclear Arms if 'Cornered' by West
Israel is more concerned about Iran's nuclear program than any other country.
In July 2018, Israeli spies broke into a warehouse in Tehran and stole a half-ton of secret documents on Iran's nuclear activities.
---
On Nov. 27, Mohsen Fakhrizadeh, dubbed the "father of Iran's nuclear program," was killed by unknown attackers who reportedly used a "remote control weapon" to fire on his car in Mostafa Khomeini Boulevard in Absard, 80 kilometers east of Tehran.
Many believe that Israel was behind the assassination.
Mr. Fakhrizadeh was an academic physicist and a faculty member at the Imam Hossein University in Tehran, and the founder of the Organization of Defense Innovation and Research. He was also a member of the Islamic Revolutionary Guards Corps (IRGC) with a tank of Brigadier General.
This month, Israeli Energy Minister Yuval Steinitz said that Iran was one to two years away from producing a nuclear bomb.
"If they do everything to break out in terms of enrichment, it will be half a year [to produce the materials]; in terms of nuclear weapons, they are a year or two away," Mr. Steinitz was quoted by The Times of Israel as saying on Feb.2. "Trump's exit from the nuclear deal weakened Iran."
Some other countries believe Iran is six to eight months away from producing a nuclear bomb.
Although Washington and Tehran will not start any official negotiations until after the Iranian presidential elections in June, many countries have already offered to mediate the talks, including France.
In August 2019, President Macron tried unsuccessfully to broker a meeting between former U.S. President Donald Trump and Iranian Foreign Minister Javad Zarif on the sidelines of the G7 meeting in the French seaside town of Biarritz. There, leaders of the G7 nations — Canada, France, Germany, Italy, Japan, Britain, and the U.S. — had gathered to discuss a host of issues, including global trade, climate change, and Iran's nuclear program.
Oman has also offered to mediate a meeting between the U.S. and Iran. It previously brokered a meeting between Tehran and the Obama administration before signing the JCPOA in 2015.
Oman's Foreign Minister Sayyid Badr bin Hamad bin Hamood Al-Busaidi has said his country was prepared to once again mediate talks between Washington and Tehran.
"In 2015, Oman welcomed the establishment of the JCPOA. Today, I am optimistic that all parties may return to this framework," was quoted by Al Bawaba, the Amman-based news agency, as saying on Feb. 14. "Oman has supported the inclusion of Iran in dialogue on key issues of common regional concerns, and the JCPOA provides a vital first step."
"Oman has supported the inclusion of Iran in dialogue on key issues of common regional concerns, and the JCPOA provides a vital first step," Mr. Al-Busaidi added.
Qatar's Foreign Minister Mohammed bin Abdulrahman bin Jassim Al Thani has also said his country was working hard to reboot the nuclear talks.
"The State of Qatar is working on de-escalation through a political and diplomatic process to return to the nuclear agreement," Mr. Al Thani was quoted by Reuters as saying on Feb. 11.
While Iran cannot wait to revive the nuclear deal, Israel, Saudi Arabia, and the U.S. are in no hurry to restart the negotiations. They believe the fresh rounds of talks will be lengthy and require extensive preparation.
A European diplomat told Kayhan Life: "The Feb. 22 deadline set by Tehran will offer us a chance to assess whether Iran is bluffing, and if so, nothing extraordinary will happen. The Islamic Republic has been struggling with the severe economic crisis, and, therefore, is not in a position to dictate terms."
This article was translated and adapted from Persian by Fardine Hamidi
---
Similar Articles to This Post
---
[contact-form][contact-field label="Name" type="name"][contact-field label="Email" type="email"][/contact-form]
---