---
By Rawaa Talass
---
The art dealer Sholeh Abghari was born and raised in Tehran, and developed an interest in painting and collecting art from an early age.
She studied art history in Paris and art business in London, before setting up her eponymous gallery in the upscale Golden Mile area of Marbella, Spain in 2019.
Kayhan Life joined Abghari for a conversation at her gallery in Marbella, where she sat in front of a huge three-panel painting by Shahriar Ahmadi. She spoke of her move to Spain, Marbella's art scene, and her passion for exhibiting Iranian artists.
What brought you to Spain in the first place?
I came here because we always had a summer place with my family. In 2017 or 2018, I met my husband here and we decided to stay. We started a family. I was always into art dealing. My husband told me: "Why don't you get a place of your own?" I said Marbella wasn't that cultural, it wasn't my market. He really pushed me, and I listened to him. We found this place, immediately took it, and I started.
It's true that Marbella is not a cultural hotspot, and is more of a resort. Do people here know much about art from Iran?
There are some people who know, believe it or not — for example, Belgians. At the gallery opening party, I organized an Iranian show and titled it 'Iran Contemporary' on purpose, because I wanted to focus on Iranian art. I showcased around 12 pieces from different generations. They were all inspired by classical Iranian art forms, such as calligraphy, poetry, and architecture.
People here are very international. They have different tastes and opinions. We had a very big opening: 300 people came.
What I learned was that it was a little too soon for this market to launch a 100 percent Iranian art show. I then adapted to the market, because Marbella is a Miami-style market. But I always make sure that I work with Iranian artists.
Why is that important you?
First of all, I'm Iranian. I definitely believe in the Iranian market. There are so many good Iranian artists in Iran who, because of the situation now, cannot come to international art fairs. So I work with galleries in Iran to help present their artists' work in Europe or in any other market abroad. I just want to show the talents in my country, because for me, it is a fantastic country.
I don't want Middle Eastern art to be for the Middle East only, you know? I want Middle Eastern art for everywhere. Art, itself, is very international. You cannot say it's American, Japanese, French — art has one language.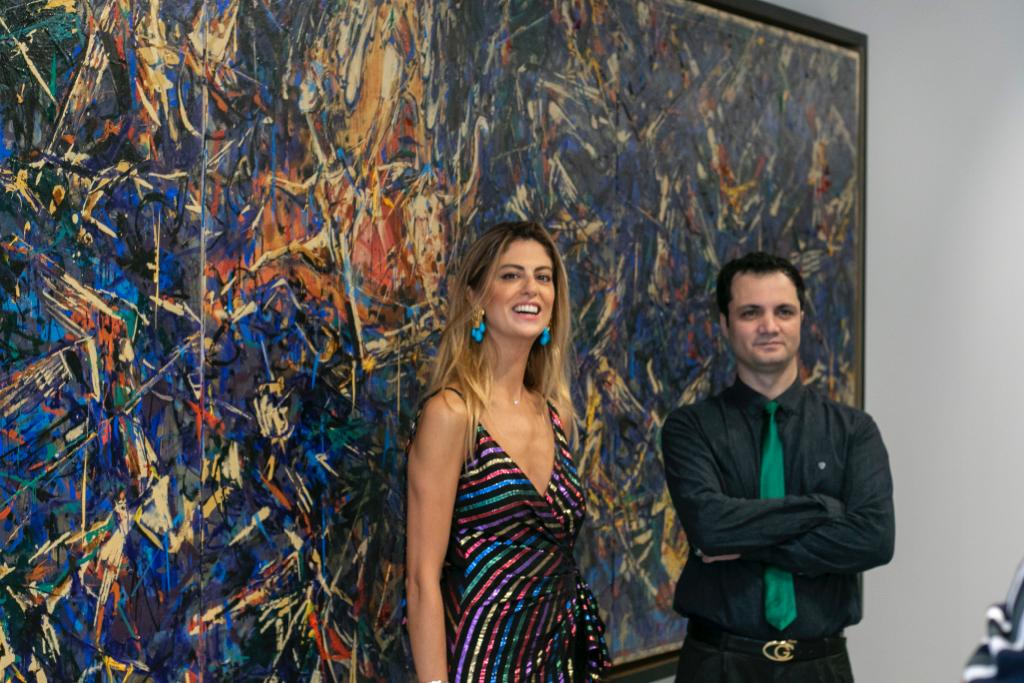 Would you say that there's an art scene here in Marbella?
Yes. There are several galleries here, and we do a gallery weekend in November to which we invite museum curators, directors of other galleries, people in the art industry in Spain. We have created an art scene, but it's definitely not the same crowd as in London. It's a young market, and we're trying to educate the viewers in Marbella.
Where are your collectors from?
The Spanish market is a little different than other markets that I work with. The Spanish like to collect Spanish artists. So far, I've never had a Spanish collector, but I've had a lot of Germans and Belgians, people from the UAE, and a lot of Iranians.
Can you share your future plans for the gallery?
There is an artist I'm really investing my time in: Darius Yektai, who is the son of Manoucher Yektai. He lives in America and we're planning to do great shows with him here.
Your daughter is with you here at the gallery. Does she have a connection with the art on display?
Yes — she and my other daughter have a connection because I also have a collection at home. I bring them to the gallery because I like them to be involved. It's up to them what they want to be later on, but I think art, especially the history of art, is very important for everybody to be familiar with.
For more information on the gallery's activities, head to www.sholehabghari.com