---
By Kayhan Life Staff
---
The 2020-21 school year started two months ago in Iran in the middle of the COVID-19 pandemic. In April, the Iranian government rolled out its e-learning app Shadi (happy) as part of its broader plan to provide remote teaching to elementary and high school students who are following the stay-at-home directive during the coronavirus epidemic.
However, many students across the county still cannot take part in the e-learning classes because they do not have access to the internet or cannot afford laptops, tablets, smartphones, or headphones.
In May, the Ministry of Education's office for the development of equality in education and tribal affairs announced its plan for launching an appeal campaign, asking the public to donate any unused smart headphones (cordless or wireless devices), tablets, and laptops to high school students from low-income families and those living in rural regions and tribal communities.
Yet the project never got off the ground.



Meanwhile, hyperinflation, U.S. sanctions, and the COVID-19 lockdown have caused the price of laptops, tablets, smartphones, and headphones to soar by 200 percent in the past year.
Students have to pay $350 for a smartphone or a tablet and as much as $2,400 for a laptop.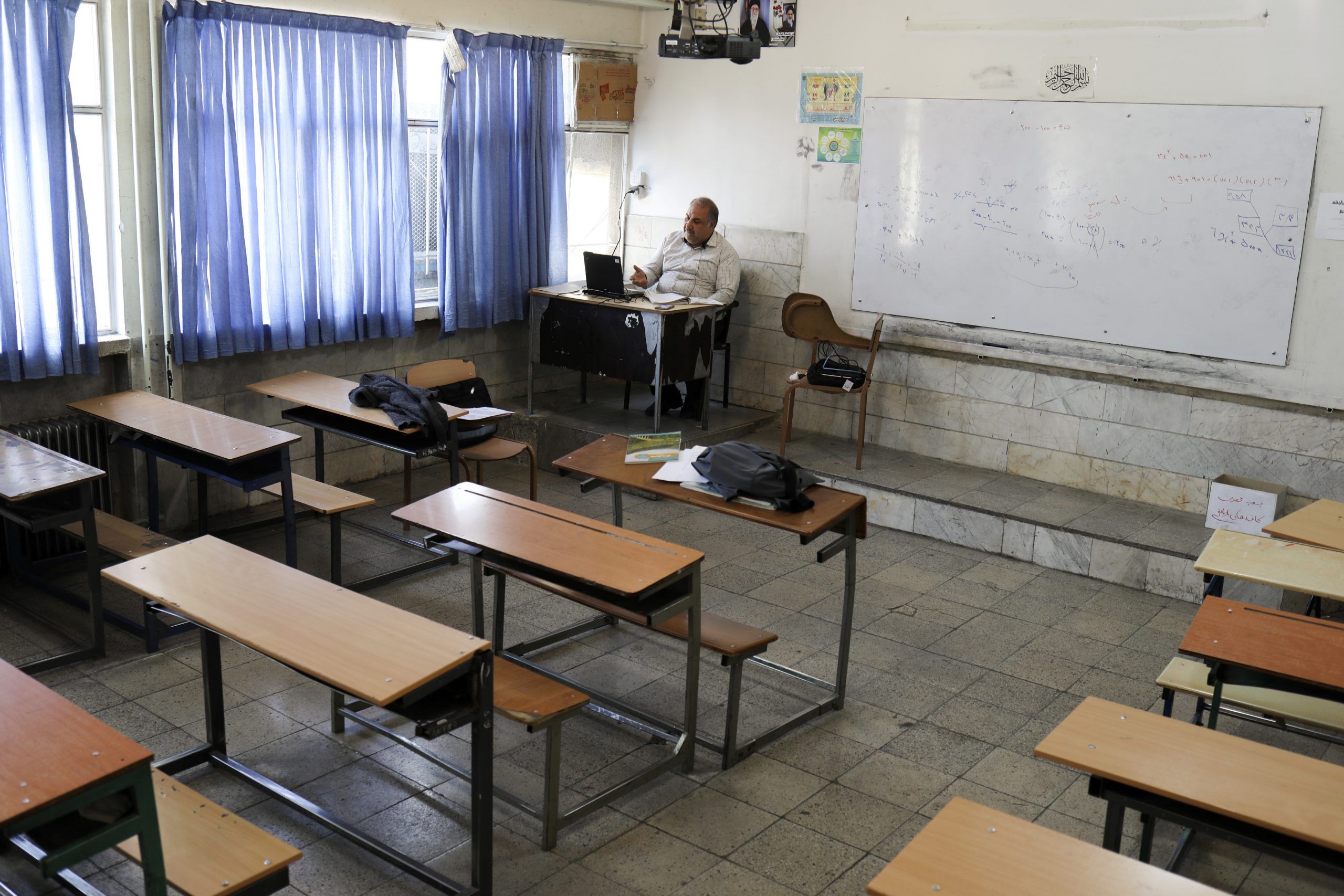 "It has been nine months since the COVID-19 outbreak in Iran. The 2020-21 school year started two months ago. The shortage of basic tools for e-learning, including laptops, tablets, and smartphones, is the major problem for many families," a report by the Tehran-based Hamshahri newspaper said on Nov.15. "People in some regions of the country do not have access to the internet. The Ministry of Education released a report in early August that said some 3.2 million students did not have access to e-learning."
"Sajjad, a fourth-grade student in Sardasht, in the southern province of Khuzestan, cannot attend online classes because he has no laptop or a tablet or headphones. Ultimately, his next-door neighbor agreed to rent out his tablet for three or four hours a day to Sajjad, enabling him to review the lessons offline," Hamshahri's report explained. "Sajjad pays $3.5 an hour to rent his neighbor's laptop on Tuesdays, Thursdays, and Sundays. Sajjad's father is a day laborer, and sometimes cannot afford the rental fee."
"The Education Ministry planned to launch a national campaign, asking the public to donate equipment. However, the plan never left the drawing board," Hamshahri said. "Students in many provinces and disadvantaged rural regions are the hardest hit. The crisis has affected many schools in provinces across the country, including but not limited to Tehran (north), Chaharmahal and Bakhtiari (southwest), Lorestan (west), Khuzestan (south), Sistan and Baluchestan (southeast), Bandar Abbas (south), Gilan (north), Mazandaran (north), and Golestan (north). The ministry even promised to manufacture and distribute learning tablets to students. However, the promise was never fulfilled."
"In October, Minister of Information and Communications Technology of Iran Mohammad-Javad Azari Jahromi said domestic manufacturers planned to produce tablets at low cost for students in the coming months with the government's support," Hamshahri added. "The Ministry of Education is the agency responsible for providing free education, but it has not followed through with its appeal campaign to provide eLearning to students in disadvantaged regions, Mr. Jahromi noted."



Hamshahri also spoke to Hossein Falahi, a teacher and education expert, who said: "Officials at the Ministry of Education had seven months to solve this crisis, but they waited until the last minute to release a report on the shortage of learning tools. The ministry did not even create a separate list of disadvantaged students to receive the equipment. The situation does not differ from the aftermath of a flash flood or an earthquake when only a segment of the affected communities receive aid while others are neglected because authorities do not have a coherent plan to help people in these cases."
Maryam Sodagari, a member of the central education committee of Imam Ali Society, told Hamshahri: "There are many issues preventing students in disadvantaged regions from receiving proper education, including not having access to the internet, families' inability to buy smart headphones and second-rate education provided to rural regions. Also, many schools refuse to enroll children who do not have laptops or tablets."
"Many students cannot enroll in schools because they do not have a birth certificate or any other form of ID. Also, some parents cannot afford school tuition, which ranges from $20 to $120," Ms. Sodagari added.
This article was translated and adapted from Persian by Fardine Hamidi.
---