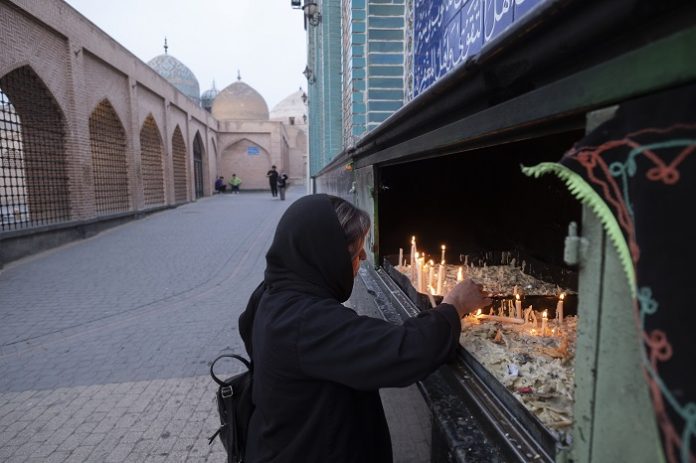 ---
---
The Iranian government's track record of persecuting religious minorities is "appalling," according to the US State Department.
"Iran continues to persecute members of religious minority groups, and subjects them to disproportionate arrest, detention, harassment, and surveillance. This behavior is appalling," a State Department spokesperson told Kayhan Life. "Religious freedom is worsening in Iran. Iranian authorities clearly do not protect the rights of every citizen."
The comments followed the publication on May 15 of the State Department's annual report on international religious freedom.
The report raised concerns about the Iranian government's treatment of ethnic and religious minority groups, and alleged that serious human rights violations were taking place in the country.
The alleged violations included arbitrary arrests, confiscation of property and belongings, home raids and threats of imprisonment. Among those targeted were Baha'is, Kurds, Baluchis, Sunnis and Gonabadi dervishes.
Iranian Authorities Demolish Bahai Minority's Houses, Human Rights Groups Say
OPINION: Discussions About A New Iran Must Include Ethnic Minorities
Christians in Iran Are Arrested for Practicing Faith, Charity Says
Concerns about freedom of religious expression raised by human rights groups were included in the report. The use of the death penalty for apostasy or heresy was criticized, amid reports that the charges were being used to sentence converts from Islam. The State Department survey also condemned the country's prolific use of the death penalty against ethnic and religious minority groups, and political dissidents.
Responding to the Iranian government's May 19 executions of three anti-government protesters — Majid Kazemi, Saleh Mirhashemi, and Saeed Yaghoubi — the State Department spokesperson said: "It is clear from this episode that the regime has learned nothing from the protests that began in September of last year. We once again urge Iran's leadership to stop the killing, stop the use of torture, stop the sham trials, and respect people's human rights."
Muslims in Iran account for 99.4 percent of the population. The Islamic Republic's constitution currently recognizes only three religious minorities: Zoroastrians, Jews, and Christians who have not converted from Islam. Despite being protected by the constitution, these groups have also been subjected to discrimination, according to the report.
"Authorities also forcibly disappeared Christian converts, whom it accused of "Zionism" and proselytizing," the report said.
UK Human Rights Conference Focuses on Protection of Iran's Religious, Ethnic Minorities
It also cited an August report by London-based charity IMPACT-se, which held that textbooks in schools ignored the Holocaust and that "the curriculum remains rife with antisemitic rhetoric when Jews are discussed." Zoroastrians were "subjected to a sudden increase in persecution" by the government and "have been reportedly subjected to mass arrests and lengthy prison sentences."
The persecution of religious minorities in Iran has been consistently denied by its government. The Secretary of Iran's Human Rights Council, Kazem Gharibabadi, said on May 15 that religious minority groups were no different to other groups in Iran, according to a report by the state-owned news outlet Iran Front Page. Gharibabadi made the comment while speaking at a meeting with Mar Awa III, the Catholicos-Patriarch of the Assyrian Church of the East.
"There is no such thing as religious minorities in Iran, because followers of these faiths constitute the majority of the Iranian society alongside Muslims and are all parts of the same body," Gharibabadi said. "Religious minorities have fought and laid down their lives for this country."
The United Nations has called on Iran to end what it called the 'systematic persecution' of religious minorities.
OPINION: Iranian Baha'is Deprived of Electing International Leadership  
Similar Articles to This Post