---
By Kayhan Life staff
---
Several human rights groups have reported that the Iranian authorities have raided homes belonging to members of the Baha'i faith in at least nine cities across the country in recent days, including Tehran, Karaj (northwest of Tehran), Ghazvin (capital of the central province of Ghazvin), Shiraz, Mashhad (capital of the northeastern province of Khorasan Razavi), Sari (capital of the northern province of Mazandaran) and Gorgan (capital of the northern province of Gorgan).
According to the Human Rights Activists News Agency (HRANA), authorities have arrested several members of the Bahai faith since July 31. They include Behnam Momtazi (Ghazvin), Soha Sabeti-Rahmani (Sari), Saman Ostovar and Afif Naimi (Karaj), Mahvash Sabet-Shahriyari and Fariba Kamal-Abadi (Tehran) and Afsaneh Ansari in Mahshahr in the southern province of Khuzestan.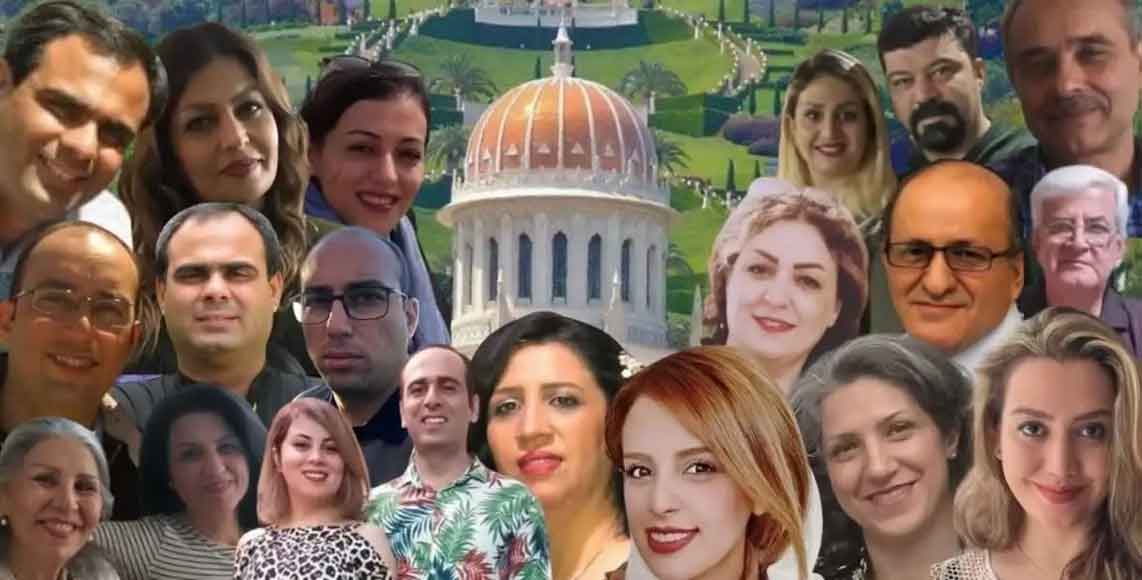 Authorities have raided the homes of some 40 members of the Baha'i faith in the past few days, arresting a dozen people. Many Baha'is already in detention began serving their prison sentences in places like Karaj, HRANA reported.
Government agents demolished at least six houses belonging to members of the Baha'i religious minority in Roshankooh, a village in Mazandaran Province, and seized nearly 20,000 hectares of farmland, HRANA added.
The Islamic Republic in #Iran is committing ethnic cleansing against the #Bahai religious community.

This crime against humanity must not be ignored.@USCIRF #ItsTheirLand #BahaiRights #HumanRights https://t.co/ESoQ714zFB

— NUFDI (@NUFDIran) August 2, 2022
Security agents physically assaulted several residents of Roshankooh during the raids of their homes and arrested at least one person named by human rights groups as Fard Alavi. The report added that security units fired warning shots to disperse the crowd.
According to several other human rights groups, some 200 members of the security police and Agriculture Jihad's special units reportedly surrounded the village of Roshankooh on Aug. 2, demolishing houses belonging to people of the Bahai faith.
The reports said government agents blocked roads to and from the village, preventing the residents from leaving. They also banned people from filming the demolishing of the houses. They reportedly confiscated everyone's mobile phone. However, the reports added that some people recorded the events on their phones.
Diane Alaei, the representative of the Baha'i International Community to the UN in Geneva, tweeted on July 31: "Outrageous: Iran is revealing its planned escalation of the persecution of Baha'is by a new round of widespread detention, including three of the former Yaran [friends]: Mahvash Sabet, Fariba Kamal-Abadi and Afif Naimi. Was not keeping them unjustly behind bars for ten years enough?"
In another tweet on Aug. 1, Ms. Alaei said: "Iran steps up Bahai persecution with a wave of arrests. The intensification of the persecution reached a new peak on Sunday when 13 Baha'is were suddenly arrested in raids on the homes and businesses of 52 Baha'is across the country."
A day later, she tweeted: "Women, children, and the elderly crying — people left homeless solely because of their religion and the intolerance and hatred of the authorities of the Islamic Republic of Iran. What form of Islamic justice is this, I wonder?"
The Baha'i International Community "represents the worldwide Bahai community, whose members come from every national, ethnic, religious, cultural, and socio-economic background, representing a cross-section of humanity." It maintains UN offices in New York and Geneva and regional offices in Addis Ababa, Brussels, and Jakarta.
A tweet by Baha'i International Community on Aug. 2 said: "A video taken today, Aug. 2, 2022, shows a destroyed Baha'i home in the village of Roshankooh in Iran's Mazandaran province. Audio has been removed to protect those present."
The undated footage showed people standing outside a building that an excavator was  demolishing.
A social media user, Arash Sadegh, tweeted on Aug. 2: "Video showing the demolishing of a house of a Bahai in the village of Roshankooh. The same people who destroyed the houses of our dear friends will later tonight cry for [Imam] Hossein [626 AD-680 AD], whose tents were set on fire, and curse Yazid [second Umayyad Caliph, ruled from 680 AD to 683 AD.] Being Baha'i is not a crime."
The accompanying footage was the same as in the Bahai International Community's tweet.
Another social media user, Atish, tweeted on Aug. 3: "It broke our hearts. They came in large numbers and demolished [the houses]. They ignored all pleas and cries. Only rubbles remains now."
"What oppressive regime in history does the Islamic Republic resemble? Bahai, Roshankooh," Atish added.
The tweet included undated footage showing a large group of people sitting on the ground with their belongings scattered around them. People, including children, were heard crying off camera and men and women shouting [unintelligible words] in protest.
On the same day, a social media user, Akbarian, tweeted: "An assault by occupiers on Roshankooh. Speaking in her local Mazani dialect, an elderly woman says: 'I do not care if they end me, but why should they destroy what belongs to my children? Why do they destroy what belongs to my husband?' This eight-second does not tell a single story but reveals a system that has survived through rape and oppression. It only understands the language of force."
Islamic Republic Systematically Persecutes Bahais, Spokesman Says
The tweet included footage showing several men in military uniforms standing around while an elderly woman was shouting at them in protest. Another woman was heard in the clip telling the elderly woman: "Do not do it, mother."
On Aug. 1, the Iranian Ministry of Intelligence confirmed the arrest of several members of the Baha'i religious minority on charges of "spying for Israel," the Islamic Republic News Agency (IRNA) reported.
"Those arrested were in direct contact with Bait al-Adl, a Zionist institution in the occupied Palestinian territories," the ministry said. "The so-called Bait al-Adl association spread Bahai propaganda, infiltrated the educational system on all levels, especially in pre-school [kindergarten] across the country."
"Those arrested had held several meetings with the central committee of the Zionist regime abroad," the statement claimed. "They reported to the espionage cell in occupied Palestine on their missions, especially organized efforts to promote anti-hijab movements in Iran."
---
---
Similar Articles to This Post