---
By Kayhan Life Staff
---
Many Iranian households are currently facing shortages of energy, including gas and electricity, despite freezing temperatures. There has been a disruption in the distribution and delivery of refillable gas cylinders and kerosine heating oil to homes.
While many people have experienced a significant drop in the gas pressure coming into their homes, others have had their gas supply completely cut off.
According to meteorologist Mohammad Asghari, in the coming days, vast regions of Iran will be gripped by a cold front, a massive drop in temperature, and heavy rain.
Some 460 Iranian cities in 27 provinces have already been experiencing freezing temperatures.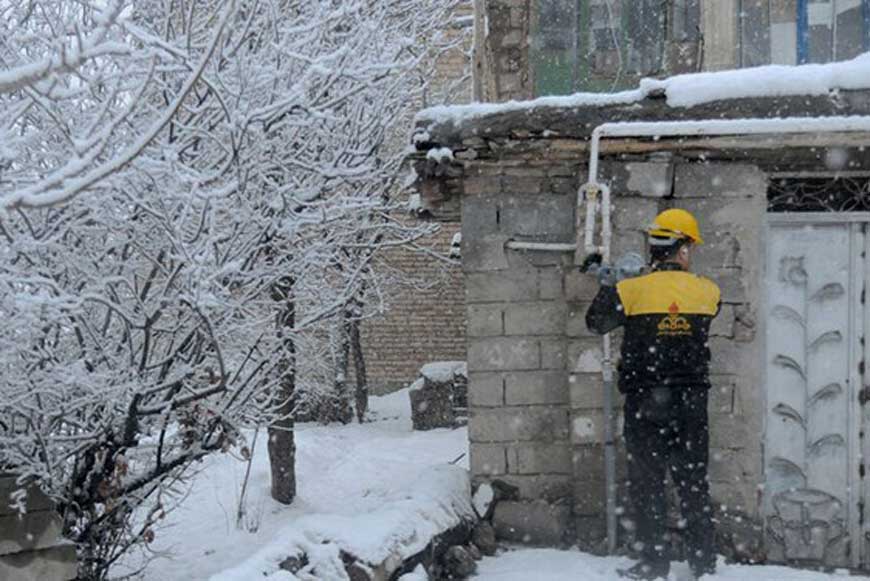 In recent years, the massive discrepancy between the volume of gas produced and consumed has caused frequent and widespread power outages in spring and summer. It has also resulted in supply cuts and a drop in gas pressure in the industrial sector and homes in fall and winter.
The gas shortage has forced many power plants to burn diesel fuel oil, which has not helped boost electricity production. Diesel fuel contributes significantly to air pollution in cities.
Kayhan London on Jan. 11 posted footage on Twitter of Iranian state TV's interview with the Minister of Petroleum Javad Owji, who spoke about the energy shortage and cutting gas supply to some homes.
"I urge my dear compatriots and your viewers to monitor the room temperatures [in their houses], ensuring they will not go higher than 22 [Celsius]," Mr. Owji said. "Turn off heaters in rooms you do not use, which will make a massive difference. Wear warm clothes. These measures will save 30 percent of your energy use."
"Use thick curtains which prevent the cold from coming in or warm air from escaping. These steps will reduce energy usage," Owji explained. "I urge all fellow Iranians to help conserve energy."
Asked if Iranian households would face an energy shortage during the coming cold snap, Owji said: "Our red line, as has been highlighted by honorable President [Ebrahim] Raisi, are household energy needs."
Three days later, Owji reported a drop in gas pressure in several northeastern provinces, including North Khorasan, Khorasan Razavi, South Khorasan, and Semnan.
"God willing, we will put these cold days behind us," he said.
Meanwhile, freezing temperatures and a lack of heating have forced offices and schools to close. Yet the government and senior officials continue to blame the energy shortage on the public, urging the population to conserve gas, electricity, and fuel.
On Jan. 16, Kayhan London posted two video clips on Twitter: one of protesters outside the provincial government office and another of a crowd pushing against the gates of the Iranian Red Crescent Society's compound in Torbat-e-Jam, in the province of Khorasan, reportedly in an effort to get heaters.
In an interview on Iranian state TV, the governor of Torbat-e-Jam, Hossein Jamshidi  acknowledged that the "gas supply has been cut off to 25,000 homes."
Undated footage posted on social media showed Governor Jamshidi facing a large and angry crowd outside the Torbat-e-Jam municipal building.
An unidentified man was heard asking Mr. Jamshidi and other officials accompanying him, "What should I do if my three-month-old-baby dies? What are your wife and children doing?"
Jalil Rahimi-Jahanabadi, a Majlis (Iranian Parliament) deputy representing the Torbat-e-Jam electoral district, criticized government agencies for failure to supply energy to his constituency.
"A crisis HQ that cannot predict a crisis is in a crisis," Mr. Rahimi-Jahanabadi said.
Another tweet by Kayhan London on Jan. 11 included footage of Oil Minister Javad Owji telling reporters that everyone in his household saved energy.
"I swear to God that we keep the temperatures in our house at 21 or 22 degrees," Owji said. "As soon as I get home, I wear warm clothes and socks. My children know. We do not waste [energy]. We must do this."
"God willing, we will go through this winter without gas shortage," He added.
Energy experts believe that lack of investment has been detrimental to energy supply and distribution in Iran. The revenue generated from the sale of crude oil is not invested in infrastructure and developmental projects but ends up in the pockets of well-connected influential insiders.
A large amount of Iranian gas is lost during the extraction stage and in the distribution cycle. Some of these problems would be solved easily if the government were to invest in upgrading equipment and refineries.
In an interview with the Tehran-based Etemad newspaper on Jan. 16, energy expert Reza Padidar said: "The Oil Minister had previously said that $80 billion must be invested in the oil, gas, and petrochemicals sector to correct the imbalance between production and consumption."
"Besides investing in developing various energy resources, it is also necessary to reduce consumption. According to several global reports, the energy consumption in Iran is 5.7 times the world average," Mr. Padidar noted.
Etemad also interviewed economist Ali Shams-Ardakani who said: "Lawmakers and officials in the government's energy agencies have not acted in the best interest of Iranian people in the past 30 years. Another problem is that we spend all the oil and gas revenue."
"There was very little productive investment in the economy," he noted. "We did not invest in gas and oil, which are our golden eggs, but in areas that did not help the development [of the economy] because those intimately involved in economy and management are idiots."
"We have entrusted our funds to people who have misused our resources and continue to do so," Mr. Shams-Ardakani argued. "They waste all the resources and mismanage investment and consumption. We currently consume as much gas as Western Europe. Some people worry about Europe facing an energy crisis this winter, but gas shortage and outage pose severe problems to us."
"The correct approach is for us to connect with the rest of the world," he added. "We should comply with [Recommendations] of the FATF, enabling us to engage in trade."
The FATF is an intergovernmental organization founded in 1989 on the initiative of the G7 to develop policies to combat money laundering and terrorism financing.
It operates under the auspices of the Organization for Economic Cooperation and Development (OECD), an intergovernmental economic organization with 36 member countries, founded in 1961 to stimulate economic progress and world trade.
In February 2020, the FATF blacklisted Iran for failing to enact the Palermo Convention, Countering the Financing of Terrorism (CFT), and Anti-Money Laundering (AML) acts.
"Iran needs no alternative fuel source," Shams-Ardakani noted. "It should properly use solar energy to generate electricity. Iran is one of the best places for an alternative energy source. The country can produce solar electricity easily. At 1,200 meters above sea level, it provides an ideal place to produce solar energy."
"For instance, we can install solar panels on the slopes of the Alborz Mountains and generate electricity in the summer when it is boiling," He explained. "We can also install solar panels on Makran beaches [in the coastal region of the southeastern province of Baluchistan]. By installing solar panels in the country, we can produce 1,000 megawatts of electricity. Currently, the total production of thermal power plants is 60,000 megawatts."
Similar Articles to This Post