---
By Kayhan Life Staff
---
Nava is a four-person Iranian-Irish musical group based in Dublin. Formed in 2016 by Irish folk and bluegrass musicians Paddy Kiernan and Niall Hughes, and Iranian born brothers Shahab and Shayan Coohe, the group "explores the relationship between the ancient musical cultures of Ireland and Persia."
Shahab Coohe is a santoor virtuoso who is currently studying performance at the Royal Irish Academy of Music. Shayan Coohe plays the tombak (drum) and studies the clarinet at the Royal Irish Academy of Music in Dublin. Niall Hughes is a versatile guitar and bass player, and Paddy Kiernan a prominent banjo player.
For the past four years, the band has performed at events such as the Bray Jazz Festival, Electric Picnic, the Celtic Connections Festival, the IMBOLC Festival, and as part of the 'Listen At' and 'Kaleidoscope' concert series. It has appeared on Irish national broadcaster RTE1's 'Arena Arts Show' and RTE Lyric FM's 'The Blue of the Night.'"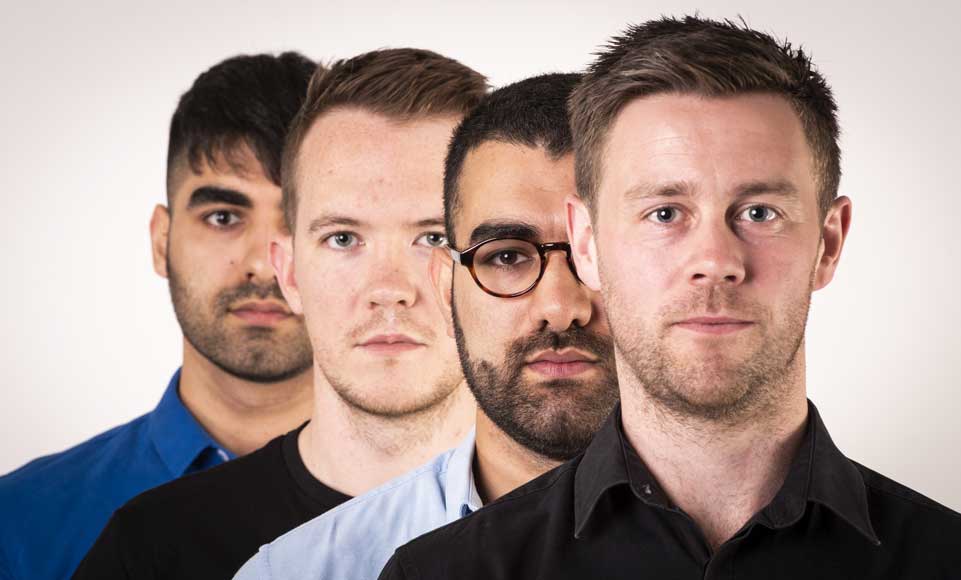 "Nava is now a well-known music group in Ireland," Shahab Coohe told Kayhan Life. "The group holds a concert every four or five months. Before the COVID-19 pandemic, the group gave concerts in several countries, including North America and Spain. Nava has also taken part in many multi-cultural and multi-national music festivals supported by the Arts Council of Ireland. We held a virtual concert earlier this month in Cork, Ireland's second-largest city."
The following is Kayhan Life's complete interview with Shahab Coohe.
Can you tell us about your most recent achievements?
We were nominated for the Best Folk Group in the 2020 RTE [Raidió Teilifís Éireann] Radio Folk Awards. Other cultural institutions in Ireland give out awards to different musical genres, including rock.
The winners will be announced on the radio on Nov. 26. However, this year, there will not be a live ceremony, and winners will be announced on the radio because of the COVID-19 pandemic. We have an excellent chance of winning this year, although being nominated is a massive achievement.
Our group was also nominated in 2018 in the 'Emerging Artists' category. We were performing in Spain at the time and could not attend the ceremony. This year's ceremony will be virtual.
It is incredible that a fusion group that incorporates Iranian songs is nominated for the Best Folk Group.
Yes. Our hard work and persistence in the past few years have paid off. We have found our place and audience in the Irish culture. We have gradually incorporated Iranian songs unfamiliar to people in Ireland and Europe into our fusion music. Western audiences do not warm up to Iranian music quickly. We combine short Iranian folk melodies, including songs from the Khorasan and Kurdistan regions, with Irish music. We also play Irish songs using Iranian instruments.
Does your group also play Iranian songs, using Irish musical instruments?
One person is doing this in Northern Ireland by using a hybrid Iranian santoor. Irish traditional and folk music is very similar. However, Iranian urban and folk music are distinctly different. For instance, Sima Bina [the renowned Iranian musician, singer, and composer] sings folk songs that differ from classical Iranian music.
Hormoz Farhat, a prominent Iranian musicologist [composer, ethnomusicologist and emeritus professor of music, a fellow of Trinity College, Dublin], argues that Iranian music is not as varied as Western classical music. Iranian string instruments such as tar, setar, kamancheh, and santoor make a similar pitch and tone. They have almost the same texture and color.
There is a wide range of sounds in Western symphonic music. For instance, while the piccolo flute can produce the highest notes of all woodwind instruments, the contrabass produces the lowest note of any double bass. Western symphony orchestras also include woodwinds and brass instruments, which produce a wide range of sounds, not unlike a painter with a rich and colorful palette. Classical Iranian music has a limited palette.
Do Irish folk and classical musical groups use a broader range of instruments than their Iranian counterparts?
Irish and Iranian music are very similar in this respect. Irish folk and classical music groups use a few string instruments to make a similar sound. Also, they usually include a percussion instrument like the Iranian tombak. Iranian bands have also incorporated other musical instruments in recent years.
For instance, Hossein Alizadeh [the prominent Iranian music researcher, teacher, and tar and setar virtuoso] has introduced a new instrument called 'shurangiz' into Iranian classical music. The late great Mohammad Reza Shajarian [the master vocalist and celebrated Iranian artist] also introduced several new instruments into classical Iranian music. The main question is whether Iranian music can develop anymore. This is a technical discussion that I will not get into here.
Can we then conclude that your group successfully fused Iranian and Irish music because the two are very similar?
Our research and studies have shown that folk music of various nations has similar roots. Irish and Iranian music have a similar texture. Irish and Indian music are also similar.
Can you talk about your new album?
We released our second album, 'Sojourn,' at the end of 2019, enabling us to enter the competition this year. As the title suggests, this is an experimental work. It is in two volumes.
The first volume is almost entirely Irish music composed by my brother Shayan Coohe. It would be like an Irish musician writing Iranian songs. Some songs have an Iranian title like 'Nowruz.' In another piece, we combined the rhythm and beat of a Kurdish song, 'Papou Soleimani,' with Irish Polkas dance music.
Irish musicians traditionally put their names on their songs. For instance, if the artist's name is 'O'Sullivan,' the piece would be named 'O'Sullivan's Jig' or 'O'Sullivan's dance.' The jig is a slow Irish folk dance. So we titled one of our songs 'Coohe's Reel.' The reel is a fast-paced Irish folk dance.
The second volume consists of innovative Irish music. We also used percussions in these songs and incorporated contemporary Western classical music and film scores. Film scores inspired the entire work. We incorporated melodies from Khorasan folk music titled 'Sketches of You' in one piece in this album.
This article was translated and adapted from Persian by Fardine Hamidi.