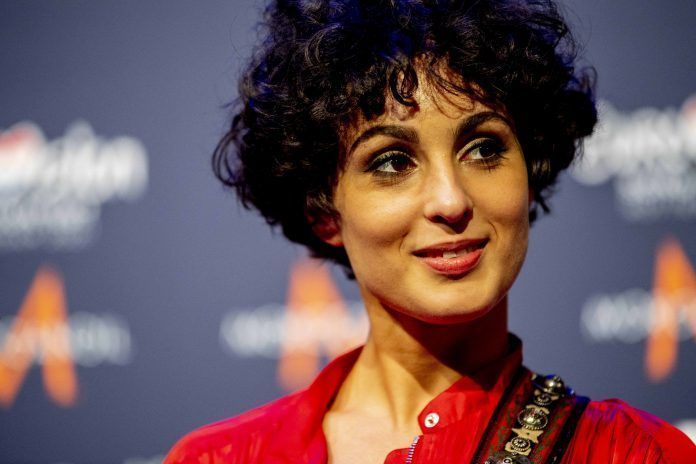 ---
By Nazanine Nouri
---
Barbara Pravi is a half-Serbian, half-Iranian singer-songwriter who finished second in the Eurovision Song Contest last month after representing France with her song "Voila." It was France's highest score in 30 years, drawing comparisons to the legendary French singer Edith Piaf.
"I came into this fully aware that I was an outsider because my performance wasn't Eurovision-friendly  –  from my song, to the staging to the wardrobe," Pravi said in an Instagram post after her victory. "But my team and I made zero concessions to get here. So, I'm proud, so proud not only to bring this podium to France but because I did it while managing to stay true to myself, to the woman and to the artist that I am."
"What a show, what a night [and Good God what an adventure]!!" Pravi added.  "MERCI, merci merci merci thank you for all your messages of love, [I'm so so so proud!!!!! 2nd place! I wasn't born the last time this happened!!]"
In a separate post, Pravi recalled that only a few years ago, she was still serving beer in a bar in Paris "while dreaming to sing one day. When I decided to be a musician, it took me 6 years of suffering, experience and hard work for my music to begin to be shared, heard, and discovered. Today, my face is posted on Times Square, among other female artists for a Spotify program that advocates for equality in music.  Life is  really funny sometimes."
Barbara Pievic was born in Paris in 1993 to a half-Iranian mother and a half-Serbian father.  She adopted the stage name Barbara Pravi from the Serbian word "pravi," meaning 'real' or  'authentic' as a tribute to her Serbian grandfather.
Her maternal grandfather Barbara is the renowned Iranian artist Hossein Zenderoudi (born in 1937), founder of the Saqqakhaneh movement, a genre of art in the late 1950s that created a uniquely Iranian brand of modernism using cultural elements such as Arabic calligraphy.  Zenderoudi has been living in France since 1961 when he was granted a scholarship by the French government to attend the Ecole Nationale des Beaux Arts; he later became a French national.
As the Eurovision organizers noted, Pravi has "roots extending through her grandparents to Serbia, Iran, Poland and North Africa." The richness of her cultural origins led to an "open-mindedness" that was very much part of her personality, they added.
The singer-songwriter feels connected to her Iranian heritage through poetry which she is particularly fond of.  For inspiration, she starts her day with meditation and with the reading of "The Conference of the Birds," a Persian poem by the 12th-century Sufi poet Farid ud-Din Attar, commonly known as Attar of Nishapur.
Pravi made her theater debut in 2016 as a lead in the French musical "Un été 44" ("Summer of '44") which quickly led to her first EP "Pas Grandir" and to her first acting role in the French TV drama "La Sainte Famille."
She has also written songs for such high-profile talents as the former tennis champion and singer Yannick Noah and the American child star turned hip-hop artist Jaden Smith. She also co-wrote the winning French song in the Junior Eurovision 2020: Valentina's "J'Imagine."
Pravi is a passionate advocate for women's rights and for gender equality in the music industry.  She took part in the recording of "Debout les femmes," the official song of the French Women's Liberation Movement, and since 2018 has delivered new musical content to celebrate International Women's Day on March 8 every year.
In a 2020 TED talk, she spoke about her path to becoming a musician, her struggles with self-confidence throughout the years, and carving out her space in a male-dominated industry.
"If one day I have a daughter, when she is 15, I will tell her that anything is possible and there is no ambition too great, no dream too small," she said.  "It will take a lot of work, willpower and resilience, and she will make mistakes and will have to recover, but she has all the things to reach her dreams. Because we all have them in us and my child will be able to look at herself in the mirror and say in the same way I am saying tonight: I am a songwriter, musician, singer."
---