---
By Katy Shahandeh
---
Haydeh Changizian is an artist with an illustrious past. Formerly a Prima Ballerina with the National Ballet of Iran – before its shutdown after the Iranian Revolution in 1979 – she has a personality as colorful as her strikingly styled hair.
Born in Tehran in June 1945, Changizian studied ballet professionally in Cologne, Germany, and later enrolled in Leningrad at the famed Vaganova Choreographic School where members of the world-famous Kirov Ballet are trained.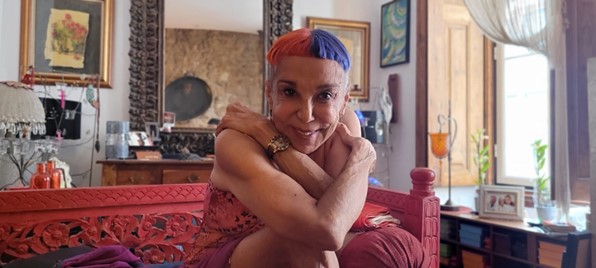 She went on to dance with the Frankfurt Opera Ballet as a soloist for seven years, and returned in 1972 to join the Iranian National Ballet company as prima ballerina. She performed in the greatest ballets in the repertoire, including Scheherazade, Nutcracker, Giselle, La Bayadère, Don Quixote, and Coppelia, but also in the Fountain of Bakhchisarai and in Bijan and Manijeh.
She recently joined Kayhan Life for a wide-ranging conversation about her life and art.
When did you decide to become a professional ballerina?
I started ballet at the age of 5, at the Ballet School of Yelena Avedisian in Tehran, and I took to it like a fish to water.  Normally, ballet classes were twice a week. But I used to go every day and spend as much time there as I could.  I would arrive smiling and happy, and would have to be dragged away in tears.
When I was 9 years old, I saw a film screening of the Bolshoi Ballet. The ballerinas were unlike anything I had ever seen. I realized then that being a ballerina could be a professional career, and I became determined to one day become like one of those ballerinas.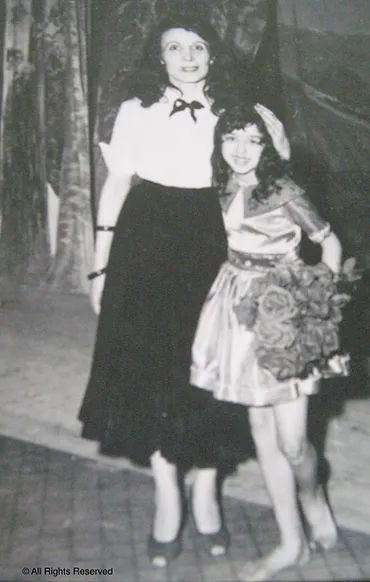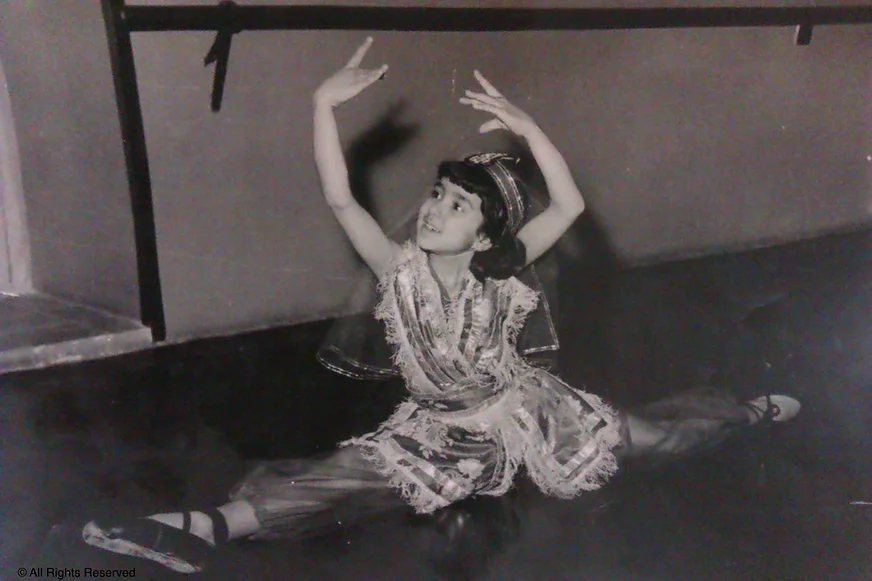 When did you leave Iran and why?
I was 15 years old when I finished junior high school. I told my father that I did not want to continue to senior high school and wanted instead to go abroad to study ballet professionally, because I had outgrown the ballet schools in Iran.  My father was very supportive.
I remember that we took a long journey by bus and train to get to Cologne, Germany where my brother was studying medicine.  Shortly after arriving, I won the competition for entry to the Köln Ballet Academy, and after a while, joined the Köln Ballet Corp.
In the meantime, I became determined to go to Leningrad to study at the Vaganova Choreographic School of the world-famous Kirov Ballet.  I wrote my father who helped get me permission to travel to the former Soviet Union. It was no easy feat back in those days – I was 16 at the time.  The timetable was very demanding, with daily private ballet classes, as well as group classes, language classes, piano classes and even make-up classes, but I didn't feel homesick – ballet was my life!
What made you decide to go back to Iran and how was your experience? 
I had been dancing with the Frankfurt Ballet company for 7 years as a soloist, during which time Roudaki Hall was built and the National Ballet Company established.  I was invited three times as a guest artist there. Each time, Mr. Mehrdad Pahlbod, the Minister of Culture and Arts, asked me to stay, because Iran did not have a Prima Ballerina and had to invite ballerinas from abroad.  I finally agreed and returned to dance in my country.   I would be lying if I said it was smooth sailing. There were a lot of artistic differences – I felt ballet in Iran was stuck in the 19th century!
Finally, in 1978 I left the Iranian National Ballet to establish a new ballet company, the Niavaran Cultural Dance Company, which was sponsored by the Niavaran Cultural Centre. I also founded the Haydeh Changizian Ballet Institute, in collaboration with the Royal Academy of Dance in London.
Did you have a favorite ballet and why? 
La Bayadère, because I both loved the music and somehow felt an affinity to the story and setting.
How did you envision ballet for Iran?
I wanted us to create a ballet repertoire that would include works based on Iranian culture, Persian mythology, and literature, instead of always regurgitating the [Western] classics.  Why were we doing Romeo and Juliet, when we had stories like Leili and Majnoon, or Bijan and Manijeh?
What happened after the Revolution for you personally and for ballet in Iran?
Before our first programme (at the Niavaran Cultural Centre) ever came to the stage, the Revolution happened — and, well, you know the rest!  I really tried to fight for the Ballet Company, even to incorporate it in the Theater Company, but I was told that ballet is a luxury and that it did not have a place in the newly found Islamic Republic.
I was also forced to close my own ballet school.  It was a very difficult time – I had worked very hard, for many years, and as I was about to reap the fruit of my labor, everything was snatched away from me in a matter of months.  I tried to keep myself busy: I started photography and playing the guitar. But finally, I left Iran – three months before the war with Iraq started.
I went to the US where I immediately got to work, assembling a company of 35 dancers and presenting my first ballet performance in LA — 11 months after arriving — titled "In Memory of Roudaki Hall." This was followed by engagements with the Santa Barbara Ballet as guest artist. I also founded the Haydeh Changizian Dance Centre and Anahita Arts and Dance Cultural Centre which was dedicated to presenting Iranian Art and exhibitions for Iranian artists.
Will there be ballet in Iran again?  
I hope so! I dream of one day realizing my old dream of opening the Vaganova Academy, where I studied, in Iran.  I think Iranians have an appreciation for the exemplary art of ballet, and having grace and beauty in their lives. As I've always believed and demonstrated, where there is a will, there is a way!