---
By Nazanine Nouri
---
The internationally renowned classical guitarist Lily Afshar passed away at the age of 63 on October 24 following a long battle with illness. She was a hugely gifted and passionate instrumentalist, and the first woman in history to have been awarded a Doctorate in Classical Guitar.
Her funeral ceremony is being held this week in the city of Tonekabon, in the northern province of Mazandaran, Iran.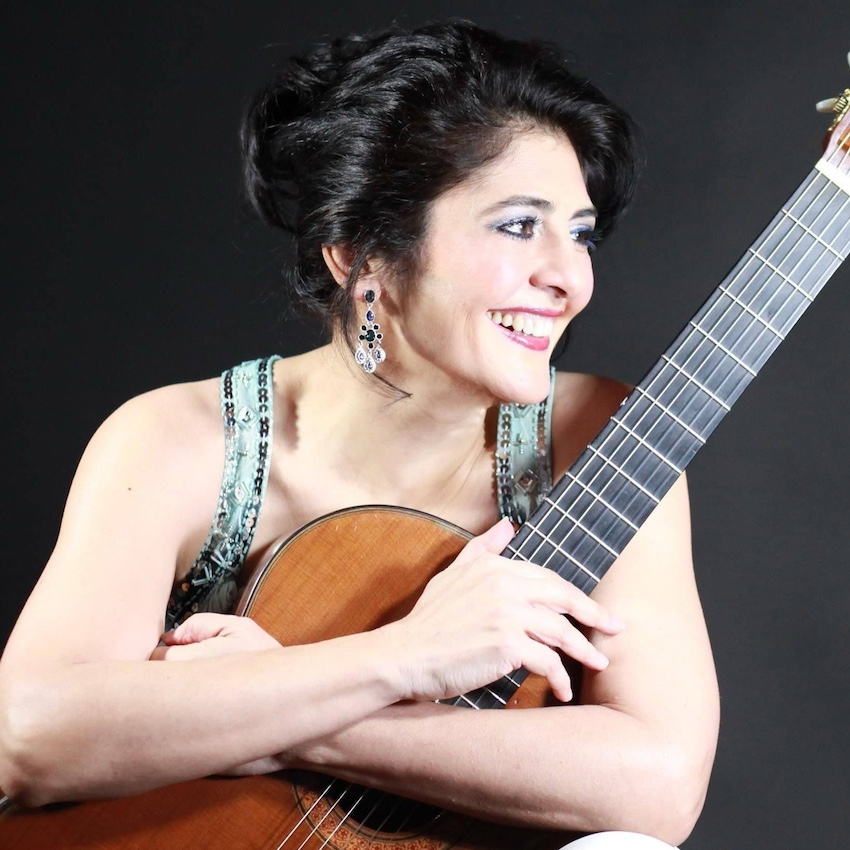 Afshar directed the guitar program at the University of Memphis Rudi E. Scheidt School of Music for more than two decades while conducting master classes worldwide. She returned to Iran after a 20-year absence, and went back to her homeland for 14 consecutive summers to perform concerts and teach master classes. She was invited on two occasions to perform in the international category of the annual Fajr International Music Festival, once in Tehran and a second time in the southern port of Bushehr.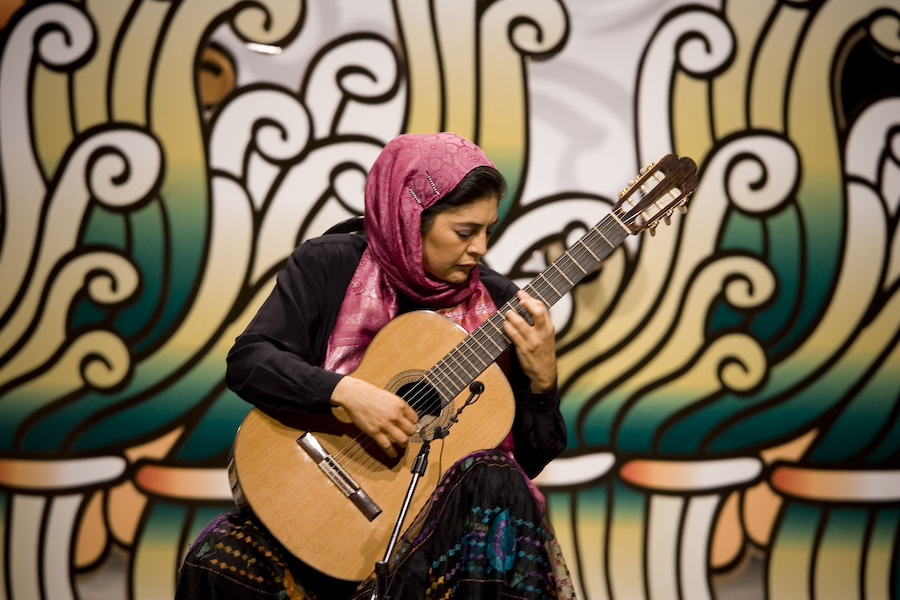 "I want to be touched by somebody's playing," she said in a podcast interview with acousticguitar.com in February. "When I'm playing, I want to touch people's hearts. Otherwise, it doesn't mean anything. It's just a bunch of notes."
Afshar received accolades throughout her career for her extraordinary prowess at the guitar.
"Afshar has the delicate touch and the keen concentration that characterizes the best guitarists, and she also has the musical sense and restraint that characterizes only a few," wrote the Washington Post in a review of one of her performances in January 1997.
In an earlier review of a concert at the Phillips Collection in September 1989 (which marked her Washington debut), the Washington Post wrote: "Guitarist Lily Afshar has the requisite array of prize-winning credits young musicians incorporate into their resumes in hopes of establishing long, prosperous careers…Her playing showed remarkable consistency in terms of musicality, technical fitness and thoughtfulness, a combination that escapes many performers except on the best nights."
Lily Afshar was born in Iran in 1960 and started studying the guitar at the age of 10 while growing up in Tehran, and instantly fell in love with the instrument. She had watched her cousin play a classical nylon-stringed guitar and knew right away that this was the instrument that she wanted to play for the rest of her life. Her father presented her with a guitar the next day and that marked the beginning of her lifelong journey.
Afshar emigrated to the United States in 1977 at the age of 17, two years before the 1979 Iranian revolution. She earned a Bachelor of Music from the Boston Conservatory, a Master of Music from the New England Conservatory (1984) and a Doctorate of Music in Guitar Performance from Florida State University (1989). – the first woman in the world to be awarded a Doctorate of Music in classical guitar.
Afshar was one of 12 international guitarists selected to participate in the Andrés Segovia (renowned Spanish virtuoso classical guitarist) master class at the University of Southern California (Los Angeles) in 1986. That is when Segovia predicted "she will be a beautiful celebrity."
Her Persian heritage inspired her greatest musical innovations, which were drawn from Persian and Azerbaijani folk music traditions. She arranged for guitar and published Five Popular Persian Ballads with American musician and publisher, Mel Bay, best known for his series of music education books. She was working on a new collection of guitar arrangements of traditional Persian and Azerbaijani songs.
Afshar won the Orville H. Gibson Award in Los Angeles for Best Female Classical Guitarist, the Grand Prize in the Aspen Music Festival Guitar Competition, and a National Endowment for the Arts Recording Award, among others, and was chosen as an "Artistic Ambassador" to Africa for the United States Information Agency.
Afshar performed in North and South America, Europe, Asia and Africa in such prestigious venues as London's Wigmore Hall, New York's Carnegie Recital Hall, Washington, D.C.'s Kennedy Center for Performing Arts, Tehran's Vahdat Hall, Istanbul's CRR Concert Hall, Rome's American Academy, the Grand Teton Music Festival in Jackson Hole, Wyoming, and the Menton Music Festival in France.
The performing artist released a total of seven CDs: "24 Caprichos de Goya, Op. 195" (1994); "A Jug of Wine and Thou," (1999) inspired by the famous poem of Omar Khayyam, featuring arrangements of Persian melodies; "Possession" (2002); "Hemispheres," (2006) which reached No. 7 on Billboard Magazine's Chart of Top Classical Albums; "One Thousand and One Nights," (2012) which was recorded and released in Iran; "Musica de Camera," (2013);  and "Bach on Fire" (2014).
Afshar also released six instructional DVDs "Classical Guitar Secrets," Vols. I & II for beginner to intermediate guitarists; and six instructional DVDs "Classical Guitar Collection," Vols. I & II for Intermediate to Advanced guitarists. She also produced "Virtuoso Guitar" a DVD featuring live performances and an interview with Mel Bay.
Afshar's tenure at the University of Memphis continued until her passing.
Similar Articles to This Post