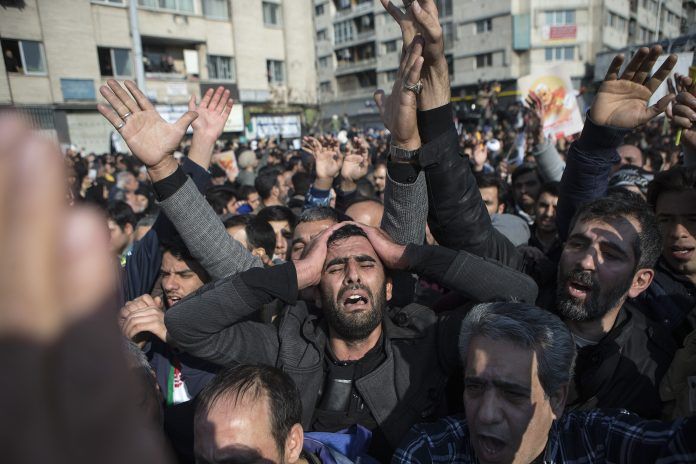 ---
---
Hojatoleslam Ali Asghar Fazilat, the head of the Ministry of Culture and Islamic Guidance's office for the northern province of Semnan, has banned all public concerts during the 40-day mourning period for Brigadier General Ghasem Soleimani, the commander of the Islamic Revolutionary Guards Corps' Qods Force (IRGC-QF), who was killed in a U.S. drone strike at Baghdad's International Airport on January 3.
"We have postponed all public concerts in the province until after February 14, which marks the end of the 40-day mourning period," Mr. Fazilat was quoted by the Tehran-based Tabnak online news agency as saying. "Instead, there will be programs to honor the memory and the legacy of our esteemed martyr. There will also be a ban on comedy plays and movies during this period."
Curiously, General Soleimani's 40-day mourning period ends on February 11, which marks the anniversary of the Islamic Revolution. The country traditionally celebrates the occasion with massive street marches every year.
Earlier in the week, the spokesman for the Drama Guild of Iran, Gholamreza Farji, announced that movie theaters across the country were to remain closed until 5 p.m. on January 9 in observance of the Days of Fatimiyya — a period of mourning for the martyrdom of the Prophet Mohammad's daughter, Fatimah al-Zahra.
The Dramatic Arts Center of the Ministry of Culture and Islamic Guidance also released a statement saying that all stage performances that were scheduled for January 8 and 9 had been canceled.
"Some theater companies have taken to social media to complain about the frequent closures of performances, given that many of them do not receive financial aid from the government," the Iranian Students News Agency (ISNA) reported. "They suffer financial losses because of these frequent cancelations."
---
[Translated from Persian by Fardine Hamidi]
---