---
---
The Iranian government's announcement that it had executed a man for repeatedly drinking alcohol is a test to see whether the international community will react, according to Mahmood Amiry-Moghaddam, founder of the Oslo-based non-profit organization Iran Human Rights (IHR).
The prisoner, who was executed in Mashad Central Prison on July 9, had been sentenced to death for "drinking alcohol for the sixth time," driving without a license and being in possession of alcohol. Iran Human Rights confirmed the man's sentence and his execution after speaking with his lawyer, Hossein Habibi Shahri.
Under Islamic law, which Iran has applied since the Revolution, individuals can be sentenced to death after repeatedly committing specific crimes outlined in the Qur'an, including rape, adultery, theft and drinking alcohol.
The announcement of the man's execution, and confirmation by state-backed media outlets in Iran that several other prisoners had been given the death penalty in the past week, sparked an unprecedented wave of protests on social media.
More than 4.5 million tweets posted by Iranians around the world on Twitter on Tuesday condemned the death penalty in Iran, using the hashtag اعدام_نکنید, which means "do not execute" in Persian, along with other hashtags such as #StopExecutionsInIran. On the same day, the online protest became the highest trending topic globally on the social media platform. Protests were also held across Instagram and Telegram, with tens of thousands of posts shared on those sites.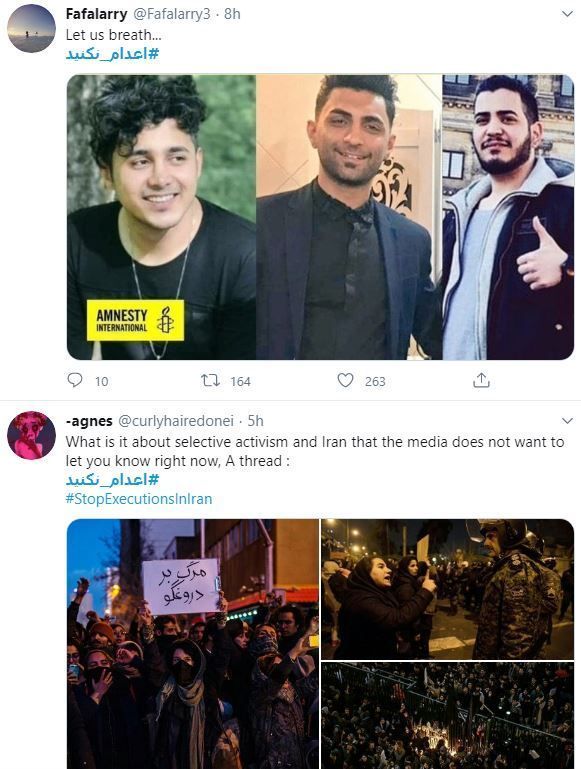 Online monitoring body Netblocks reported internet disruption in Iran on Tuesday which lasted for three hours as protests online intensified. The organization's Twitter account posted a tweet saying there had been a significant disruption to the service in Iran which had "limited citizens' ability to communicate."
Confirmed: Significant disruption to multiple networks in #Iran after 5 p.m. UTC (9:30 p.m. local time); real-time network data show significant impact to subscriber internet lines limiting citizens' ability to communicate; incident ongoing ? pic.twitter.com/XZ1rNXgRHB

— NetBlocks.org (@netblocks) July 14, 2020

While the Iranian government has announced executions for different offenses in the past, Amiry-Moghaddam said public confirmation of an execution for drinking alcohol was unusual, and a deliberate action by Iranian officials to see if global leaders would denounce the killing.
"We have not heard about executions being carried out for consumption of alcohol for many years," he noted. "I'm concerned that confirmation of this execution by the Iranian government is a way of testing the environment, the reaction of the international community. The West has been very quiet on this execution and I think that's unfortunate. We are talking about executing someone for drinking alcohol. Imagine how many people could potentially be in that situation?"
Amiry-Moghaddam said the execution was a tipping point and could pave the way for an increasing number of executions in Iran.
"Now that this execution has been confirmed, it is very important that the international community responds with very strong condemnation," he explained. "The UK, the EU, they can't treat this as just another execution as the political cost is far too high. Significantly, this could well be a turning point leading Iranian authorities to ramp up executions for a whole host of offenses," he said.
On July 14, judiciary spokesman Gholamhossein Esmaili said officials had executed Reza Asgari, a former defence ministry employee who had sold information to the U.S. Central Intelligence Agency (CIA). Esmaili also confirmed a death sentence for Mahmoud Mousavi-Majd, an Iranian accused of spying for U.S. and Israeli intelligence services.
Iran Judiciary Says It Has Executed an Iranian Agent Linked to CIA – Mizan News Agency
A previous announcement by the Islamic Republic Supreme Court on July 10 confirmed that death sentences for three protesters arrested during the November protests would be upheld. Amir Hossein Moradi, Mohammad Rajabi, and Saeed Tamjidi were charged with engaging in armed conflict, illegally leaving the country, participating in protests and sabotage.
While 53 countries around the world have the death penalty, Iran comes second only to China for the number of executions it carries out every year. In 2019, Iran was reported to have carried out more than 251 executions, according to Amnesty International. However, the number is likely to be higher, as the Iranian government has historically been secretive about the total number of executions that take place in Iran. In the same year, China was reported to have carried out at least 1,000 executions.
Research by IHR published on July 9 found that at least 123 people were executed in Iran during the first six months of 2020. Of those executions, 36 were announced by the local media and Iranian officials. Information obtained by IHR's Statistics Department showed that of the 123 individuals executed, 104 had been executed for premeditated murder, 7 for drug related offenses, 5 for rape and 4 on charges of "enmity against God."
Amiry-Moghaddam said the Iranian government was using the death penalty to stem dissent, rather than deter crime.
"The government needs the death penalty not to fight crime, but to spread fear in society, and the more charges that can be punishable by death without receiving huge international reactions, the better it is for them,"he noted. "The government's handling of the pandemic has highlighted a lack of competence in solving people's problems, and it also demonstrates huge corruption inside the system and that makes people angry. What the government is really concerned about is when the next wave of demonstrations will take place."
Iran has been criticized in the past by the international community over its use of the death penalty, particularly in relation to children. A report in 2019 by the UN's special rapporteur on human rights in Iran, Javaid Rehman, found that officials had executed at least 12 children since the start of 2018, while 90 children remained on death row.
The U.S. also has the death penalty, which is used across 28 of its 50 states. While the number of executions has steadily decreased in the U.S., a new drive to execute death row inmates under U.S. federal law proposed by the Trump administration began this week. The new policy makes it easier to carry forward the death sentence to execution for federal prisoners, and can be invoked for offenses such as espionage.