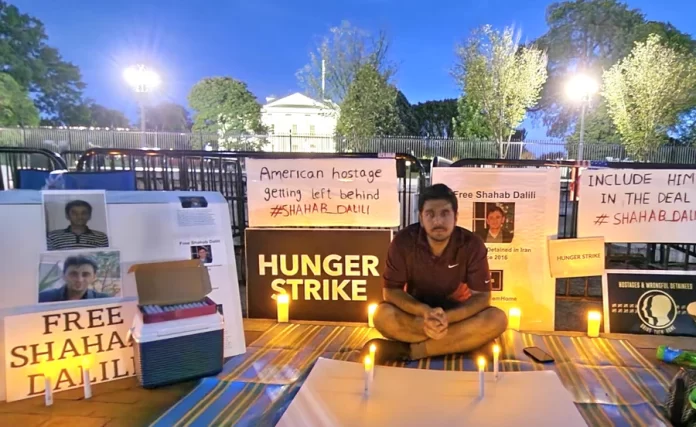 ---
By Humeyra Pamuk and Simon Lewis
---
WASHINGTON, Aug 14 (Reuters) – A U.S. permanent resident detained in Iran since 2016 has begun a hunger strike in protest of his exclusion from last week's deal between Washington and Tehran that could eventually result in the release of five Americans jailed in Iran, his son said on Monday.
Shahab Dalili, 60, a shipping captain who had emigrated to the United States after retiring, was detained in Tehran in April 2016 during a visit for his father's funeral.
Darian is on hunger strike, enduring sleepless nights, and scorching day heat, determined to get the #USG to include his dad in the deal with #Iran. He needs your support. Lets make his story go viral! @robcrilly @kaitlancollins @pdoocy @IAmAmnaNawaz @BBCWorld @cnnbrk… pic.twitter.com/QXhCoqXVna

— Hostage Aid Worldwide (@HostageAid) August 14, 2023
He was charged with aiding and abetting a foreign country and was handed a 10-year prison sentence that he is serving in Iran's Evin prison which holds many political prisoners.
Under a complicated agreement whose implementation will likely take weeks, Iran may free five detained U.S. citizens in return for $6 billion of Iranian funds in South Korea being unfrozen. Washington would also release several jailed Iranians.
As first step of the deal, Iran last week allowed four detained U.S. citizens to move into house arrest from Tehran's Evin prison, a lawyer for one said. A fifth was already under home confinement.
"The deal is being done and he's not part of it. That was very heartbreaking," Dalili's son, Darian, said in a brief telephone interview. He added that he himself also began a hunger strike to raise awareness about his father.
"He feels betrayed. He is demoralized. He believes that the U.S. would bring back anyone that they want to bring back," Darian said.
Pressed by reporters at the State Department daily briefing, deputy spokesperson Vedant Patel did not give a clear reason why Dalili was not part of the deal but said he has not yet been declared "wrongfully detained."
Wow! This is such a dangerous and shocking response by the @StateDept. He has been accused of "aiding and abetting a hostile nation".
Why can't the US determine that he has been wrongfully detained? https://t.co/RhDcDMPqtC

— Saeed Ghasseminejad (@SGhasseminejad) August 14, 2023
The legal determination is made by the State Department and effectively means that the U.S. government views the charges levied against the individual as politically motivated and false.
The determination allows the U.S. State Department to dedicate more resources into the case, assigns the responsibility with a special presidential envoy and raises the prominence of the issue.
Patel also did not say why Dalili was not categorized as wrongfully detained. Dalili's son Darian told Reuters that he received a phone call on Friday from the Department's acting special envoy for Iran, Abram Paley.
"I asked why haven't the (wrongfully detained) designation happened yet and he wasn't able to provide an answer," Darian said.
The State Department declined to comment specifically on Paley's phone call with Dalili's son but Patel earlier said the United States "regularly and actively review individual cases for indications and indicators of possible wrongful detention."
ANALYSIS: How Hostage Taking Is An Integral Part of Iran's Foreign Policy
---
(Reporting by Humeyra Pamuk and Simon Lewis in Washington. Editing by Matthew Lewis)
---
Similar Articles to This Post