---
By Ahmad Rafat
---
On Nov. 2, the United Nations Security Council had an informal meeting on Iran's ongoing repression of women, girls and ethnic minorities since the outbreak of nationwide protests in mid-September. Addressing the meeting were Iranian Nobel Peace Prize Laureate Shirin Ebadi and Iranian-born actress and activist Nazanin Boniadi.
The informal (or "Arria formula") meeting was co-sponsored by the U.S. and Albania. Also addressing the meeting was the UN Special Rapporteur on Human Rights in Iran, Javaid Rehman.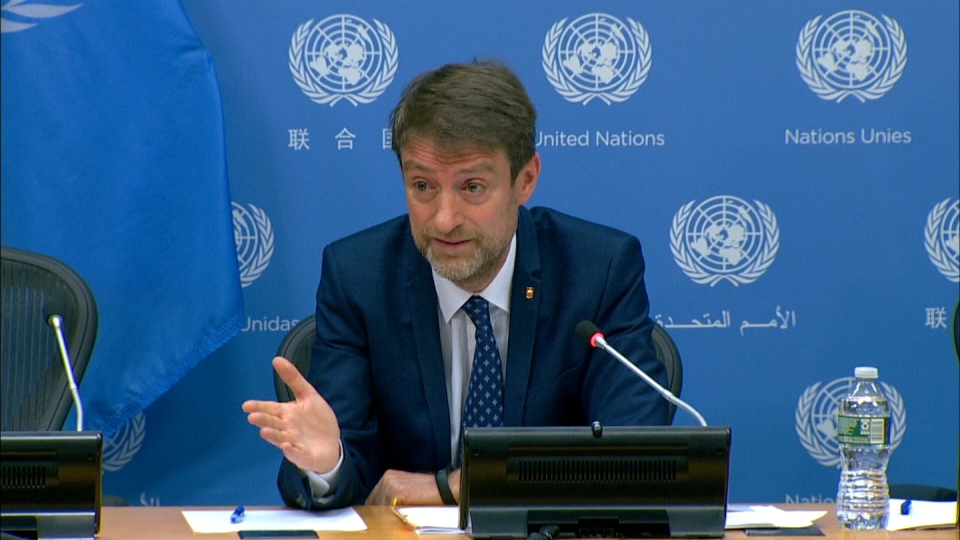 The following is a Kayhan Life interview with Ambassador Ferit Hoxha, Permanent Representative of Albania to the United Nations.
The informal Security Council meeting on Iran was organized by the United States and Albania. What were its precise goals? 
Since mid-September and for weeks now, the world has seen an incredibly courageous civic movement in Iran led by women, with the participation of Iranians from all walks of life united to fight for their civil rights. It has been heartening to watch those unprecedented images coming from a country ruled by the morality police, with women defiantly removing their hijabs or cutting off their hair in public. Hearing chants calling for "death to the dictator" and seeing crowds chasing off policemen on the streets is no ordinary thing in Iran. It was not just one of those moments of unhappiness that end up bursting to the surface. It was and is different from what we have seen in previous cases. This time, events have brought a real earthquake, and Iran and its kleptocratic nomenklatura are shaken to the core.
The regime has responded in the only way they know: repression and kill. We have seen families weep over the coffins of relatives killed in protests. But they did not ask their fellow mourners to stop — rather, to keep at it, and continue.
In the face of such brutality, together with the US, we wanted to shed light on the actions of the regime, condemn them openly and, through a specific informal meeting of the UN Security Council, offer our support to all of those brave women, girls and members of religious and ethnic minority groups in Iran.
We also used the meeting to identify opportunities to promote and call for credible, international, and independent investigations into the Iranian government's appalling human rights violations and abuses. We wanted to emphasize the Iranian regime's unlawful use of force against protesters, pursuit of human rights defenders abroad, and attempts to abduct or kill them against international law. Perpetrators need to be identified and brought to account.
We wanted to expose a repressive regime and its methods, but also counter its false narratives. We wanted to speak on behalf of all those whose teeth are broken by brutal violence, those who are illegally detained and tortured, those who are obliged to sign false declarations as being paid by foreign forces, those who cannot speak and show because of the intentional internet outages, all those who take risks by going out in the streets for freedom.
From an Albanian perspective, we also wanted to let all those protesters in Iran, and to the Iranians abroad that their struggle is followed with utmost attention and that the international community is willing to make use of all platforms to denounce what the regime in Iran is doing in suppressing the protesters, and of mechanisms to hold them to account.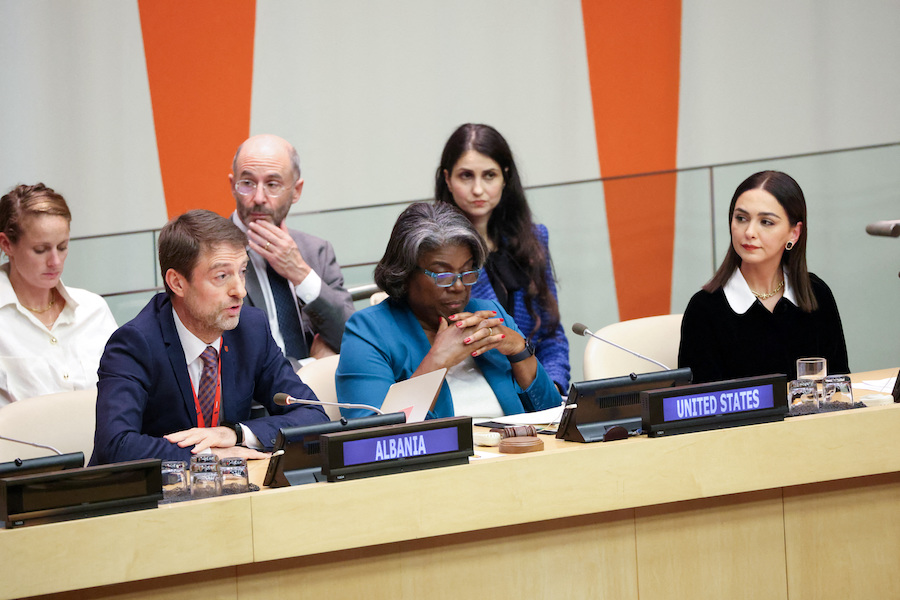 How was the meeting? Were the speeches by Shirin Ebadi and Nazanin Boniadi useful to you and other participants in terms of finding out more about the current situation in Iran?
I think that the Arria Meeting fulfilled its goal. First, we heard updated information on the events, and in particular of the actions of a regime that is openly contested by its own people, by its own youth.
Javeed Rahman spoke about reported incidents involving the use of tear gas and live ammunition by security forces, including by the Basij Force. Lawyers, journalists, and other members of civil society have been detained for supporting the protests. The Iranian government has also charged hundreds of those arrested with offenses related to the protests, some of which carry the death penalty, and has curtailed access to the internet for most of its citizens. Human rights experts from the special procedures of the Human Rights Council (HRC) have condemned the killings and the crackdown by security forces in Iran, including arbitrary arrests and detentions, gender-based and sexual violence, excessive use of force, torture, and enforced disappearances.
It was very important to bring these facts to the Security Council and lay out the violations against women as part of a continuum of long-standing, pervasive, gender-based discrimination embedded in legislation, policies, and societal structures. The call for the establishment of an international investigative mechanism, to ensure accountability in Iran and to end the persistent impunity for grave human rights violations, was widely echoed by a number of Council members.
We heard a very powerful account from Naz Boniadi describing events as the most serious challenge to the Iranian government in more than a decade. Among other things, she announced that a group of prominent women leaders, including former US Secretary of State Hillary Clinton, Canada's Deputy Prime Minister Chrystia Freeland, former US First Lady Michelle Obama, former Executive Director of UN Women Phumzile Mlambo-Ngcuka, and Nobel Peace Prize Laureate and education activist Malala Yousafazi had published a petition calling for Iran's immediate removal from the UN Commission on the Status of Women, a call that was echoed by some member states during the meeting.
Also, hundreds of thousands of people from all over the world have added their voices to a petition calling for the establishment of an independent UN mechanism to conduct investigations as a step towards pursuing accountability for the most serious crimes under international law committed in Iran.
The meeting's importance and relevance should also be seen in the light of the attempts of Iran to diminish the importance of it. Iranian representatives at the UN urged Member States not to participate in the meeting. To no avail. The meeting was widely attended and was equally followed live from outside.
We are fully aware of the challenges that a human rights question faces when it comes to the Security Council format. But we are deeply grateful to the wonderful speakers for their insights and the recommendations on a wide range of issues concerning Iran, and for their decisiveness in advocating for the Human Rights of the people of Iran. For Albania, human rights are directly linked to peace and security, and failing to properly address issues at the very start has led so many times to exacerbated tensions and conflicts. This is how events started in Syria, where peaceful protests crashed by a merciless regime led to the nightmare we know and that is lasting for more than 11 years now.
In your speech, Mr. Ambassador, speaking about the experience of the Albanians in their struggle for freedom and democracy, you said that we must not be afraid and continue to have faith in victory. Are these two elements enough to defeat a dictatorship, or do we also need the support of foreign powers and international institutions?
In my remarks, I expressed my full solidarity and unreserved support for protesters and their rights, and modestly shared my own experience of life under the communist dictatorship in Albania. I am not sure there is a fixed formula that can be applied everywhere on the ways to defeat a dictatorship. Dictatorships are always deeply rooted in the local context and culture but they have one thing in common: their foundations are based on fear and repression as well as on the obsession around foreign interference. The latter helps rulers use well-known playbooks to silence dissent and develop a sense of unity with the false pretext of defending security. Dictators are paranoid individuals who see enemies everywhere. They appear strong, but are themselves corroded by fear.
The case of Iran is no different, as all the pillars of the theocracy are ruled over by the same person: the Supreme Leader. Such architecture inevitably develops a deeply corrupted system with rotten segments running across the ruling power structure, based on fierce repression by the security apparatus.
Khamenei and Other 12 Iranian Authorities Guilty of Crimes Against Humanity
SPECIAL REPORT- Iran's Leader Ordered Crackdown on Unrest: "Do Whatever It Takes to End It"
At the very first moment that the people working for the system see the Supreme Leader shaking, they will abandon him. And the fall of one of the ruling pillars will spill over to the others. The protesters should not get exhausted by the brutality of the regime.
At the regional level, we have a lot of governments supporting Iran, and its isolation for the time being seems not to be a reality. What is important is that the international community is using all diplomatic tools to put pressure on the regime in Iran.
No one can predict the tipping point that makes seemingly powerful structures crumble, but one thing is sure, and dictatorships have one other thing in common: they all are wiped out at a certain moment, and will always be outlasted by the decisiveness of the people. It is always the will of the people that brings change. I don't know if courage and faith are enough to bring change in Iran, but I am convinced that without them, it will be more difficult to develop a sense of ownership among those who are fed up with a system that is alien to them and their needs; a system that does not work for them, and that they have the right to openly contest and bring down. These protests have opened a Pandora's box that has brought the winds of change that Iranians want and fully deserve. Iran has everything to be a great and developed nation and export wealth and knowledge rather than terror and obscurantism.
What is your personal opinion on the current situation in Iran and in particular on what many have called the first "feminist revolution" in history?
What I think is more than just an opinion: it is a profound belief and an unlimited admiration for all of the women, girls and youths and everyone who supports this impressive fresh air in Iran. Their resilience and strength, their courage and determination, their energy and dreams will move the cause of "Women, Life, Freedom" forward.
It is no longer an "if" but rather a "when." As I said during the meeting, Iran will not be an exception. The regime will use all its dirty tricks. Iranians, at all ages and walks of life should use their common determination and get together for a peaceful transition toward a free, democratic, and prosperous society.
ANALYSIS: Women-Led Protests Are Shifting the West's Attitude Towards Iran
IRGC Trains Minors as Riot Police Without Parental Consent, Report Says 
Kayhan Life Interviews Revolutionary Guard Opposing Islamic Republic
OPINION: A Post-Islamic-Republic Iran Will Bring Stability to the Middle East
Similar Articles to This Post