By Phil Stewart
---
The United States said on Friday it believed forces in a convoy targeted by U.S. military aircraft in southern Syria on Thursday were Iranian-directed, in a possible sign of increased tension between Washington and Tehran in the Syrian war.
Defense Secretary Jim Mattis told reporters at the Pentagon that the U.S. strike was defensive in nature. It was condemned by the government of Syrian President Bashar al-Assad, who has the backing of Iran and Russia.
A member of the U.S.-backed Syrian rebel forces told Reuters on Thursday the convoy comprised Syrian and Iranian-backed militias and was headed toward the garrison in Syria used by U.S. and U.S.-backed forces around the town of At Tanf.
The United States determined that the convoy posed a threat.
"It was necessitated … by offensive movement with offensive capability of what we believe were Iranian-directed – I don't know there were Iranians on the ground – but by Iranian-directed forces," Mattis said at a news conference.
Rebel sources have warned of advances by Syrian army and Iranian-backed militia in the region near the strategic Damascus-Baghdad highway, which was once a major weapons supply route for Iranian weapons.
Mattis said he believed the Iranian-directed forces moved into the zone against the advice of Russia but that he was unable to confirm that with certainty.
"But it looks like the Russians tried to dissuade them," Mattis said.
A Western intelligence official, speaking on condition of anonymity, has said the strike sent a strong message to Iranian-backed militias that they would not be allowed to reach the Iraq border from Syria.
Syrian government negotiator Bashar al-Ja'afari said on Friday he had raised the incident with U.N. mediator Staffan de Mistura at peace talks in Geneva.
"We discussed the massacre that the U.S. aggressor committed yesterday in our country. This subject was widely discussed," Ja'afari told reporters.
Thursday's air strike did not on its own suggest a shift in the U.S. military's focus in Syria, which has been on battling Islamic State militants.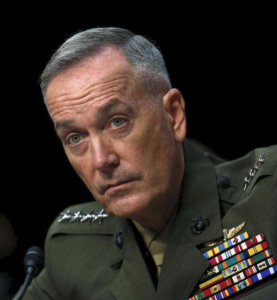 But the latest move showed that the area around the Tanf garrison in southern Syria could be under pressure.
U.S. Marine General Joseph Dunford, chairman of the Joint Chiefs of Staff, said he had been working on ways to manage Syria's messy battlefield with Russia. There is no interaction between the U.S. and Syrian militaries.
"We had a proposal that we're working on with the Russians right now. I won't share the details," Dunford said.
"But my sense is that the Russians are as enthusiastic as we are to deconflict operations and ensure that we can continue to take the campaign to ISIS and ensure the safety of our personnel," he said, using an acronym for Islamic State.
(Reporting by Phil Stewart; additional reporting by Vladimir Soldatkin; editing by Grant McCool)