---
By Lesley Wroughton and Doina Chiacu
---
WASHINGTON, June 26 (Reuters) – The United States has told countries to cut all imports of Iranian oil from November and is unlikely to offer any exemptions, a senior State Department official said on Tuesday as the Trump administration ramps up pressure on allies to cut off funding to Iran.
U.S. President Donald Trump in May said his administration was withdrawing from the "defective" nuclear deal agreed between Iran and six world powers in July 2015, aimed at curbing Tehran's nuclear capabilities in exchange for the lifting of some sanctions, and ordered the reimposition of U.S. sanctions against Tehran that were suspended under the accord.
"Yes, we are asking them to go to zero," the official said when asked if the United States was pushing allies, including China and India, to cut oil imports to zero by November.
"We're going to isolate streams of Iranian funding and looking to highlight the totality of Iran's malign behavior across the region," the official, speaking on condition of anonymity, told reporters.
The official said a U.S. delegation was headed to the Middle East next week to urge Gulf producers to ensure global oil supplies as Iran is cut out of the market starting on Nov. 4 when U.S. sanctions are reimposed.
Officials have yet to hold talks with China and India, among the largest importers of Iran's oil, as well as Turkey and Iraq.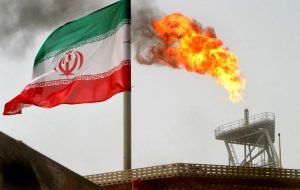 Benchmark U.S. oil futures rose more than $2 on Tuesday, topping $70 a barrel for the first time since May 25 as the threat that the United States would push buyers to limit Iranian oil imports added to concerns about tightening supplies.
Asked if any waivers were expected to be granted in the process, the official said the position of the administration was that no exemptions would be permitted. He added: "I would be hesitant to say zero waivers ever."
Senior State Department and Treasury officials are pressing allies in Europe, Asia and the Middle East to adhere to the sanctions, which are aimed at pressuring Iran to negotiate a follow-up agreement to halt its nuclear programs.
Iran has met with Chinese oil buyers to ask them to maintain imports of its oil, although it failed to secure guarantees from China, sources familiar with the matter told Reuters in May.
"We will be engaging in the next segment coming up in a week or so with our Middle Eastern partners to ensure the global supply of oil is not adversely affected by these sanctions," the official said.
China, the world's top crude oil buyer, imported around 655,000 barrels a day on average from Iran in the first quarter of this year, according to official Chinese customs data, equivalent to more than a quarter of Iran's total exports.
Oil analysts said there are concerns that OPEC producers will not be able to fully supply the market after Iranian oil is cut from the market.
"There is real concern on whether the 'OPEC Plus' will have enough spare capacity to balance potential drops in oil production from Venezuela and Iran," said Abhishek Kumar, Senior Energy Analyst at Interfax Energy's Global Gas Analytics in London.
European powers have vowed to keep the 2015 deal alive without the United States by trying to keep Iran's oil and investment flowing, but have acknowledged that U.S. sanctions would make it difficult to give Tehran guarantees.
"For the vast majority of countries they are willing to adhere and support our approach to this because they also view" Iran's behavior as a threat, the official added.
Iranian President Hassan Rouhani on Tuesday promised Iranians the government would be able to handle the economic pressure of new U.S. sanctions amid reports of a second day of demonstrations in protest at financial hardship and a weakening rial.
Fars news agency reported that parts of Tehran's Grand Bazaar were on strike for a second straight day. Reuters was not immediately able to confirm the report.
Washington has sought to emphasize that the protests are part of rising economic discontent in Iran hoping it will force the government to negotiate a new nuclear deal to avoid sanctions.
"There is a level of frustration that people have with regard to the regime activity and behavior, the enrichment of the military and clerical elite and the squeezing out of the life of the economy," the senior State Department official said.
"Iranians are tired of this situation," the official added.
---
(Reporting by Lesley Wroughton and Doina Chiacu Editing by James Dalgleish)
---