LONDON, June 26 (Reuters) – President Hassan Rouhani promised Iranians the government would be able to handle the economic pressure of new U.S. sanctions, a day after traders massed outside parliament to protest against a sharp fall in the value of the national currency.
Washington is to start reimposing economic penalties on Tehran in coming months after U.S. President Donald Trump quit an agreement between major world powers and Iran in which sanctions were lifted in return for curbs on its nuclear programme.
This may cut Iran's hard currency earnings from oil exports, and the prospect is triggering a panicked flight of Iranians' savings from the rial into dollars.
On Monday, police patrolled Tehran's Grand Bazaar as security forces struggled to restore normality after clashes with protesters angered by the rial's collapse, which is disrupting business by driving up the cost of imports.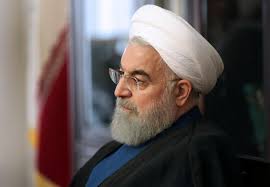 Defending his economic record, Rouhani said the government's income had not been affected in recent months, and the fall in the rial was the result of "foreign media propaganda".
"Even in the worst case, I promise that the basic needs of Iranians will be provided. We have enough sugar, wheat, and cooking oil. We have enough foreign currency to inject into the market," Rouhani said in a speech broadcast live on state television.
The International Monetary Fund estimated in March that the government held $112 billion of foreign assets and reserves, and that Iran was running a current account surplus. These figures suggested Iran might withstand the sanctions without an external payments crisis.
Iran's judiciary chief warned on Tuesday that the "economic saboteurs", who he said were behind the fall of rial, would face severe punishment, including execution or 20 years in jail.
"The enemy is now trying to disrupt our economy through a psychological operation. In recent days some tried to shut down the Bazaar, but their plot was thwarted by the police," Ayatollah Sadeq Larijani was quoted as saying by Fars news agency.
The Iranian government is implementing new plans to control rising prices, including banning imports of over 1,300 products, preparing its economy to resist threatened U.S. sanctions.
Rouhani said the fresh U.S. sanctions were part of a "psychological, economic and political war", adding that Washington would pay a high price for its actions.
"Withdrawal was the worst decision he (Trump) could make. It was appalling. It hurt America's global reputation," he said.
In late December, demonstrations which began over economic hardship spread to more than 80 Iranian cities and towns. At least 25 people died in the ensuing unrest, the biggest expression of public discontent in almost a decade.
Demonstrators initially vented their anger over high prices and alleged corruption, but the protests took on a rare political dimension, with a growing number of people calling on Supreme Leader Ayatollah Ali Khamenei to step down.
---
(Reporting by Bozorgmehr Sharafedin; Editing by Kevin Liffey, William Maclean)
---