Iran came under fire for its treatment of women at this year's World Economic Forum in Davos, Switzerland, as the journalist and activist Masih Alinejad denounced "gender apartheid" in her homeland and urged the international community to develop a human rights based approach when dealing with Iran. 
Every year at Davos, the World Economic Forum brings together hundreds of world leaders, business leaders, economists, celebrities, and human-rights activists to discuss a wide range of global issues. 
Alinejad is based in the U.S. and the founder of the "White Wednesdays" movement against the compulsory hijab. A recipient of the UN Watch's Women's Rights Award, she was invited to Davos this year to discuss the state of human rights in Iran.  
Speaking to Kayhan Life, Alinejad said she took part in an event called "Women of Impact," initiated by Tina Brown (the former editor of Vanity Fair and of New Yorker magazine). The evening's other speaker was Kristalina Georgieva, the Managing Director of the International Monetary Fund. The event was attended by Ivanka Trump, daughter of U.S. President Donald Trump. 
"I spoke about how women in Iran have been fighting for 40 years against gender apartheid, and how they effectively became hostages in the hands of the Iranian government," she said.  "The discrimination began with the compulsory hijab, and then women were removed from their positions as judges, and ministers, and banned from participating in several sports."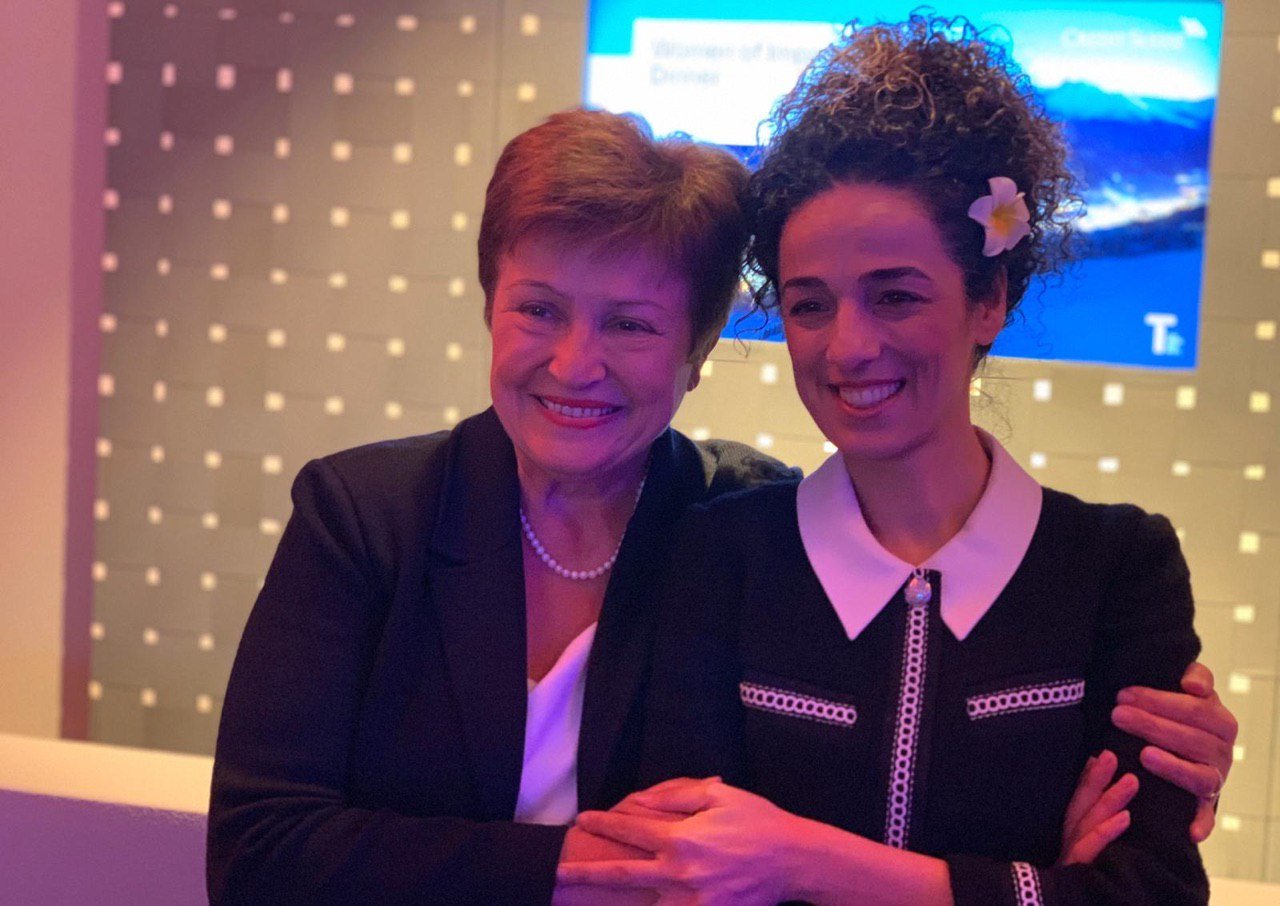 ---
Noting that this was "a significant moment for the feminist revolution in Iran," she emphasized that at events such as Davos, campaigners had a duty to raise awareness around sensitive issues. 
"Meetings like these are the responsibility of all human-rights activists, to make sure that human rights are not being used as a tool for governments' own ends," she insisted. "I've met with many leaders around the world, and my message has always been the same: human rights are not for exploiting."
At Davos, Alinejad spoke about the wave of protests in Iran in November which, according to Amnesty International, led to more than 300 deaths, while the U.S. State Department, cited as many as 1,500 fatalities. Alinejad urged the international community to investigate the violent crackdown, which was launched in response to peaceful demonstrations held by anti-government protestors. 
In the company of strong women like @KGeorgieva in Davos, I talked about Iranian women's fight against gender apartheid.

I also raised the regime's massacre of 1500 people during #IranProtests.

I stressed that we should never sacrifice human rights for political/economic gains pic.twitter.com/d2hqhdxNeR

— Masih Alinejad ?️ (@AlinejadMasih) January 22, 2020
Alinejad told Kayhan Life that her brother and mother, as well as a family friend had been targeted by the government for supporting her campaign to reverse the compulsory hijab law in Iran. Alireza Alinejad, who lives in Iran, was arrested on Sep. 23, and pressured by Iranian authorities to testify over Ms. Alinejad's campaigning. 
Shortly before security forces entered his home and arrested him, Ali Alinejad sent a video to his sister saying that officials had already attempted to coerce him, their mother and the rest of the family into denouncing the activist's work, on state television. Amnesty International said the arrests were a "blatant" attempt at intimidating the human rights campaigner. 
Navid Mihandoost, a well-known film producer in Iran and a friend of the Alinejad family, was arrested on Dec. 4 and charged with threatening national security. Prior to his detention and charge, Mihandoost also sent a video to Ms. Alinejad expressing concerns that he might be arrested for assisting her brother after he was imprisoned. Iran's media has been silent on the arrests. 
Alinejad entered into a recent heated exchange on social media with U.S. Representative Ilhan Omar. Omar, a Democrat from Minnesota, retweeted a post accusing Alinejad of being paid by the U.S. government for her campaigning work. Omar faced an aggressive social media backlash after her retweet. Alinejad addressed her personally in a 10-tweet thread, saying she held several independent positions and had engaged positively with world leaders like U.S. President Donald Trump, while also criticizing government policies, including the Trump travel ban, which have impacted innocent Iranians. 
Alinejad has also faced criticism from some Iranians for meeting with U.S. Secretary of State Mike Pompeo on Feb. 4. The concern is that Washington is only interested in the economic advantages that could result from an improvement in relations with Iran. 
Responding to the criticism, Alinejad said: "I actually think the debate showed a healthy opposition. Whether we agree with each other, or disagree, dialogue is important. My goal in meeting with Pompeo was to highlight that human rights must come first for all politicians around the world, including those in the United States."
"I also expressed the view that the parties to the nuclear deal should not ignore human rights within the deal. Human rights were also noticeably absent from Washington's 12 demands to Iran. As a human rights activist, it's my duty to ask, where is the human rights element in all of these agreements?" 
Meanwhile, a growing number of high-profile women in Iran have become vocal about the government's forced hijab laws, which make it compulsory for all women in Iran to  cover their hair. Failure to wear the hijab can lead to up to 10 years in prison. 
Kimia Alizadeh, a Taekwondo athlete and Iran's only olympic medalist, defected from Iran on Jan. 24 after becoming frustrated by Iranian officials' sexism. 
Actress Taraneh Alidoosti has also publicly criticized the government's forced hijab policy. Alidoosti, who is often referred to as the Natalie Portman of Iran, caused a stir on social media for wearing what appeared to be a feminist tattoo on her arm at the 2016 Cannes Film Festival.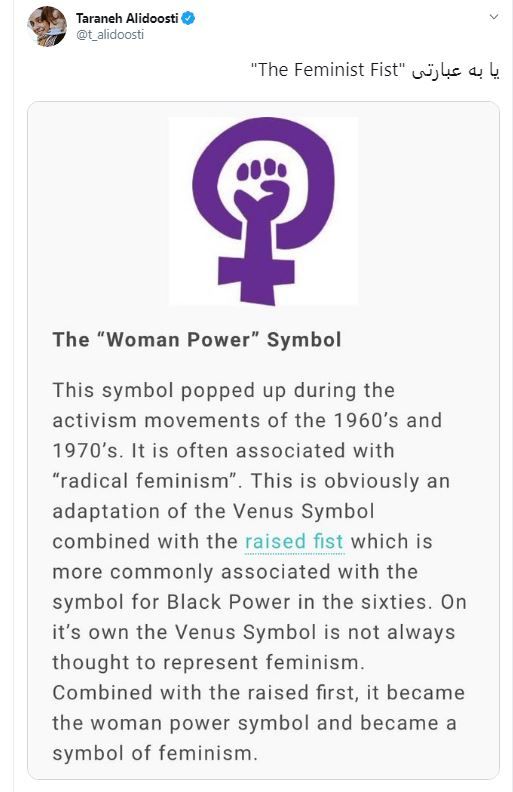 ---
"These women have been used by the Islamic Republic many times through the media to coerce women into obeying the compulsory hijab laws, including shaming those who refuse to wear their headscarves," Alinejad said.
A poster produced by the Iranian government features Alizadeh and Alinejad side by side, calling the Taekwondo player a hero and an honorable Iranian for wearing hijab, while labeling Alinejad dishonorable for going out in public without a headscarf. 
The captions on the poster say, "Who is the righteous one? It is Kimia Alizadeh, who goes veiled to show pride for her country! Who is the dishonorable one? Masih Alinejad, a paid slave of the West who works day and night to dishonor the women of her country!"
---
Alinejad said the growing momentum around women's rights in Iran was unprecedented since the 1978-79 Revolution. 
"Women in Iran have always been furious, but what makes this movement extraordinary is that for the first time you see women from different backgrounds and with differing perspectives, including those who believe in wearing hijab and those who do not, uniting," she said.
---