---
By Nazanine Nouri
---
As the Covid-19 pandemic pushes the United States and much of the rest of the world into lockdown, a public art installation in Las Vegas by the Iranian-American artist and refugee Nanda Sharif-pour is using art to inspire kindness, reflection, equality, and unity during these difficult times.
"ONE," a powerful light installation at Soho Lofts on Las Vegas Boulevard, invites audiences to engage with a poem by one of the greatest Persian poets of the 13th century, Saadi Shirazi. "Bani Adam" or [Children of Adam] calls for the breakdown of barriers between human beings. It was famously quoted by former U.S. President Barack Obama in a video message marking Nowruz, the Persian New Year on March 20, 2009.   Historically viewed as capturing the spirit of the Universal Declaration of Human Rights, Saadi's poem has also been displayed on a carpet in the United Nations building in New York since 2005.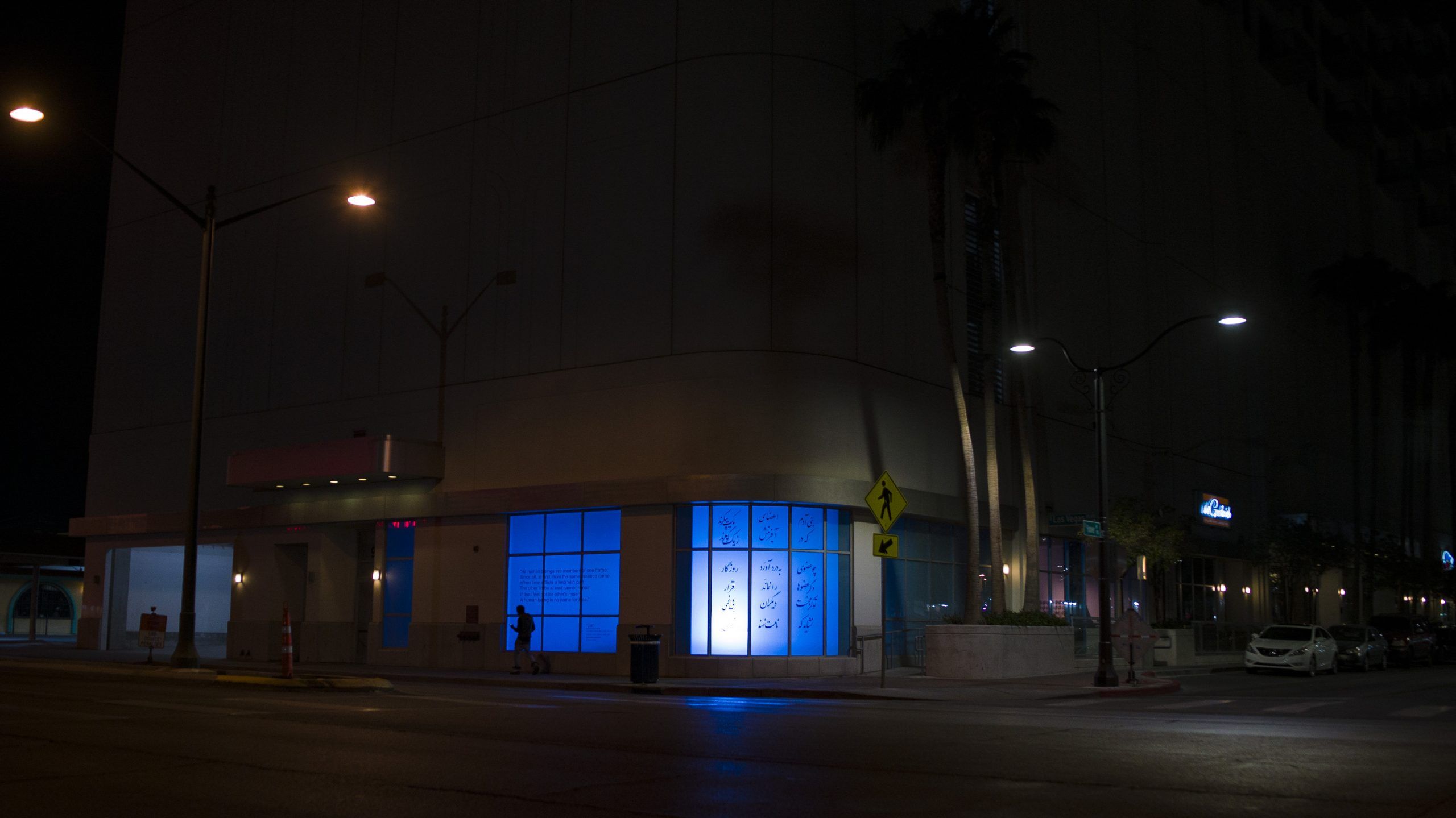 Sharif-pour was originally inspired by the presidency of U.S. President Donald Trump and his immigration and welfare polices, as well as by the upheavals in Iran, curator Laura Henkel explains.
"Rather than creating an installation that dwells on these negativities, the artist desired to create an installation that would rise above," she notes. "The installation remains relevant regardless of the day's current events. It is a timeless projection of love and compassion for all."
In Las Vegas, the poem is presented in the original Farsi, with an English translation on the exterior of Soho Lofts on Las Vegas Boulevard.  The words are set against brightly illuminated backgrounds that change color.  The rainbow-like array of colors represents the universal struggles of humanity and its brilliance.
"Presenting the poem through a spectrum of light," says Sharif-pour, "magnifies the importance of seeking wisdom from our history so that we may navigate our future.  The light and the words serve as our guide."
Sharif-pour's art is informed by her experiences as a refugee.  She and her husband, artist Ali Fathollahi, were forced to flee Iran because of the government's strict censorship of the country's artistic community.  After seeking asylum through the UNHCR in Turkey, the couple were eventually assigned to the United States. They arrived in Las Vegas in 2013 where they have been based since, creating politically charged works of art, often using symbols from Iranian culture and tradition and highlighting the importance of self-expression.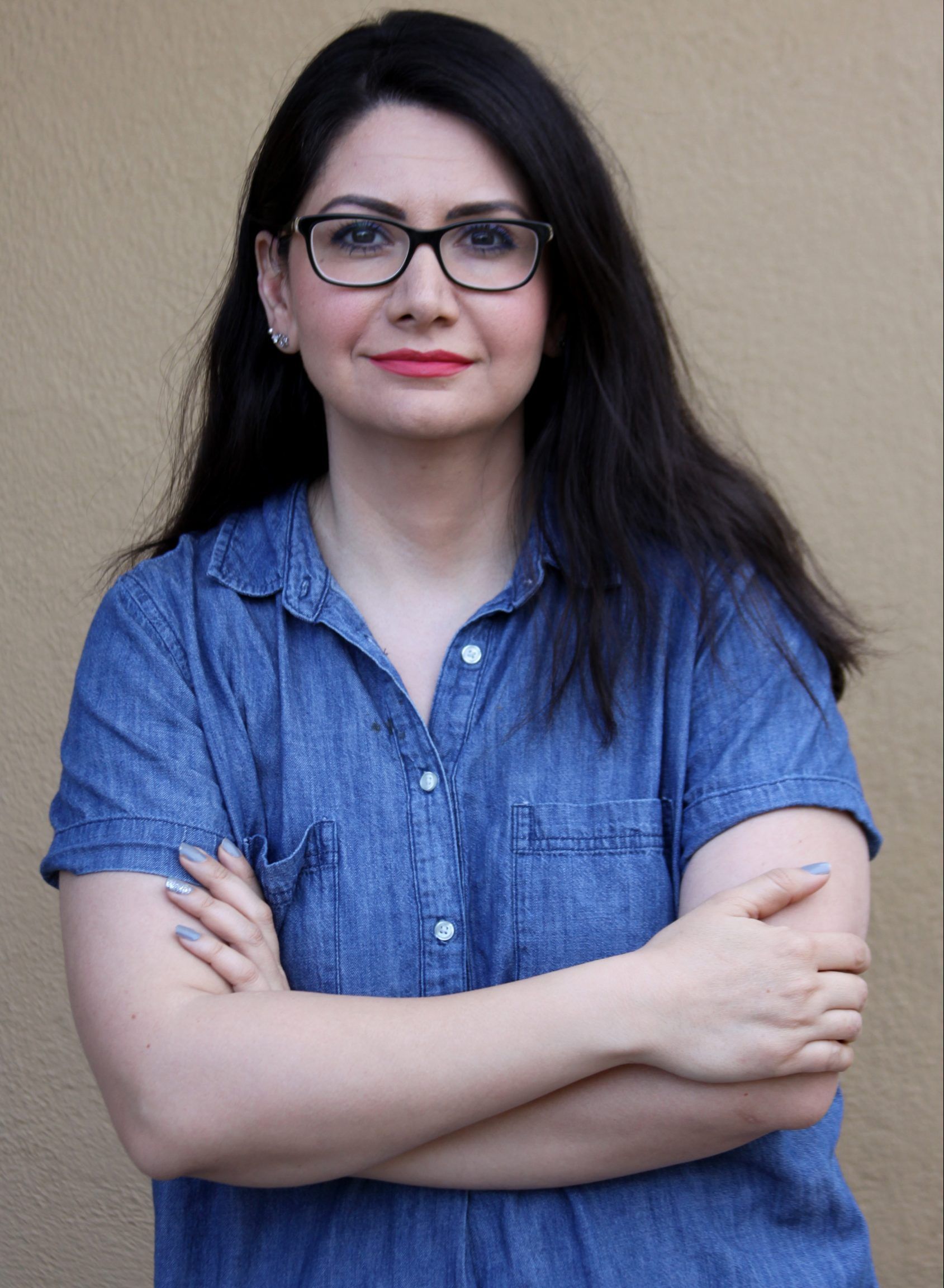 Sharif-pour is a multi-media artist specialized mainly in installation and video art. Using a variety of mediums, from sculpture to video and projected images, she engages with the ways in which we understand and relate to the surrounding world, challenging our understanding of social, cultural and political spaces and experiences.
She holds a B.A. in Graphic Design and two M.F.A. degrees from Tehran's Azad University of Art and Architecture and the University of Nevada, Las Vegas.  She has exhibited in more than 45 group and solo exhibitions in the U.S., Turkey and Iran.  She has also been teaching art at the University of Nevada, Las Vegas since 2013.
ONE is on public display until November 3 at Soho Lofts, 900 S Las Vegas Boulevard.