---
By Ahmad Rafat
---
On July 14, a court in Stockholm found Hamid Nouri, an Iranian official, guilty of "crimes against humanity," "war crimes," and "premeditated murder," sentencing him to life in prison.
The court found that he "jointly and in collusion with others took part in the commission of the criminal acts." It also ordered Nouri to pay 1.2 million SEK ($117,302) in fines.
The verdict marks an important day for Iranians who have been seeking justice for crimes committed by the Islamic Republic of Iran in the past 43 years.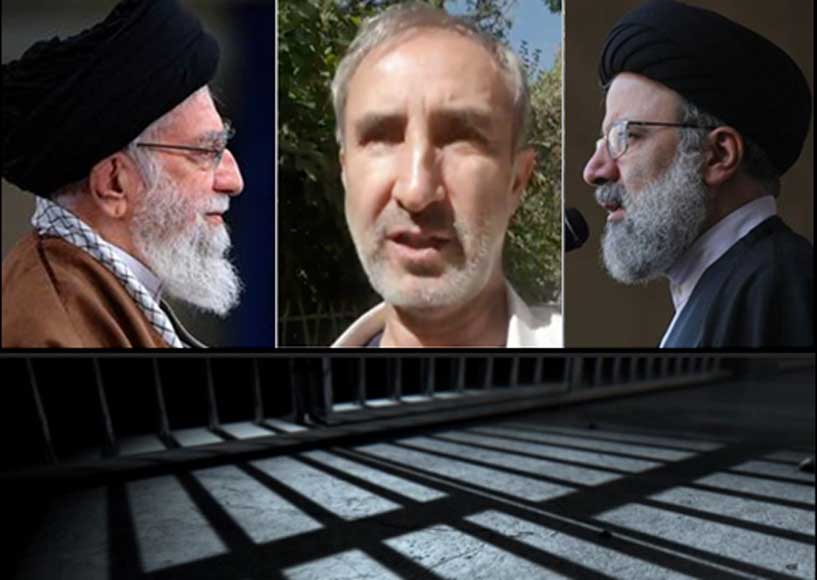 Nouri allegedly supervised the mass executions of political prisoners in the summer of 1988 when he was reportedly a deputy prosecutor at Iran's Gohardasht Prison in Karaj, 20 kilometers west of Tehran.
Nouri was purportedly working under Judge Mohammad Moghiseh (Haj Nasser and Naserian), a member of the "death committee" which allegedly expedited political prisoners' executions in Gohardasht Prison starting in August 1988 and for a period of five months.
The "death committee" was formed following an order by the late Ayatollah Ruhollah Khomeini, the founder of the Islamic Republic, to review prisoners' sentences and expedite their executions. The three-member panel of judges, including current Iranian President Ebrahim Raisi, reportedly spent only a few minutes reviewing each case before sentencing a prisoner to death.
Swedish police arrested Nouri under international law at Stockholm airport in 2019 as he arrived to visit relatives, following a complaint by several prisoners who had survived the 1988 mass executions at Gohardasht Prison.
Nouri's trial began on Aug. 10, 2020, in Stockholm District Court's Room 37. A jury of two judges and four members of the public concluded its work on May 4. There were 93 court sessions in total. The court heard testimonies from 34 witnesses, 26 plaintiffs, and 12 experts. They were questioned and cross-examined by judges, defense attorneys, and prosecutors.
Prosecutors in the case asked the Stockholm court to hand Nouri a life sentence, the maximum punishment allowed under Swedish criminal law. Sweden abolished the death penalty in 1921.
Swedish law recognizes the principle of universal jurisdiction, which allows one country's judicial system "to prosecute crimes against international law even when they were not committed on that country's territory."
The court's 396-page written decision thoroughly explained the charges and the verdict. Under Swedish law, a person sentenced to life imprisonment may apply to have the sentence commuted to a fixed-term sentence after serving at least ten years.
If the sentence is commuted, "the fixed-term sentence shall not be less than the maximum term of imprisonment that may be imposed for the crime, which for murder and a serious against international law is 18 years."
Nouri will be deported and permanently banned from entering Sweden if released from prison.
Highlighting the court's meticulous and methodical review of the evidence, a lawyer for one plaintiff in the case told Kayhan Life that the judges had even excluded the "contradictory" testimonies of several inmates in Gohardasht in 1988.
Hundreds of Iranians from various ethnic backgrounds, religious beliefs, and political affiliations, who had gathered outside the court in Stockholm since the early morning hours of July 14, reacted to the verdict with cheers, screams, and bitter-sweet tears, remembering loved ones who had died before, during and after the "bloody summer" of 1988.
Their solidarity and union were the principal takeaways from that historical trial. Hamid Nouri's trial and conviction by a Swedish court have wide-ranging implications.
The verdict proved that the Swedish Judiciary is an independent entity not influenced by the government's foreign policy agenda. Despite overt and covert political pressure, the court issued a verdict that will undoubtedly strain relations between Stockholm and Tehran.
Shortly after the court released its verdict, the Iranian Foreign Ministry summoned Sweden's chargé d'affaires to Tehran.
"Iran denounces this political statement that contains baseless and false allegations against the Islamic Republic and its Judiciary and sentences Mr. Nouri to life imprisonment," Foreign Ministry Spokesperson Nasser Kanaani said during a press briefing on July 14.
Mr. Kanaani did not comment on the Swedish court's 396-page written decision explaining the charges and the verdict in great detail.
The Islamic Republic's main concern is not about the court giving Nouri a life sentence; under Swedish law, he will have to serve 20 years in prison.
Although, in this case, only one individual has been convicted for "crimes committed against humanity," the verdict is against the entire Islamic Republic system. It sends a message that no crime will go unpunished.
The verdict against Nouri has rekindled hope among Iranians who wish that all who are guilty and who want to see all those whose hands are soaked in the blood of people will one day soon face justice inside Iran and abroad. They will stand trial and be held accountable for their crimes.
"Hamid Nouri's conviction and sentence today in Sweden for crimes related to Iran's 1988 prison massacres is an unprecedented step towards justice for crimes committed in Iran and sends an unequivocal and long overdue message to the Iranian authorities that those responsible for crimes against humanity in Iran will not escape justice," Diana Eltahawy, Amnesty International's Deputy Director for the Middle East and North Africa, said.
The verdict in Nouri's trial will close the gateway to the West and democratic countries for those who have committed crimes in Iran in the course of the past four decades. The court's ruling will prompt other countries to fulfill their legal and moral obligations by imposing a travel ban on anyone who committed crimes against the Iranian people.
Many Western countries would like to avoid political complications caused by such criminal cases. Nonetheless, Islamic Republic officials who have committed crimes against humanity cannot travel abroad without worrying that they may be arrested once they enter a Western country.
No legal proceedings can be launched against President Ebrahim Raisi in a Western country, given that he enjoys political immunity. However, no country that upholds democratic principles can invite Raisi for an official visit.
The arrest of Hamid Nouri in November 2019 forced Iran's senior officials to break their silence over the mass killings in the 1980s, particularly in the summer of 1988. While they confined their comments to defending the Islamic Revolution, they confessed to the mass executions of dissidents. Hamid Nouri also implicated himself in some ways during his trial.
Iranian officials refused to speak about the executions of dissidents for years, particularly those committed in the summer of 1988. Many of them even denied that they happened. During the 2021 presidential elections, then-candidate Ebrahim Raisi admitted to his role as a member of the "death committee" and even argued that he deserved "praise" for fulfilling his duty.
In an interview with the Islamic Revolution Documents Center, Ali Razini, the head of Branch 41 of the Iranian Supreme Court, spoke about the 1988 mass executions.
"Those were extraordinary circumstances," Mr. Razini argued. "The country was facing a serious crisis. We might not have any security if it wasn't for the imam's [Ayatollah Ruhollah Khomeini] decisiveness. We could have faced a different situation. The state could have collapsed."
It is noteworthy that the head of the Islamic Revolution Documents Center is Mostafa Pour-Mohammadi, former Justice Minister (in office from 2013 to 2017), who was also one of the three judges on the "death committee."
Iran's Supreme Leader Ayatollah Ali Khamenei arguably made the most unapologetic comments about the executions of dissidents in the 1980s during a speech in which he said: "Despite many challenges, we stood on our own feet in the 1980s and disappointed the enemy. We can also do the same today. Our God today is the same in the 1980s."
Yet the young people who poured into the streets in 100 cities across Iran in January 2018, shouting "Death to Khamenei" and "No to the Islamic Republic," are different from the youth of the 1980s. A pariah state such as Iran is not in a position to oppress and silence a society, 60 percent of which lives in poverty.
Similar Articles to This Post