---
By Ahmad Rafat
---
Albanian Prime Minister Edi Rama said on Sept. 7 that his country had severed ties with the Islamic Republic, giving Iranian diplomats 24 hours to leave the country.
In a televised statement, Prime Minister Rama said: "Investigations uncovered incontrovertible evidence that the cyberattack against our country was orchestrated and sponsored by the Islamic Republic of Iran, which had involved four groups in the attack on Albania."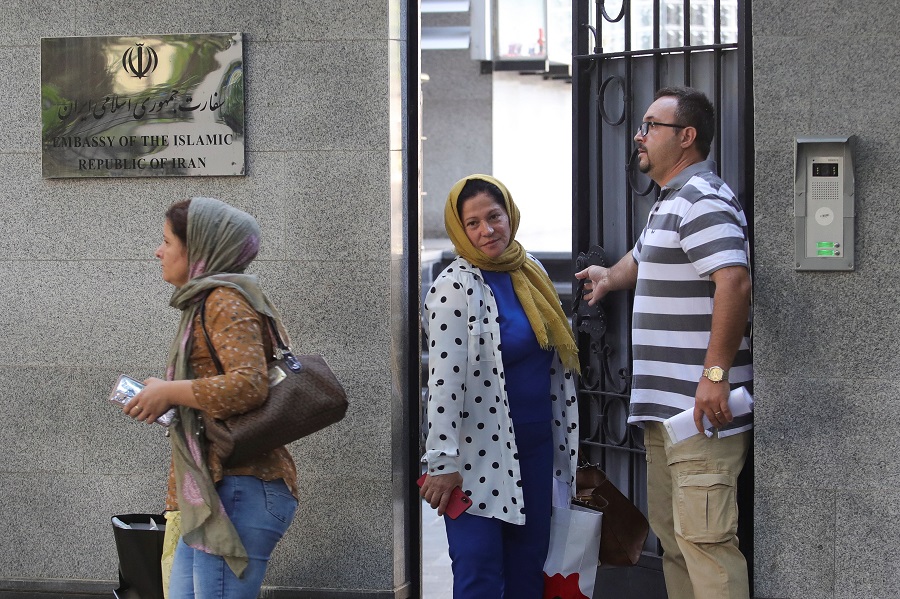 According to Mr. Rama, the cyberattack was aimed at "paralyzing public services and hacking data and electronic communications from the government systems."
"The attack failed and inflicted minimal damage, given the aggressor's intentions. All systems came back fully operational, and there was no irreversible wiping of data," Rama added.
Albania's Council of Ministers, headed by Prime Minister Rama, ultimately decided in favor of severing ties with Iran.
Albanians could not access government sites for 24 hours following a cyberattack by a previously unknown hacking group called "Edalat Vatan" ("Homeland Justice") on July 15.
After taking control of the Albanian government's websites, the hackers posted a message saying, "Why should our taxes be spent on terrorists of Durres?"
On Aug. 4, the U.S. cybersecurity firm Mandiant said it had concluded "with moderate confidence" that "one or multiple threat actors who have operated to support Iranian goals" were involved in the attack.
According to Mandiant, the disruption occurred days before the start of a conference in the Albanian town of Manez affiliated with the exiled Iranian opposition group Mujahideen-e-Khalq (MEK). Ultimately, they canceled the summit because of security concerns.
Manez is a town in Durres County, where some 3,000 MEK members moved to between 2013 and 2016 at the request of the U.S. and U.N.
Shortly after Albania severed diplomatic ties with Iran, the White House condemned the "unprecedented" cyberattack, warning that Tehran would face the consequences of this action.
"The United States strongly condemns Iran's cyberattack," National Security Council spokesperson Adrienne Watson said in a statement. "We join Prime Minister Rama's call for Iran to be held accountable for this unprecedented cyber incident."
"The United States will take further action to hold Iran accountable for actions that threaten the security of a U.S. ally and set a troubling precedent for cyberspace," Ms. Watson said.
The UK has also condemned Iran for a "reckless cyberattack against Albania."
"Iran's reckless actions showed a blatant disregard for the Albanian people, severely restricting their ability to access essential public services," the new British Foreign Secretary, James Cleverly, said on Aug. 7. "The UK is supporting our valuable partner and NATO ally. We join Albania and other allies in exposing Iran's unacceptable actions."
Meanwhile, the Iranian Foreign Ministry has dismissed the cyberattack reports as "baseless claims," describing Tirana's decision to sever diplomatic ties with Tehran as "hasty and lacking foresight in international relations."
The statement by the Iranian Foreign Ministry claimed that Albania's decision to sever ties with Iran was "engineered by a third party." It added that a statement by the U.S. government released shortly after the announcement by Tirana, and Israeli media welcoming the decision, showed that "a plan had been made well in advance against the Islamic Republic."
The Iran-Albania relationship soured in 2016 after Tirana agreed to allow some 2,000 MEK members to live in a camp near the Port of Durres.
In 2018, Albania expelled Gholamhossein Mohammadnia, then Iranian Ambassador to Tirana, and another Iranian diplomat, describing them as "undesirable elements" who were engaged in "illegal activities against the [Albanian] national security."
Mr. Mohammadnia is a former member of Iran's nuclear negotiating team.
According to some media reports, Mohammadnia is allegedly connected to a group that planned a failed terrorist plot against the Israeli soccer team in Tirana in 2016. Some 20 Albanian and Kosovan nationals were arrested for the same alleged terrorist plot that year.
Iran's Supreme Leader Ayatollah Ali Khamenei argued that Mohammadnia's expulsion from Albania was connected to the 2019 nationwide unrest in Iran.
"Before these developments, an American element and several treasonous Iranians gathered in a small but mischievous and evil European country and executed their plans that led to what happened a few days later," Mr. Khamenei said.
In 2021, three Iranian journalists traveled to Tirana after receiving their entry visas from the Albanian Embassy in Ankara, Turkey. All three allegedly worked for the Iranian intelligence and security agencies.
Their official assignment as journalists was to cover the Nowruz celebration by the Bektashi Order dervishes, which have a large following in Albania.
The Bektashi Order is a 13th-century Islamic Sufi mystique movement founded by Haji Bektash Veli (1209-1271) from Nishapur, in the northeastern province of Khorasan, who lived in Anatolia, in modern-day Turkey. Followers of the Bektashi Order in Albania and the Balkans celebrate Nowruz "Sultan Nevruz" as Iranians do on March 21 (the first day of Spring).
Before participating in the "Sultan Nevruz" celebrations, the three Iranian journalists, later identified as Mohammad Alavi-Gonabadi, Firouz Baghernejad, and Mohammad Heydar Allauddin, had allegedly photographed locations that MEK members and their families frequented. Albanian authorities arrested the three men and deported them after a few days.
Trial proceedings started in September for Bijan Pooladrag, an Iranian national arrested in connection with investigations of activities of the Islamic Revolutionary Guards Corps Qods Force (IRGC-QF) in Albania.
Albanian authorities arrested Mr. Pooladrag in October 2020 on five charges of "performing services and actions with declared persons," "terrorist organizations," "illegal interception of computer data," "interference with computer data," "interference with computer systems," and "misuse of equipment."
Speaking about the ongoing investigation of the case, an officer in the Albanian Special Anti-Corruption Structure (SPAK) told Kayhan Life that "the defendant in the case, Bijan Pooladrag," who was born in the outskirt of Ghasre-Shirin, in the Western province of Kermanshah, has been charged with "spying for a foreign government," "working with terrorist organizations" and "illegal surveillance, including illegal phone wiretapping."
The terrorist organization that the SPAK officer referred to is presumably the IRGC-QF.
A judge presiding over cases prosecuted by Albania's Special Court against Corruption and Organized Crime (GJKKO) told Kayhan Life: "Each of these charges carries a seven to a 10-year prison sentence."
Some allege that Pooladrag was collecting information to help with the assassination of Mehdi Abriz-Shamsi, a senior MEK leader. Mr. Abriz-Shamsi- is known as "Bahman Tehran" within the MEK.
On a request from Etelva Deda, a GJKKO judge, Albanian police investigated on July 13 the homes, workplaces, and cars of former MEK members who have ties to the Islamic Republic embassy in Tirana.
The six-page report showed that the police searched the homes of Hassan Heyrani, Mehdi Soleimani, Gholam Shekari, Hassan Shahbaz, Sarfaraz Rahimi, Mahmoud Dehghan, Mohammad Reza Sadigh, Reza Eslami, Ali Hajeri, and Mostafa Beheshti. Police also searched the offices of "The Association for the Support of Iranians Living in Albania (ASILA)" for several hours.
All those arrested were held for 10 hours but eventually released and told not to leave their homes.
According to a report shared by the prosecutor's office with Kayhan Life, police seized computers, hard disks, several sim cards, and mobile phones from those arrested. Also, the money confiscated from a few homes reportedly exceeded the normal income and financial help some individuals received from the government as refugees.
Photos seized from these homes reportedly included pictures of senior MEK officials' residences in Vaqqar, a village on the outskirts of Tirana.
Police have reportedly handed over some of the "suspicious" material recovered from the computers to the prosecutor's office. Investigators must decrypt the files and translate the material from Farsi into Albanian. In some documents, the contact in Iran who directed the operations was reportedly called "Haji."
Albanian authorities say "Haji", whose other name they believe is "Peyman," is an officer working as a point of contact between the cell in Albania and the IRGC-QF. The Albanian security agencies have come across the name "Peyman" in their previous investigations of other groups.
Albanian police arrested an Iranian couple as they arrived at Tirana's airport on Aug. 13. Batool Soltani, an Iranian-German dual national, and her husband Afshin Kalantari, who holds a German residency permit, were held for 72 hours and investigated by Albanian police reportedly on suspicion of terrorism before being deported to Germany.
Kayhan London has seen a copy of the document, showing that the couple lived in Cologne and they had traveled from there to Tirana. Both claimed they had traveled to Albanian on an invitation from ASILA.
ASILA is reportedly linked to an organization called "Nejat," formed by former MEK members who returned to Iran with the help of the Iranian Ministry of Intelligence.
A source in SPAK told Kayhan Life: "The Islamic Republic intelligence agencies have sent this Iranian-German couple to collect information about some of the senior MEK leaders in Tirana, given that members of ASILA are under surveillance."
The MEK base in Albania, "Ashraf 3", is in Manez, near the port city of Durres. MEK's former bases, "Ashraf 1" and "Ashraf 2," were in Iraq. A source in Albanian police said 2,000 out of the 2,500 MEK members who were moved to Albania from Iraq in 2016 live in Ashraf 3.
"They built a self-governing town in Manez," the same source told Kayhan Life.
According to the police report, 400 MEK members have left Ashraf 3 base in the past few years, 300 of whom reportedly entered Europe illegally. The same reports said that the immigration application of 13 people had been approved so far. However, The Coronavirus pandemic delayed their visa applications.
According to other data, 35 MEK members have died for various reasons, and another 30 hope to live a politics-free normal life.
Albanian police believe 22 former MEK members work with the Islamic Republic and its security agencies.
An Albanian security source told Kayhan Life: "We will deport them if the Iranian Embassy in Tirana issues passports to them. However, under the law, they are stateless; therefore, we cannot send them to another country. So, we must spend a lot of money and resources to keep them under surveillance."
---
Similar Articles to This Post