U.S. prosecutors are charging nine Iranians and an Iranian company with carrying out a massive series of global cyber attacks… in what they say is one of the largest state-sponsored hacking sprees they've prosecuted.
Deputy Attorney General Rod Rosenstein told reporters Friday those accused hacked into hundreds of U.S. and international universities, dozens of companies and parts of the U.S government:
"This indictment alleges that the defendants worked on behalf of the Iranian government, specifically the Islamic Revolutionary Guard Corps… the defendants stole research that cost those universities approximately $3.4 billion. That stolen information was used by the Revolutionary Guard or sold for profit in Iran."
The U.S. Department of the Treasury announced it was imposing sanctions on those accused and on a company called the Mabna Institute prosecutors say helps Iranian research organizations steal information…
The cyber attacks that began in 2013 stole terabytes of academic data and intellectual property from universities around, according to a DOJ statement.Rod Rosenstein told the delegation:
"These defendants are now fugitives from justice. There are more than 100 countries where they may face arrest and extradition to the United States."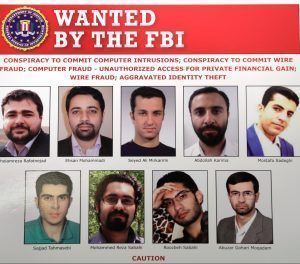 The hackers are also alleged to have hit the U.S. Labor Department, the U.S. Federal Energy Regulatory Commission, and the United Nations.
Friday's joint action by the Departments of Justice and Treasury is the fourth time in recent months that the Trump administration has blamed a foreign government for cyber attacks and comes just a day after President Donald Trump named John Bolton — a skeptic of the Iran nuclear deal — as his new national security adviser.
Trump himself has repeatedly cast doubt on the wisdom of the accord.