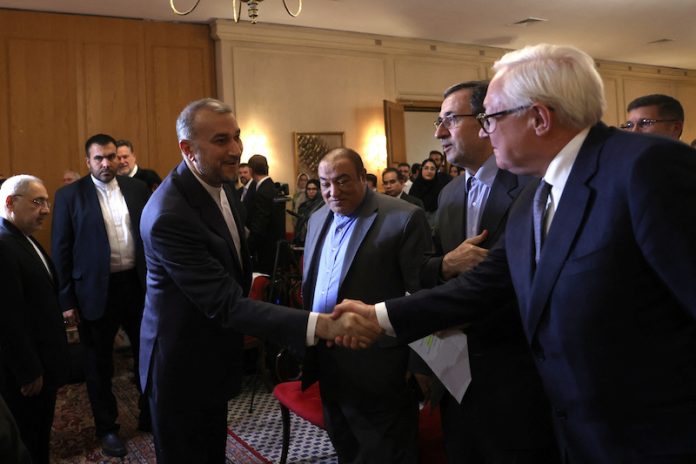 ---
Aug 8 (Reuters) – Russia on Tuesday aligned itself with its ally Iran in rejecting Western attempts to maintain curbs on Iran despite the collapse of a 2015 deal intended to restrain Tehran's nuclear program in return for relief from sanctions.
After a meeting between respective deputy foreign ministers in Tehran, Russia's foreign ministry said Moscow and Tehran were unanimous in believing that the failure to implement the deal stemmed from the "erroneous policy of 'maximum pressure' pursued by the United States and those who think similarly".
Then-U.S. president Donald Trump quit the deal known as the JCPOA in 2018, leaving economic sanctions in place, and Iran's relations with the West have been deteriorating ever since, as it has accelerated its nuclear programme.
But Russia, which signed the deal alongside the U.S., China, Britain, France, Germany and the European Union, has been deepening ties with Iran since its invasion of Ukraine.
The war, which Russia calls a "special military operation", has driven its own relations with the West to their lowest level in decades.
Sources told Reuters in June that European diplomats had informed Iran they planned to join the U.S. in retaining sanctions on Iran's ballistic missile programme that are set to expire in October under the nuclear deal.
They gave three reasons: Russia's use of Iranian drones against Ukraine; the possibility that Iran might transfer ballistic missiles to Russia; and depriving Iran of the benefits of the nuclear deal, which it violated after the U.S. withdrew.
Russian Deputy Foreign Minister Sergei Ryabkov met Iranian counterparts Ali Bagheri Kani and Reza Najafi.
Russia Is Reluctant to Side with Iran in Disputes Over Persian Gulf Islands
Russia's foreign ministry said the meeting had emphasised "the unacceptability of any attempts on the part of the West to impose some new schemes and approaches to solving problems related to the JCPOA, which imply damage to legitimate and mutually beneficial Russian-Iranian cooperation in various fields".
It said there was still "no reasonable alternative" to implementing the JCPOA, as approved by the U.N. Security Council.
---
(Reporting by Reuters; Writing by Kevin Liffey; editing by Jonathan Oatis)
---
Similar Articles to This Post