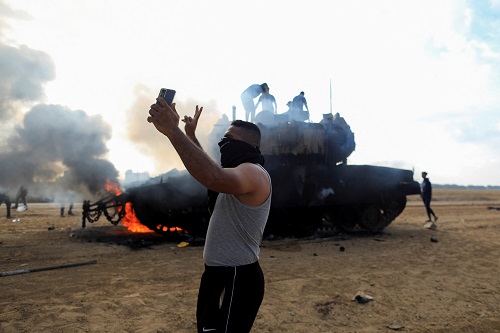 By Nidal al-Mughrabi and Maayan Lubell
---
REUTERS: The Palestinian Islamist group Hamas launched the biggest attack on Israel in years on Saturday in a surprise assault that combined gunmen crossing into several Israeli towns with a heavy barrage of rockets fired from the Gaza Strip.
As warning sirens wailed across southern and central Israel, including in Jerusalem, Israel's military said it was on a war footing and the defence minister said the Iran-backed Hamas had made a "grave mistake" by declaring war on Israel.
Ayatollah Khamenei Criticizes Countries Deepening Ties With Israel
The Israeli military said it had launched air strikes into Gaza, where witnesses reported hearing heavy explosions.
The attack marked an unprecedented infiltration by an unknown number of Hamas gunmen into Israel from Gaza, and one of the most serious escalations in the Israeli-Palestinian conflict in years. At least two Israelis were killed, Israel public broadcaster Kan reported. Medical officials said there were dozens of wounded.
Israeli media reported gunbattles between bands of Palestinian fighters and security forces in towns in southern Israel. Israel's police chief said there "21 active scenes" in southern Israel, indicating the extent of the attack.
In Gaza, people rushed to buy supplies in anticipation of days of conflict ahead. Some evacuated their homes and headed for shelters.
Hamas military commander Mohammad Deif announced the start of the operation in a broadcast on Hamas media, calling on Palestinians everywhere to fight.
"This is the day of the greatest battle to end the last occupation on earth," he said, adding that 5,000 rockets had been launched.
The last major flare-up between Israel and Hamas was a 10-day war in 2021.
HAMAS HAS 'LAUNCHED A WAR AGAINST ISRAEL'
Speaking to Israel N12 News by phone from a Nir Oz, a kibbutz near Gaza, a woman identified as Dorin said militants had infiltrated her house and tried to open the bomb shelter where she was hiding.
"They just came in again, please send help," she said. "There are a lot of homes harmed … My husband is holding the door closed … They are firing rounds of bullets."
Israeli Defence Minister Gallant said Hamas had "launched a war against the State of Israel". Israeli "troops are fighting against the enemy at every location", he said.
The Israeli military said its forces were operating inside Gaza but gave no details.
"A number of terrorists have infiltrated into Israeli territory from the Gaza Strip," the military said in a statement, adding that residents in the area surrounding the Gaza Strip had been told to stay in their homes.
Islamic Republic's Leader Urges Muslim States to Back Palestinians Militarily, Financially
Israeli media reported that gunmen had opened fire on passers-by in the town of Sderot, in southern Israel, and footage circulating on social media appeared to show clashes in city streets as well as gunmen in jeeps roaming the countryside.
"We were told there are terrorists inside the kibbutz, we can hear gunfire," a young woman named Dvir, from Beeri Kibbutz, told Israeli Army Radio from her bomb shelter.
REPORTS OF ISRAELIS TAKEN CAPTIVE
Hamas media displayed videos of what it said was bodies of Israeli soldiers brought into Gaza by fighters, and Palestinian gunmen inside Israeli homes and touring an Israeli town in jeeps reportedly been driven into Israel by the attackers.
Reuters was not immediately able to verify the footage.
Palestinian media also reported that a number of Israelis had been taken captive by fighters and Hamas media circulated video footage apparently showing a destroyed Israeli tank.
The Israeli military was aware of reports of captives, a security source said, but provided no further details. In a briefing with reporters, an Israeli military spokesman declined to comment.
Prime Minister Benjamin Netanyahu's office said he would meet top security officials in the coming hours and Gallant authorised the call-up of reservists.
In Gaza, the roar of rocket launches could be heard and residents reported armed clashes along the separation fence with Israel, near the southern town of Khan Younis, and said they had seen significant movement of armed fighters.
Israel's ambulance service said teams had been dispatched to areas in southern Israel near Gaza and residents were warned to stay inside.
A group representing military reservists who had planned to refuse to attend training over their objections to the government's plans to overhaul the judiciary called on reservists to report for duty.
The Palestinian Islamic Jihad group said its fighters were joining Hamas in the attack.
"We are part of this battle, our fighters are side-by-side with their brothers in the Qassam Brigades until victory is achieved," said Islamic Jihad armed wing spokesman Abu Hamza on a post on Telegram.
Palestinians in Gaza expressed disbelief at the infiltration into Israel. "It is like a dream. I still can't believe it," said one Gaza shopkeeper.
The attack came a day after Israel marked the 50th anniversary of the 1973 war that brought the country to the verge of catastrophic defeat in a surprise attack by Syria and Egypt.
---
(Reporting by Henriette Chacar and Dan Williams in Jerusalem and Nidal Al-Mughrabi in Gaza; writing by James Mackenzie; Editing by William Mallard, Robert Birsel and Alex Richardson)
---
Similar Articles to This Post