---
By Philip Blenkinsop
---
BRUSSELS, March 3 (Reuters) – Belgium's Constitutional Court on Friday upheld a prisoner exchange treaty with Iran that could lead to a convicted Iranian diplomat being swapped for a jailed Belgian aid worker.
Belgian lawmakers cleared the treaty in July but it has been held up by legal challenges from an exiled Iranian opposition group.
"The Court rejects the action for annulment," the constitutional court said in a press release.
ANALYSIS: How Hostage Taking Is An Integral Part of Iran's Foreign Policy
However, the judges also specified that the victims of any detainee being proposed for transfer must have the right to contest the specific case in court.
"Thus, when the Government takes a decision to transfer, it must inform the victims of the relevant convicted person in such a way that they can effectively seek a review of the legality (of the transfer)," it said.
Aid worker Olivier Vandecasteele, arrested while on a visit to Iran in February 2022, was sentenced in January to 40 years in prison and 74 lashes on charges including spying that Brussels has denounced as fake.
His distraught family has appealed to the government to do its utmost to get him freed.
Following Friday's judgment, campaigners for Vandecasteele's release tweeted there was "still a (long) way to see Olivier free but tonight there might finally be a light at the end of the tunnel!"
Iran has called for the release of Assadollah Assadi, sentenced to 20 years in prison in Belgium in 2021 over a foiled 2018 bomb plot. His was the first trial of an Iranian official for suspected terrorism in Europe since Iran's 1979 revolution.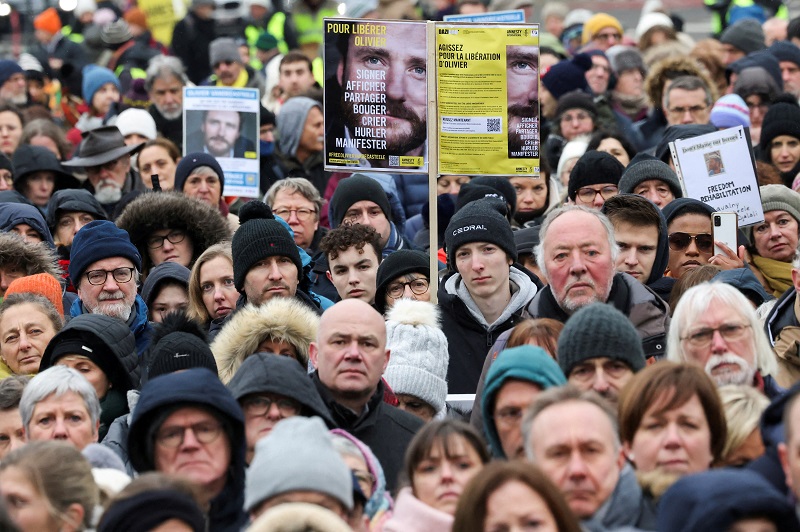 LETTER: Belgium Treaty With Iran Will Encourage Hostage Taking
The exiled National Council of Resistance of Iran (NCRI), whose rally near Paris had been the bomb plot's target, has insisted that Assadi remain in jail.
The NCRI said it would make use of the constitutional court's stipulation that any proposed transfer must be open to legal challenge.
"While the court did not annul the transfer agreement between Belgium and Iran, it has provided the plaintiffs with the opportunity to seek legal redress," Shahin Gobadi, a member of the group's foreign affairs committee, said in a statement.
"The National Council of Resistance and the plaintiffs are exercising this right to prevent the release of this terrorist."
Iran has called the Paris attack allegations a "false flag" stunt by the NCRI, which it in turn considers a terrorist group.
Some Belgian lawmakers have voiced concern that the treaty might lead to "hostage diplomacy" and put other Belgians at risk of detention.
It is not clear when a prisoner exchange might happen.
---
(Reporting by Philip Blenkinsop, Andrew Gray and Geert De Clercq; Editing by Sharon Singleton and Grant McCool)
---
Similar Articles to This Post