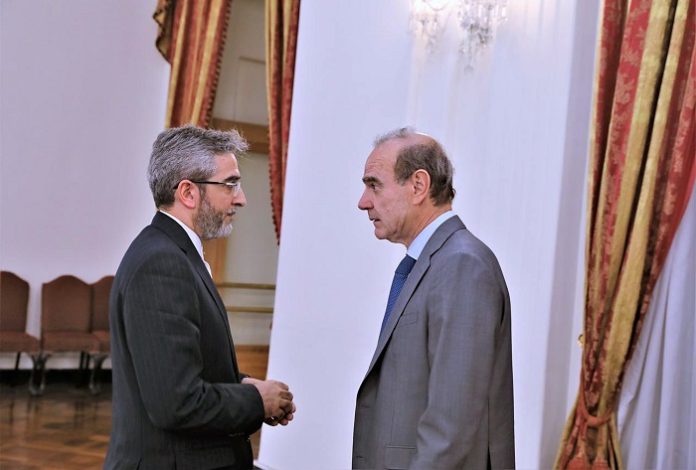 ---
DUBAI, June 21 (Reuters) – Iran met in Qatar with European Union mediator Enrique Mora as part of efforts to revive its 2015 nuclear pact with world powers, as Tehran and Washington seek to cool tensions with a mutual "understanding" to help end the deadlock.
Having failed to revive the deal in indirect talks that have stalled since September, Iranian and Western officials have met repeatedly in recent weeks to sketch out steps that could curb Iran's fast advancing nuclear work, free some U.S. and European detainees held in Iran and unfreeze some Iranian assets abroad.
"(I) had a serious and constructive meeting with Mora in Doha. We exchanged views and discussed a range of issues including negotiations on sanctions lifting," Iranian chief nuclear negotiator Ali Bagheri Kani said on Twitter, without elaborating.
Mora tweeted that the Doha talks were "intense" and had touched on "a range of difficult bilateral, regional and international issues, including the way forward on the JCPOA" – the Joint Comprehensive Plan of Action, as the nuclear deal is officially called.
EU spokesperson Peter Stano said the bloc was "keeping diplomatic channels open, including through this meeting in Doha, to address all issues of concern with Iran".
Bagheri Kani said last week that he had met his British, German and French counterparts in the United Arab Emirates to discuss "a range of issues and mutual concerns".
EU Can Proscribe Iran's Revolutionary Guards Without Delay, Lawyers Say
The 2015 agreement limited Iran's disputed uranium enrichment activity to make it harder for Tehran to develop the means to produce nuclear weapons, in return for a lifting of international sanctions against Tehran.
But then-U.S. President Donald Trump ditched the pact in 2018, calling it too lenient on Iran, and reimposed sanctions that have crippled the Iranian economy.
Tehran responded by gradually moving well beyond the pact's restrictions on enrichment, rekindling U.S., European and Israeli fears that it might be seeking an atomic bomb.
The Islamic Republic has long denied seeking to weaponise the enrichment process, saying it seeks nuclear energy only for civilian uses.
The meeting between Bagheri and Mora in Qatar's capital Doha came days after Iranian Supreme Leader Ayatollah Ali Khamenei, who has the last say on all state matters such as the nuclear dossier, said a new nuclear deal with the West was possible
ANALYSIS: Iran's Hardline Rulers See Missile Systems As Vital Deterrent
---
(Additional reporting by Sabine Siebold in Berlin; writing by Parisa Hafezi; editing by Jon Boyle and Mark Heinrich)
---
Similar Articles to This Post