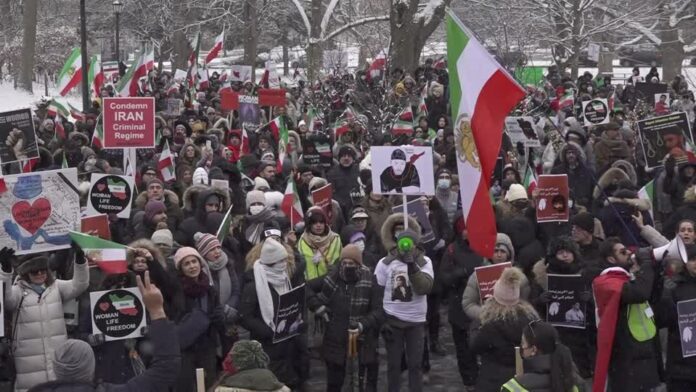 ---
By Kanishka Singh
---
Feb 23 (Reuters) – The Canadian government on Thursday announced support for Iranian temporary residents in Canada looking to extend their stay, citing the Iranian government's crackdown on recent protests.
"Effective March 1, 2023, these measures will make it easier for Iranians who wish to extend their temporary status in Canada and to move between temporary streams, allowing Iranians to continue studying, working or visiting family by applying for a new permit from inside Canada," the Canadian government said in a statement on Thursday.
OPINION: Europe Should Empower Iranian People, Isolate Islamic Republic
Nationwide protests erupted in Iran last fall after the death of 22-year-old Kurdish Iranian woman Mahsa Amini in police custody on Sept. 16 last year.
Amini was arrested in Tehran by the morality police for flouting the hijab rules, which require women to entirely cover their hair and bodies, and died in custody. Anti-government demonstrations over her death have damaged the Iranian clerical establishment's legitimacy at home and abroad. Many Western states, including Canada, have imposed sanctions following a harsh state crackdown on protests.
Iran's Regime A 'Serious Threat' to World Peace and Security, UN Expert Says 
The Canadian government said an open work permit pathway will be made available for Iranians already in Canada, adding that applications from Iranians in Canada will also be processed on a priority basis.
Canada also said it was waiving certain processing fees for Iranians who wish to extend their stay in Canada, and will also waive passport and permanent resident travel document fees for citizens and permanent residents of Canada in Iran who wish to leave.
"Canada will not stand idly by in the face of these aggressions as the Iranian regime continues its ongoing human rights violations," Canadian Immigration Minister Sean Fraser said on Thursday.
---
(Reporting by Kanishka Singh in Washington; Editing by Sandra Maler)
---
Similar Articles to This Post