---
---
The regime in Iran "continues to remain a serious threat to international peace and security," according to Dr. Javaid Rehman, the United Nations Special Rapporteur on the situation of human rights in the Islamic Republic of Iran.
Dr. Rehman made the remark in a keynote speech during a Feb. 8 meeting at the British Parliament. The event was held by the International Organisation to Preserve Human Rights (IOPHR), a London-based think tank which promotes equality, inclusivity and social development. The organization is currently focusing on Iran.
Titled "How to stop the global threat of the Iranian regime," the event's participants discussed how the UK government could support anti-government and anti-regime protesters in Iran. The meeting was opened by Beverley Eve, IOPHR's director. Panelists included: Conservative party counsellor Mattie Heaven; lawmaker Anna Firth; and Afshin Sajedi, IOPHR's senior policy advisor.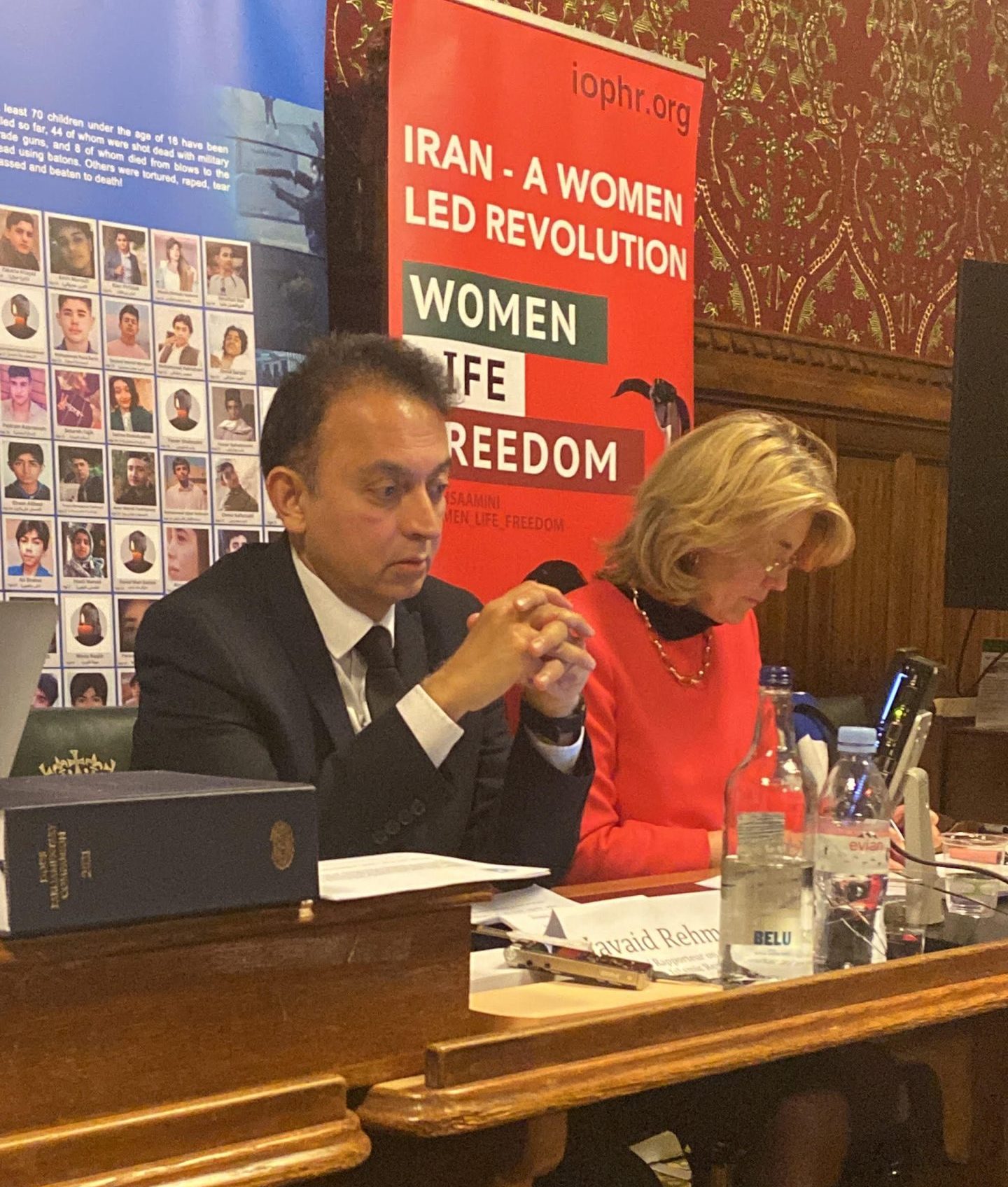 Iran's government has responded to the current wave of anti-government protests which began in September by arresting more than 20,000 people, including 179 children. Four young men connected to the protests have been executed and more than 500 people, of which 70 were children, have been killed by Iran's security forces.
"Iran continues to remain a serious threat to regional and international peace and security with substantial human rights concerns," Dr. Rehman said. "Amongst the most serious human rights concerns are deplorable levels of executions, a tool that the regime adopts in order to terrorize its own people, as well as foreign and dual nationals, persecution, torture and ill treatment of ethnic, linguistic and religious and sexual minorities, as well as the targeting and victimization of human rights defenders and political activists."
Speaking of Iran's Islamic Revolutionary Guard Corps, Dr. Rehman said the military unit was a regional and international threat, which had "supported various terrorist organizations regionally and internationally. Its consistent violations of territorial integrity of neighboring states, most recently in Iraq, and the raging support of Russia and provisions of drones used in Ukraine is deeply concerning."
Dr. Rehman called on the international community to hold Iran's government to account for its actions, and said accountability was his biggest concern.
"The international community and the United Kingdom cannot engage with a state which continues to violate the dignity and fundamental rights of its own people, and in particular, its children," Dr. Rehman said.
The treatment of minorities who were not recognized in the Islamic Republic's constitution — such as Baha'i's  and Christian converts —  was "particularly shocking and appalling," he said.
Discussing the UN's efforts to support protesters, Dr. Rehman said the Security Council remained in a state of "paralysis," and that states needed to take action. He urged the UK government and the international community to adopt resolutions at the UN Human Rights Council condemning the "arbitrary and unlawful executions," and in particular the executions of children.
Heaven said the execution on Jan.14 of the British-Iranian Alireza Akbari who was accused of spying for Britain was a "slap in the face, because they knew we couldn't or wouldn't be able to do anything about it." Additionally, she said that the torture and rape of protesters were systematic and those who were released would have been "brutally damaged, mentally and physically," by their treatment in detention.
Heaven said she received reports which alleged that several detained children aged between 10 and 16 were raped by officials. Speaking about how the rapes occurred, she said officials chose to use sharp implements to commit the rapes so that the children would be internally damaged by the ordeal.
Setting out her proposal, Heaven said the UK needed to list the IRGC as a terrorist organization, remove itself from the 2015 nuclear deal, and expel Iran's UK-based diplomats.
Speaking about women's and girls' rights in Iran, Firth said "these are basic human rights and rights which have been completely extinguished for women in Iran. The pain and misery that's been inflicted on the people of Iran over the last 40 years is horrific."
"In 40 years, it's gone back 400 years, but I am optimistic that we could be on the brink here of a turning point, that these brave young women could be about to make a breakthrough, and we could now begin to see a brighter future in Iran," she said.
Firth said she agreed with the proposal to blacklist the IRGC, and said she would share the points raised during the meeting with UK Foreign Minister James Cleverly.
UK Security Minister Tom Tugendhat appeared to agree with proposals by UK lawmakers to proscribe the IRGC, during a Feb. 6 debate in Parliament. "The IRGC is a vicious organization and its first victims are the Iranian people who have been brutalized and murdered by that despotic regime for far too long," he said. "Germany and France appear to be looking at proscribing the IRGC, as the United States has already done. It seems that not only is there international agreement on the point, but that action is absolutely ready to go."
Tugendhat told lawmakers that the UK's embassy in Tehran was keeping the government "closely informed of how the sanctions are playing out, and making sure that we target appropriately individuals who are a threat to the United Kingdom." The comment comes amidst a report by MI5, one of Britain's top intelligence agencies, which held that since January 2022, there were at least 10 threats from Iran to kidnap or kill UK-based individuals.
Responding to a question by Kayhan Life about how demands for reform by people inside Iran could be enabled without the ability to form political opposition groups — which the regime bans through its current selection process —  Rehman said, "it is difficult to envisage a system where reform would be inbuilt into the system. Uncomfortable discussions have to be had if we want democratic reform and if we want change, because ultimately that would be the only way that the country would would change its course."
---
OPINION: The Solution to the 'Iran Problem' is Regime Change
Prince Reza Pahlavi : 'The Alternative to the Islamic Republic is the Iranian nation'
---
Similar Articles to This Post