---
---
American-Iranian musician, singer and producer Erwin Khachikian was born in Tehran to an Armenian family in 1973. Music has been an integral part of his life since early childhood.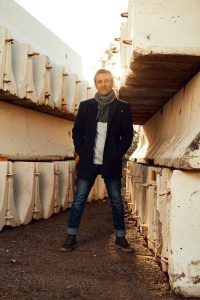 His father was the local church pastor, and at the age of 9, Khachikian started playing at the church, eventually becoming the band leader. He attributes his diverse musical taste to the classical training he received while playing there.
In 1987, Khachikian moved to the US to further his studies in music. After graduating from the Grove School of Music in Los Angeles, he earned a BA in psychology from California State University. But music remained his calling, and as the founder of the band "Karmandan" and a member of Serj Tankian's solo band, the F.C.C., Khachikian turned his passion into a stellar musical career.
In February of this year, Khachikian released his most recent album, "Gozargah." Kayhan Life had an opportunity to speak to Erwin Khachikian on the set of a taping for a music video from his recent album.
---
Q: How is "Gozargah" different from your previous albums and which artists did you collaborate with?
"Gozargah" is a nine-track album that I had the pleasure of working on with Yaghma Golrouee, Omid Oliae, Melody Safavi and my longtime producing partner, Nicholas Nami. In the past few years, I believe I have grown emotionally as a person and the album reflects that change musically. With the help of my friends, I was able to bring the best out of myself musically and include past life experiences into this compilation.
You have had a very successful musical career as both a solo artist as well as a member of two well-known groups: "Karmandan" and "Serj Tankian and the F.C.C." How did your affiliation with these groups come about and how are they different musically?
"Karmandan" started as a joke where I wanted to express my own social concerns in Persian, and surprisingly, it was well received by the general public, so I took it a bit more seriously on the "Gozargah" album. I took out some of the original humor that I had on the first album, and expressed myself in a more daring and serious way.
My project with Serj Tankian had a harder edge. I've known Serj for a long time, having worked with his band "System of a Down." He certainly comes from a background of hard rock, and the material we produced for the F.C.C. tour reflected that musical taste.
The F.C.C. toured with some of rock's biggest names – REM, The Foo Fighters, Metallica, Ozzy Osbourne, and Rage Against the Machine.
Q: What are some of your memories of touring with these bands?
Those were great times, I learned so much from the bands and their management. I was exposed to their way of recording, marketing and touring, and I am glad that I could bring that back into my own roots and into my community.
There are many sleepless nights where you are touring with these bands and sometimes you don't remember what city you are in. I remember jamming with these stars in our hotels and tour buses and I'm forever grateful for those days and memories.
Q: You have played in front of 80,000 people in Germany's Glam Rock, collaborated with some of Europe's most prestigious symphonies and appeared on Jimmy Kimmel, Jay Leno and Johnny Carson's shows. This is quite a long list of accomplishments for an Iranian pop artist. What was the experience like for each appearance?
When you are playing for an audience of 80,000 plus, there is no intimacy between the performer and the crowd. I had no connection with the crowd other than that I couldn't wait to get back to the hotel room and call my friends and brag about the crowd size.
Appearing on TV talk shows was a wonderful experience. Witnessing first hand how the big networks ran their shows was a world different from what I had seen on our local TV stations.
Q: Your musical taste seems to be quite diverse. Who are your influences, and what type of music do you enjoy most?
I have always enjoyed acts like Queen, Pink Floyd, Alan Parsons Project, Supertramp, Duran Duran and the newer acts like Keane, Muse, and Coldplay. I still listen to all of them all, and as a result of the Internet, I hear beautiful work influenced by these bands from all over the globe. Temper Trap from New Zealand is one example.
Q: What is your normal routine when you write a song, and how long does it take you from start to finish?
If I had to guess, I would say that from A to Z, it takes me over 100 hours per track.  I don't even know how it begins or how it ends, but thoughts and musical ideas come to me in random places: airplanes, cars, in the shower.
Q: In addition to performing and recording your own music, you are a well-known music producer. Who have you worked with and what do you like or dislike about producing for other artists?
I started producing and arranging in my late 20's. I think many recognize the work I did for Siavash Ghomeyshi's albums. After that I did tracks for Martik, Habib, Helen and many more. I very much enjoy creating what I affectionately call "babies" for these talented artists, and I get enormous satisfaction the minute I see a smile on their faces. Bringing life to a musical idea means the world to me, and I find the experience extremely gratifying.
What I find distasteful is that some artists don't appreciate the work I do as a producer, and end up walking away or not giving due credit on their albums. In the beginning I would get very angry, but then I realized that they took away more from themselves than from me, as they no longer will have access to my future musical ideas. I have witnessed these artists slowly disappear from the scene, because they have failed to acknowledge other writers and producers' input and hard work spent on their careers.
Q: What is your next project?
I am producing more and more shows and festivals these days. I was the musical director for "Let Her Sing," a show where we featured 10 Iranian female vocalists in San Francisco last year. The show was a great success, and this year we are doing the second show and taking it to different cities in US and Canada starting next year. I am also part of the 'Tabestoon Festival' organizers held in Western Canada as well as the 'Charshanbeh Soori' annual festival that holds over 7,000 audience held in Stockholm, Sweden every year.
Q: Do you get to preform in Iran and do you have a particular message for our readers?
I have a huge fan base in Iran and last time I performed there was in 2016. I was welcomed and treated like a big rock star and faced no obstacles by the Iranian government. I was delighted to see so many people from all over Iran show up to the concert even though it was announced in just one day.
My message to your readers is that if you have made it this far into the article, I hope I was able to give you a picture of myself. If I can raise a thought in your mind through my music, then I consider my song a success.