By Laura van Straaten Anthony Azizi is a star of "Oslo," which just won the Tony Award for best play. It's about the top-secret, high-level meetings between the Palestinians and Israelis in the lead-up to the 1993 Oslo Accords. Azizi himself grew up in Bethlehem.
Bethlehem, Pennsylvania, that is.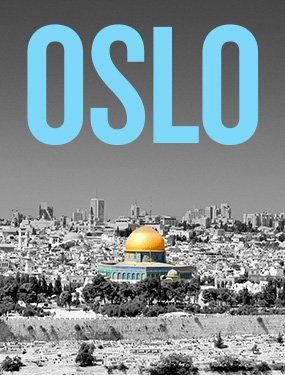 The Tehran-born actor laughs when reminded that some people might confuse his Pennsylvania birthplace with the Palestinian city in the present-day city located in the present-day West Bank.
Azizi started doing regional theater in high school. He was popular enough to be – as he jokingly points out – "the homecoming king!"
Now, eight times a week, he takes a far bigger stage than the one at Freedom High School, where he was crowned as a teenager. The actor, now 48, plays Ahmed Qurie, the finance minister to the Palestine Liberation Organization, who from the start – according to the play – was authorized to negotiate and speak on behalf of its leader Yasser Arafat.
What exactly was it about the role of the Arab and Muslim Qurie that appealed to the Iranian-born Azizi, whose family is of the Bahá'í faith, with a bit of Jewish ancestry as well? "This guy is about love. And Arabs are often portrayed with hate," he explains.
In the play, Azizi's character overcomes hatred and fear to encourage the Israelis to provide a designated official who can do the same. Ultimately, his character has to work hand-in-hand with that designate in finding terms that both sides find acceptable.
On stage, the role of the Americans is played for laughs. But in real life, U.S. President Bill Clinton presided over the signing of the historic agreement at the White House in a ceremony that marked the first-ever in-person encounter between Israeli Prime Minister Yitzhak Rabin and PLO Chairman Yasser Arafat.
"It's about people who hate each other being able to sit down, talk and then find a way to love each other," Azizi said a few hours before a recent Friday night performance. "This play is bigger than all of us."
"Oslo" tells the untold story of how a Norwegian diplomat named Mona Juul (played by the actress and Meryl Streep lookalike Jennifer Ehle) and her husband, the social scientist Terje Rod-Larsen (Jefferson Mays), take matters into their own hands when the official Middle East peace process stalls. The cast includes Dariush Kashani (also born in Tehran), Daniel Oreskes, T. Ryder Smith, Michael Aronov and Henny Russell.
The challenge for Azizi's character is finding a common humanity with avowed enemies. His counterparts on the Israeli side face the exact same challenges. Even a handshake is approached with trepidation and anger.
"Oslo" suggests that the only way for enemies to make peace is for each side to see and  understand that their antagonist's opposite number is just as sad, hurt and flawed as they are.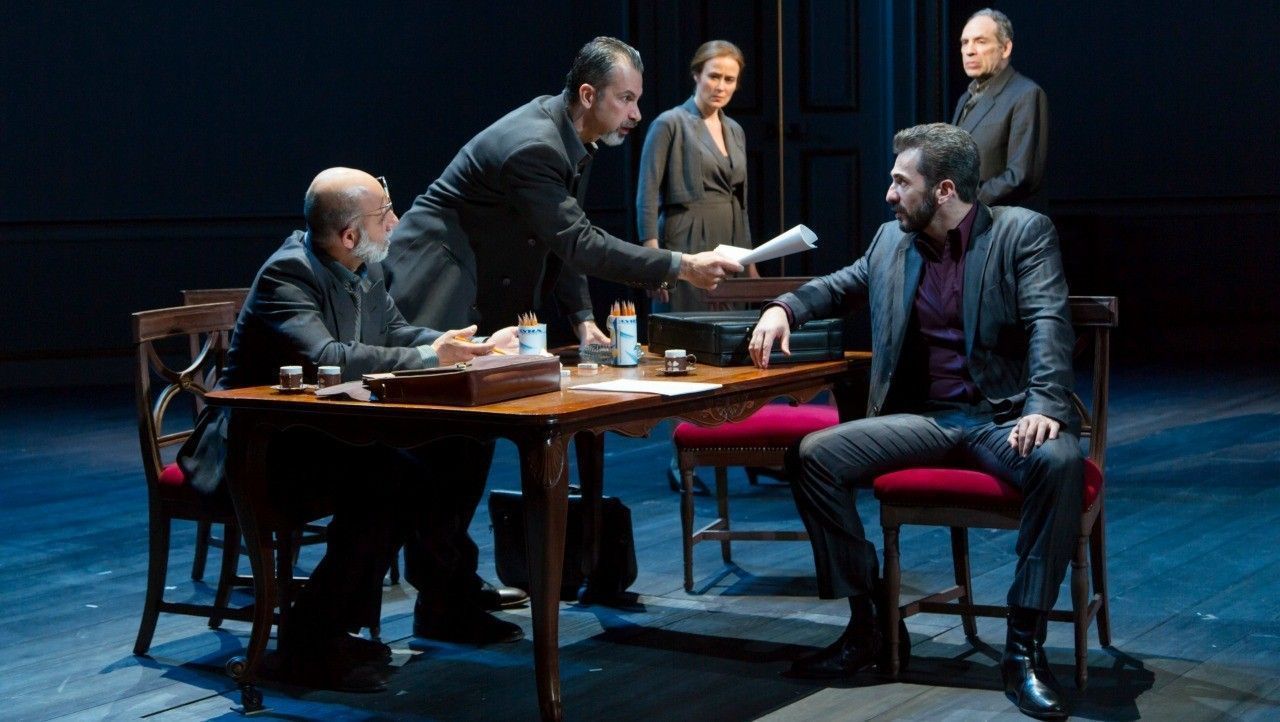 We first meet when I pop by Azizi's dressing room beneath the theater at Lincoln Center that "Oslo" calls home. He has just taken bows during a standing ovation after a performance attended by the former U.S. Senator and vice-presidential candidate Joe Lieberman.
Post-play, Azizi is visibly exhausted. He makes time, though, to drop into Ehle's dressing room, where she and the play's director Bartlett Sher (a Tony winner for musicals like "Fiddler on the Roof," "The King and I," "South Pacific" and "The Light in the Piazza") are hanging out with the actress Alfre Woodard, who had also seen that night's performance.
As Azizi gets ready to lock up for the night, he makes clear that he is someone who takes his work home with him. He shows off a toenail on which the Norwegian flag is painted for good luck at the Tony Awards, and his t-shirt, which reads: "Not crazy just human."
Less than a week later, just a few streets away from the theater on Manhattan's Upper West Side, Azizi enters a low-key café for an interview. As the sun bursts through the clouds after a brief downpour, Azizi takes off his baseball cap and talks expansively about the people in his life, especially his best friend, a Jewish doctor who recently invited Azizi's 10-year-old sons to their first Passover seder. Since Azizi is recently divorced, that unlikely trio will accompany him to the Tony Awards.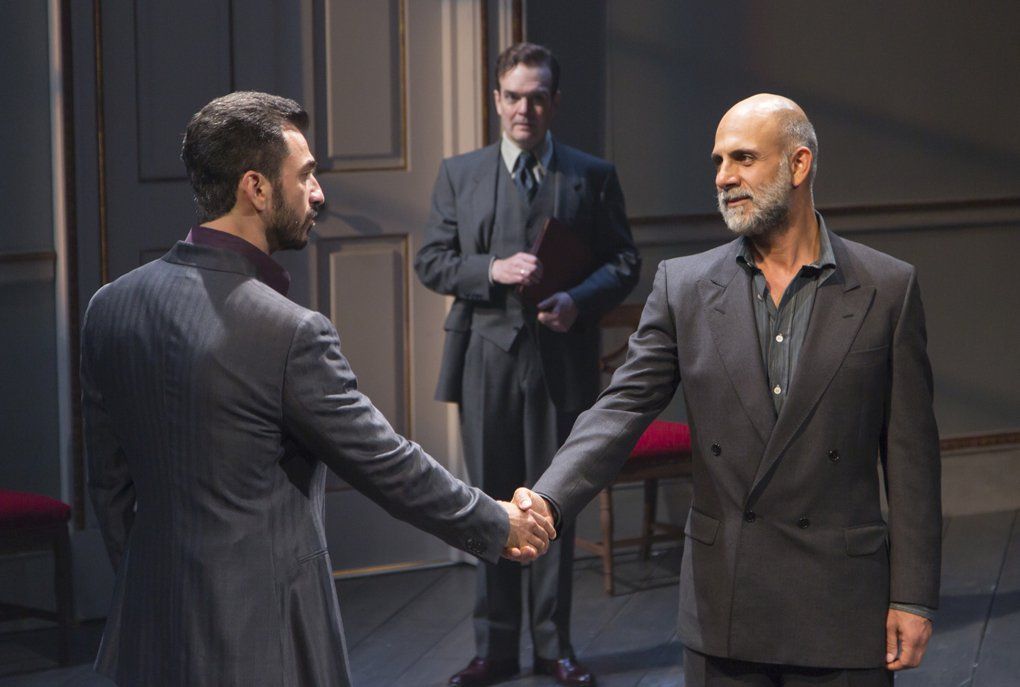 Azizi's real name is Kamal Rowshan. When he was seven, his family moved to the U.S. from Iran so that they could embrace being Bahá'í without fear of persecution. After a brief sojourn in New York City, his father Ghodratollah, a pediatric cardiologist who'd studied at UCLA, joined a hospital about 90 minutes from Philadelphia. Azizi's mother Shoukoh helped manage the medical practice. Other relatives, fleeing Iran for the same reasons, also settled in the U.S.
When asked why he changed his name, Azizi tears up. "I used to hide my identity," he says, stressing that he was always proud of being Persian, but feared being a target of violence, especially when he would go out to clubs in Philadelphia as a young man. Later, he said, he didn't want to suffer "the prejudice and bias in the [entertainment] industry."
"Azizi is my mom's family's name, so it's still Persian," he explains. "And I picked Anthony because I had a lot of Italian friends."
The actor has a unique perspective compared to most of his fellow thespians. That's because at Muhlenberg College, in nearby Allentown, Pennsylvania, he had a double area of study: theater and political science. And his most important paper in his final year was how to achieve peace in the Middle East.
Yet Azizi said he did little research on Qurie, who is now in his 80's and living in Gaza, and who has written several books about his participation in the peace agreement. "I wanted to play this guy based on what was on the page," Azizi explains.
Oslo is not Azizi's first political role. On stage, in 2010, he was in Beneath the Veil, the story of 10 women facing oppression in the Middle East, especially in Iran. There were 10 men in the play, and Azizi played each of those roles. But for the most part, he has built a career in TV and film.
Until "Oslo", he was best known for the ABC television series "Commander In Chief," where he co-starred as the gay and HIV-positive chief of staff to a U.S. President (Geena Davis). Other TV roles include "Sons of Anarchy" and "Homeland." Nor is he a stranger to the movies ("McHale's Navy," "Eagle Eye," "Transformers: Dark of the Moon," "Charlie Wilson's War," "Three Kings," "Revival," and "Armed Response").
Azizi was in New Orleans shooting for the film "Armed Response" when the Lebanese-American star Tony Shalhoub dropped out of "Oslo" because of a scheduling conflict. "Tony suggested to Bart Sher, the director, that I'd be perfect for the role," Azizi recalls.
(The two actors are good friends. Shalhoub's wife is a close friend of Azizi's acting coach, and Azizi and Shalhoub were both in the 2008 movie "American East" about Jews and Muslims living in L.A., which played in film festivals and won awards around the globe.)
Weeks passed with no invitation to audition. Then Azizi heard that the whole cast was set, except for this one role. "I called Tony to let him know they'd never asked me to read for the part, and Bart called back five minutes later." The audition was a 45-minute Skype session between the creative team in New York and Azizi in his hometown of Los Angeles. As it was winding down, "Bart looked at me and said, 'This is a good start.'"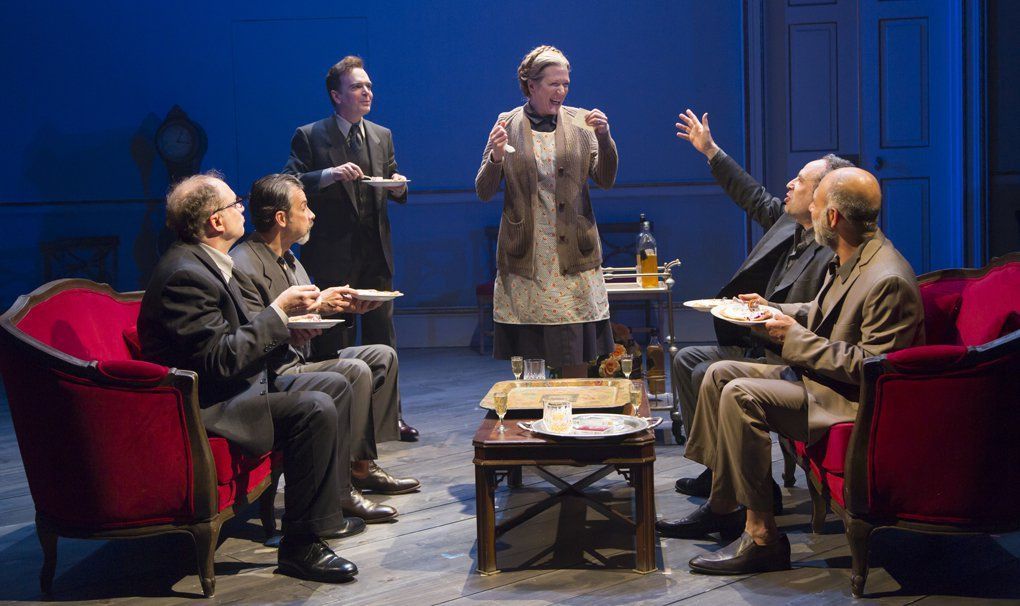 As the play went from a workshop venue to smaller off-Broadway theater to Broadway, Azizi has been through every aspect of the play's dramatic evolution; he has shared, too, in the acclaim that comes with sold-out audiences every step of the way.
"They took a real risk with me," he laughs, noting that he didn't even have the necessary Actors' Equity card that signifies union membership for professional stage actors.
After the Tony Awards, there is a film adaptation on the horizon. The movie version will be the first time that Sher is directing a feature film. And Azizi hopes to retain on screen the role he originated on the stage.
But given the near-miss with his casting for the stage version, and his decades of experience in Hollywood, he doesn't want to get his hopes up too much. "I try not to even think about it," he said, "I know the reality of this industry."