An Iranian gangster movie co-starring the veteran Iranian actor Parviz Sayyad had its red-carpet L.A. premiere earlier this month, with Sayyad and other cast and crew members attending.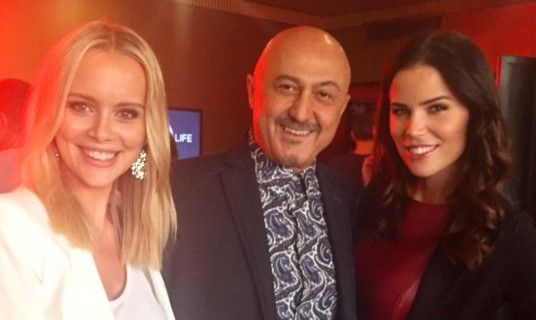 Written and directed by Daniel Y-Li Grove, "The Persian Connection," launched at the Tribeca Film Festival last year, is a neon-noir thriller set in Los Angeles that shows the seamier side of the city. It was acquired by Samuel Goldwyn Films for distribution in North America in movie theaters and on demand. It also stars Reza Sixo Safai, Helena Mattsson, and Julian Sands.
Safai (who played in "A Girl Walks Home Alone At Night") plays Behrouz, a former child soldier in the Iran-Iraq War who is transplanted to Los Angeles. Haunted by the memories of the atrocities he witnessed during the war, he turns to opium for relief. His addiction leads him to work for a mob boss called Cirrus, played by the acclaimed Iranian actor, Parviz Sayyad.
When a large cache of opium vanishes, Behrouz and his Belarussian prostitute lover are wrongly targeted by Cirrus and his henchmen (played by Dominic Rains and Fariborz David Diaan).
"The story originated from some elements of my own past," Safai told Kayhan Life. "I had written an outline of the story, and had worked with Daniel (Grove) on a short called "A Better Place Than This" that won many awards and became a hit on PBS."
"I felt like Daniel would be the right director to bring this to life," Safai added. "He took it and made it his own. Shortly afterwards, we formed a company, Black Light District, and produced our first film, A Girl Walks Home Alone at Night.'"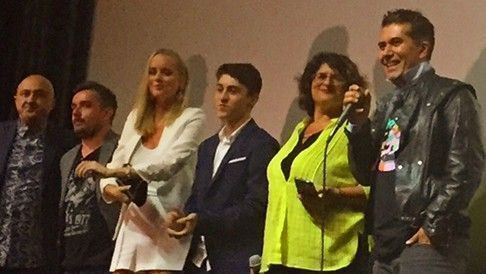 In the post-screening Q&A, Shirley Jahad, the moderator, asked Sayyad what it was like playing the role of the bad guy.
"This was a new experience for me, as I had never played a gangster before," Sayyad replied. "The story intrigued me, and I wanted to work with Daniel and the other great actors in the movie."
Cinematographer Steven Capitano Calitri uses lavish bright neon colors in the filming, creating an atmosphere that's reminiscent of the movies of director David Lynch, while New Wave music blares in the background.
"The Persian Connection," which premiered on July 14th at Ahrya Fine Arts by Laemmle in Beverly Hills, is now available on video on demand and cable.
#thepersianconnection #iraniananactor #rezasixosafai #parvizsayyad#dominicrains #daviddiaan #beverlyhills #redcarpet #moviepremiere#gangstermovie #persian #iraniancinema #davidlynch#tribecafilmfestival #kayhanlife #tehrangeles