---
---
Iranian artist Sepideh Salehi creates paintings, photographs and videos that reflect her experiences as an Iranian artist living and working in the West.
Born in Tehran, Sepideh had a passion for painting from an early age. She started taking oil painting classes from well-known Iranian painters of her time. She left Iran after 1998 to study visual arts in Florence. In 2008, she moved to the U.S. with her husband Kamran, also an artist. She is now based in New York and Washington, D.C.
Sepideh's exhibition "Reveal" was recently staged at The Space by Advocartsy in downtown L.A. Kayhan Life spoke to her on the opening day.
This is your first solo exhibit at Roshi Rahnama's The Space. How did your collaboration with Rahnama come about and why is the exhibition called "Reveal"?
 Roshi visited my studio in New York and became interested in my work. That was the start of our collaboration.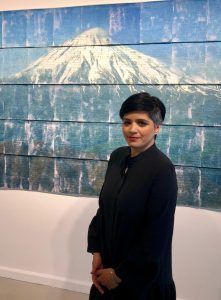 As for the title, it is related to the nature of my work. I work in layers; layers of rice paper, layers of patterns made by Iranian handwritings, or using printmaking techniques such as frottage. Sometimes I use ink and acrylic.
In some of your artworks, you use the traditional Muslim prayer stone as a starting point to create patterns. What is the message you are trying to convey, and are you a religious person?
I am not a religious person, but I believe ritual can affect our lives. In visual arts, you are not always looking for a message. In this case, using an object such as the prayer stone for creating patterns makes my art unique.
But I understand the nature of your question, and I leave it to the [viewer] to use their imagination. That is the power of art.
"The Veil" and its effect on Iranian women plays a major role in your artwork. Can you expand on this?
My work is not just about the veil, but [rather] based on my personal experiences. I see it as a starting point, and it influenced me to work in layering techniques. My final thesis at the Accademia di Belle Arti in Florence, titled 'Velo" ("Veil"), was based on research into the meaning and the history of the veil from different [perspectives.] aspects and opinions. That led me to care more about women, and their roles and rights in the contemporary world.
One of the most prominent photographs displayed in the gallery is a large picture of Mount Damavand. The photo gives a sense of nostalgia and pride to the Iranian diaspora. Was this intentional and why is this photo important to you? 
Living in Tehran, we were surrounded by the Alborz Mountains. My family and I used to go hiking and skiing, and on lots of picnics, and exploring nature. As I was growing up, I used to see these mountains from the window of our house in the north of Tehran. So yes, there is a sense of nostalgia, and lots of memories coming back from that image. But more importantly, Damavand is a symbol of power and resistance. In Persian mythology, and specifically in the epic poem "Shahnameh," Damavand is believed to hold magical powers. This is how I see the Iranian nation, as well as the magical powers that strong women possess.
What are you currently working on?
I am preparing other "Mohr Portraits" [prayer-stone portraits] for an upcoming show in April titled "If So, What?" which will take place at the Palace of Fine Arts Theater in San Francisco. I'm also working on a video installation.
What's the best art tip you've ever received in your career?
"Lavorare, lavorare, lavorare" ["work, work, work."] My professor and dear mentor Gianna Scoino, who passed away in 2016, used to repeat this sentence in every situation. "Just keep working and create good art and never stop," she would say. This is my everyday mantra!