---
---
The Los Angeles County Museum of Art (LACMA) recently opened an exhibition titled "In the Fields of Empty Day: The Intersection of Past and Present in Iranian Art," ending September 9.
The exhibition features 125 pieces of work in a variety of media — photography, painting, sculpture, video, as well as cartoons and animation — by more than 50 artists including Pouya Afshar, Shirin Neshat, Parviz Tanavoli, Afsoon, Newsha Tavakolian, Shadi Ghadirian, Malakeh Nayiny, Taravat Talepasand, Nicky Nodjoumi, Yasmin Sinai and Shoja Azari.
Curated by Dr. Linda Komaroff, "In theFields of Empty Days" is divided into two sections: Kings and Heroes, and Saints and Martyrs, as well as a small section of documentary photographs, posters and publications.
The exhibition's main theme highlights ways in which Iranian artists have used and continue to use the past as a metaphor for the present.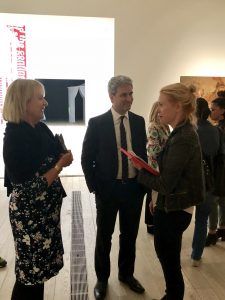 In his opening statement, Michael Govan, LACMA's CEO and director, recalled that the museum had "one of the finest collections" in the world of Islamic art, but also of contemporary art from the Middle East.
The exhibition, he explained, was "a way of thinking about part of the past looking from the present, and in this case also engaging the works of living artists and making a commitment to that through collections. In fact, half of the works exhibited are part of LACMA's permanent collection."
Dr. Komaroff, the curator, said the exhibition was "in part inspired by an encounter I had in Tehran with a billboard that showed President Barack Obama, in either 2013 or 2014, standing next to a man I didn't know at the time, wearing an antique armor. They looked perfect together, even though they were from two different times. I later learned much more as to who the man in the antique armor was, and that led me to the second half of this exhibition."
The curator explained that the show was "about how Iranian artists have always moved through time and space. When we looked at Iranian art in the past, we found that they were always updating their past to their present day, and when we looked at recent Iranian art in the 20th and especially the 21st century, we found that they were taking their own present and hiding it in the past." The past, in other words, was used "as a forum for political and social commentary."
The first half of the show focuses on Kings and Heroes and the second on Saints and Martyrs, she said.
Interviewed in the exhibition, American-born artist Taravat Talepasand, whose work identifies cultural taboos, said: "What a time to have a collection of amazing works by Iranians both past and present — with the issues of the Muslim Ban and the upcoming May 12 Iran Nuclear Deal, there has been a bullying microscope over Iran under the presidency of Trump."
She explained that her artwork, which represents Agha Mohammad Shah, the founder of the Qajar dynasty, "exemplifies a history and power that for many might be unknown: the brutal castration of this king as a child, and his powerful control of Persia during the Qajar Dynasty. History reminds us of what was, and what could be — since history can repeat itself, and has repeated itself."
London-based artist Afsoon added: "It is a strong show with an interesting mix of art, carefully chosen and put together." She said she hoped the exhibition would lead people to "question what they hear on the news, rather than accepting it all."
Art curator and gallery owner Roshi Rahnama noted: "There is no better time than the present to shift the dialogue around Iran and Iranians towards the rich heritage of arts created by the artists of Iranian origin. And as the home of the largest community of Iranian outside Iran, there is no better place than Los Angeles and LACMA to showcase this body of work for the entire world to enjoy."