A new 1,800-square-foot (167m²) art space has just opened in the heart of downtown Los Angeles's fashion district, minutes from the Institute of Contemporary Art and surrounding galleries.
It's called The Space by AdvocArtsy, and it's a permanent gallery opened by AdvocArtsy founder Roshi Rahnama with a focus on Iranian contemporary artists. The gallery's inaugural show is a solo exhibition of the young Iranian-born multimedia artist, Shadi Yousefian.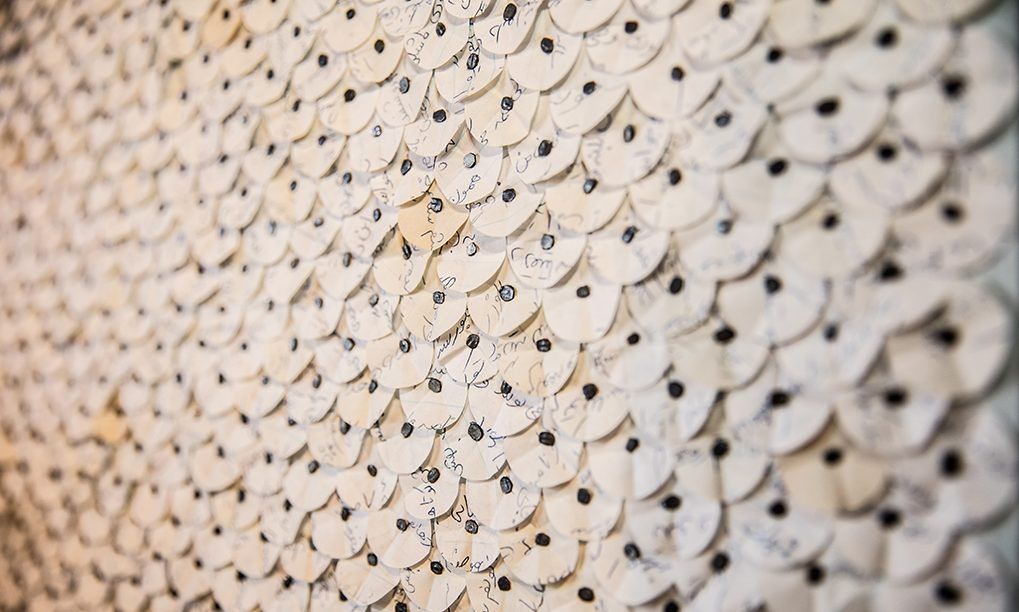 Kayhan Life had a chance to speak to Yousefian at the Space.
You were the first artist chosen to launch the gallery. Why do you think you were selected and what is your relationship with AdvocArtsy founder Roshi Rahnama?
Back in 2016, I was asked by AdvocArtsy to participate in their second annual group exhibition, Art Brief II. My work was well received at Art Brief II and the following year I was asked again by AdvocArtsy to show my work in Art Brief III.
Through these exhibitions, I got to know Mrs. Roshi Rahnama and we became good friends. She is very passionate about art and the art community. I was fortunate to be asked to be the first artist to show at The Space. One of the reasons that I was chosen for launching The Space is that I had a large body of work spanning 15 years of my artistic career, most of which had not been shown elsewhere.
Why do you think it took so long to have a permanent space like AdvocArtsy dedicated to artists of Iranian descent, and are you aware of any new galleries coming soon?
Establishing an art gallery is not an easy task. It requires someone who is not only experienced and well connected, but also passionate about art. It needs someone who can connect with artists and relate to and understand their work. These are just a few of the many necessary ingredients. Lack of support from the government for such institutions makes it even harder for them to survive so it's no surprise that we don't see too many of these organizations. I'm not aware of any new spaces opening up soon.
Where were you born, raised and educated? When and how did you develop a flair for art?
I was born in Tehran, Iran in 1978 and moved to the USA, San Francisco in 1995. I got both my Bachelor's (2003) and Master's (2006) degrees in Fine Arts from San Francisco State University.
I lived in San Francisco before moving to Washington DC for a year and New York for two and a half years, where I also got a certificate of photography from the New York Film Academy. Currently I live in Albany, California and work as a full-time artist.
It's cliché to say that I used to paint as a child but I really did! I also took drawing classes at a young age at Mr. Mohamad Ali Taraghijah's classes back in Iran. I went to Honarestan (Art School) and also took art classes throughout high school and college before entering University.
I always viewed myself as an artist and never imagined going into a different field so I can't really pinpoint a time when I realized that I could have a career as an artist.
What are you working on and how has your art evolved through the years?
I'm currently working on a new series using filmstrips from my old personal films and videos. The series is abstract and it's mounted on wood panels.
Even though my focus of study has been photography, over the years, my work has evolved to include mixed media in combination with photographic prints – incorporating other materials such as wood panels, glue, nails, resin, and light boxes to create larger and more sculptural pieces.
All of my work to date reflects the desire to capture and distill some of the essence of my own life as an immigrant, but to also connect it to a more universal experience. My work suggests and builds upon a kind of fragmentation and dissolution, but also an attempt to reinvent and reconstruct a self in a new social and cultural context.
Los Angeles has a thriving art scene with Iranian artists playing a major role. What do you attribute this success to and how can it be improved?
It's extremely difficult for independent artists to thrive and to be recognized, especially in major art scenes like Los Angeles, so the community support is necessary for artists to survive.
Cultural organizations like Advocartsy and Farhang Foundation have definitely played a major role in promoting Iranian art and culture in the Los Angeles region by sponsoring art and cultural events such as art shows, talks and lectures, musical performances, plays, dances, films, etc. and by working with local cultural and academic institutions, such as LACMA, UCI, USC and UCLA.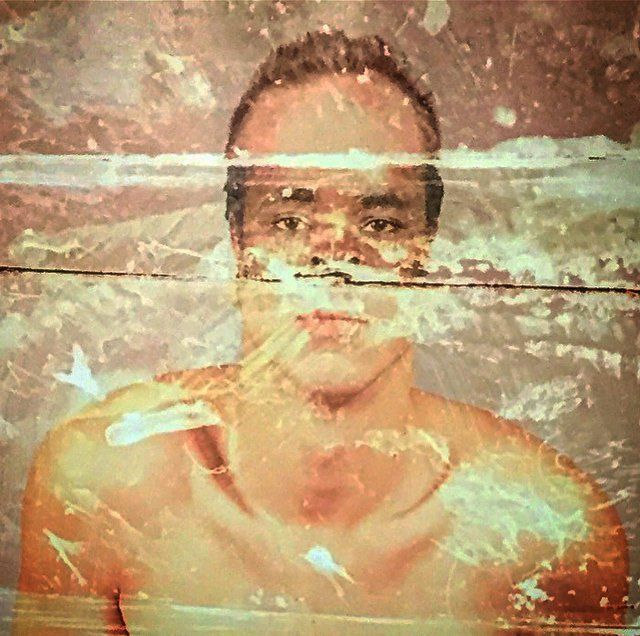 Your artworks' "immigrant themes" (confused identity, loss of home, dislocation and nostalgia) resonated well with Iranian-American attendees. What did you want people to come away understanding after viewing your art?
When I create my art, I don't necessarily think about what other people get from it. I just create what I feel based on my life experiences: identity crisis, dislocation, nostalgia, and other concepts relating to immigration have been significant themes in my art because I've experienced them first-hand and they've had a profound and lasting impact in my life as an artist and as an individual. Although these come from my personal experiences, they are universal themes that a lot of people can also relate to and understand.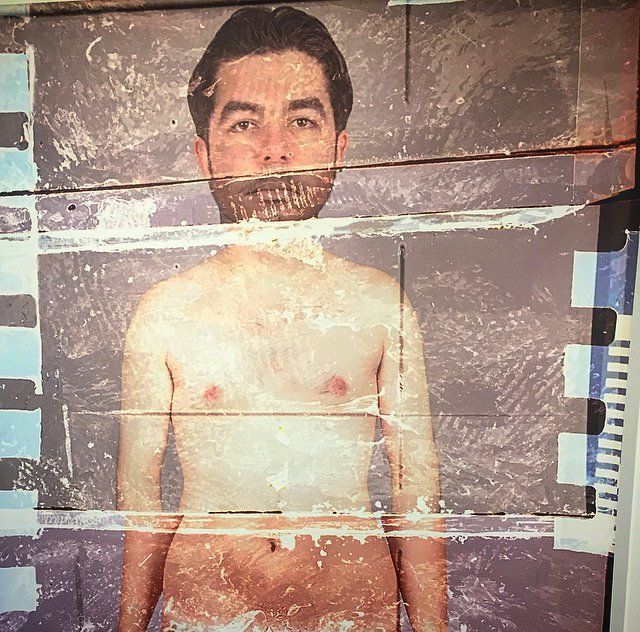 You are a multimedia artist and photographs play a big role in your art exhibits. The "Examination" display – a collage of different photos spliced together to form a single nude figure – was a big topic of discussion on opening day. What is the story behind this exhibit?
This series deals with the complexity and fluidity of identity and how it is dynamically constructed, shaped, and continually reshaped through experiences that each individual goes through. The series consists of 16 light boxes, showcasing 16 X-ray-like images.
To create each of these "X-rays," I took pictures of different people, of various nationalities, genders and ages, and cut and glued fragments of different negatives to produce a negative collage that was then printed on transparency. I made the light boxes using wood panels, Plexiglas, and florescent light bulbs. These "X-rays" reflect the composition of one whole person with aspects and attributes of other people.
In a way, these "X-rays" symbolize my close examination (hence the title Examination) of identity, as a medical doctor would examine a patient's X-ray.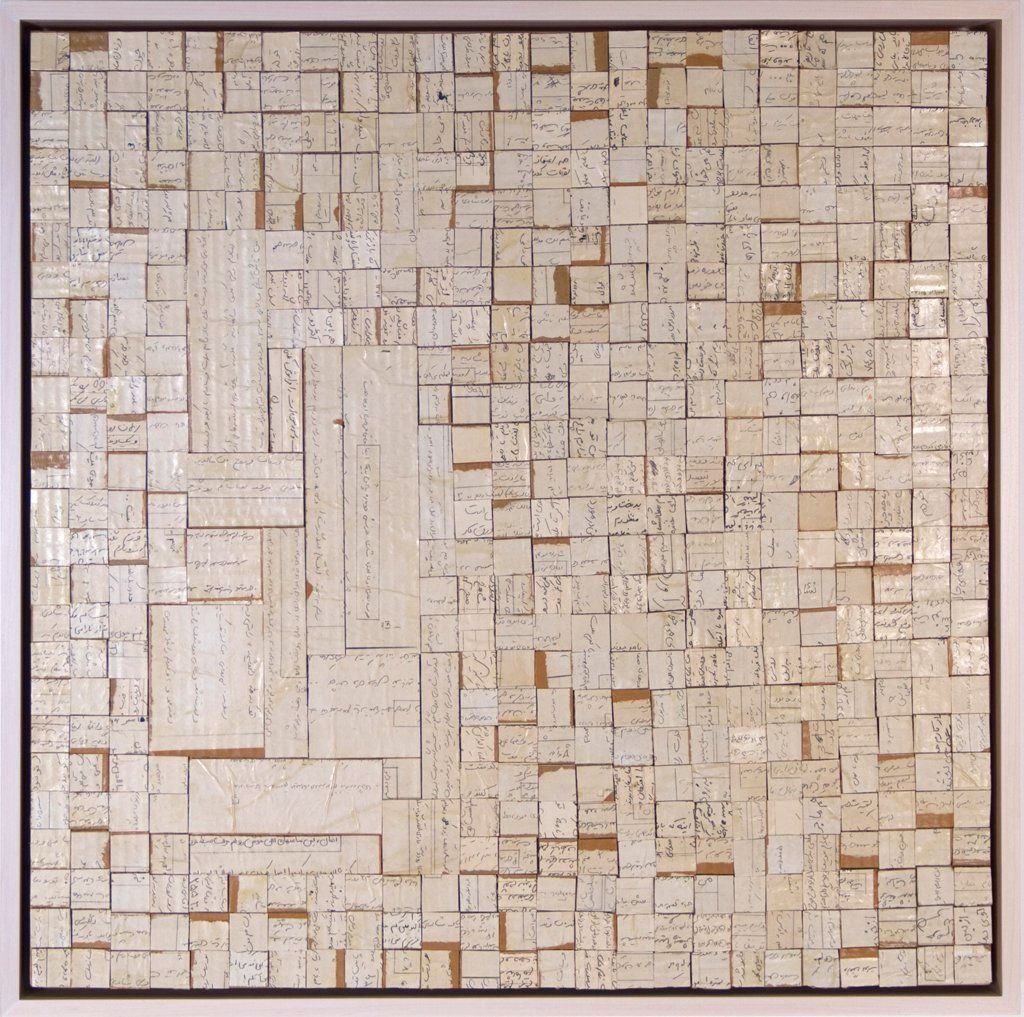 Your exhibition had some other very personal sections in it. Tell us about the "Letters, Memories, and Diaries" series. How did this concept come about and were you happy with the end results?
In the "Letters" series, my personal letters from friends from Iran are carefully cut by hand and mounted on wood by glue or with nails and are dyed in tea, coffee, wine, and soy sauce to convey the warmth of the emotions. Other letters in this series are those penned by me and sent back to Iran, which is sad, and depressing for me to read.
In these letters, I use no dye, and am simply cutting and mounting the blue handwriting on white paper to show the effect of my own emotions and moods as I adjust to a new location and culture. By cutting these letters into fragments and rearranging them in minimal compositions, I at once destroy and preserve these valuable objects; I not only highlight their meaning as part of my life as an artist, but also want the viewer to experience the distortions and reinventions of an immigrant archive.
The Memories series is based on the idea that one has to let go of aspects of the past in order to be fully present. In this series, I use photographs from old photo albums and cut out faces of family and friends that have stuck in my mind throughout the years; I separate them from the environments and elements that have faded away. These photos are then layered with sheets of transparent paper to show the fading quality, and to suggest the passage of time. While the images and faces are visible, and recognizable, they are muted, almost to a dreamlike quality so that they show that fading too is a process for the viewer. The photos, often quite small, are placed in a small plastic bag or fabric pouch, and mounted on wood panels.
In the "Diaries" series, as the title suggests, I use pages from my original diaries. These diaries (written in calendar books) contained memories and stories spanning several years of my life, starting two years before I left Iran in 1995. Carefully going through each and every page, I cut out all of my handwritten sentences with a blade, leaving only the surrounding blank space on each page, the dates on the calendar pages, as well as the important historic events printed in these pages. I inserted each page in clear plastic sleeves with a mirror film behind it. Each of the 10 pieces in the series is color-coded based on the color of the calendar that I have used. The mirror becomes a metaphor and tells each viewer his or her own unique story. In a way, these diaries are no longer my personal story; they change with each observer.
Who are your favorite artists and who or what inspires you?
It's hard to name my favorite artists since there are a lot that I like, but if I
have to mention some names I must say Agnes Martin, Hadi Tabatabai, Brice Marden, Zarina, Kiki Smith, Chiharu Shiota, Behjat Sadr, Siah Armajani, Reza Abedini, Joel Peter Witkin, Yasumasa Morimura, Monir Shahroudy Farmanfarmaian and many more.
Kayhan Life has a global audience with an emphasis on the Iranian diaspora. Do you have a message for them as well as people living in Iran?
Visual and performing arts are among the most important aspects of a nation's culture. Students of art and professionals alike need the support (both financial and emotional) from the community to be able to grow and continue creating and contributing to their culture. From covering the cost of materials (paint, brush, framing, cameras, musical instruments, recording equipment, theatre props, etc.) to being featured in galleries and performance halls, artists constantly struggle to make ends meet. I encourage art lovers to support artists in any way they can, from attending shows, plays, and concerts, to purchasing art and music albums and making donations to fundraising campaigns.
#shadiyousefian #iranianartist #advocartsy #LAGallery #modernart#multimediaartist #thespacebyadvocartsy #iamanimmigrant #diaries#photography #farhangfoundation #promotingart