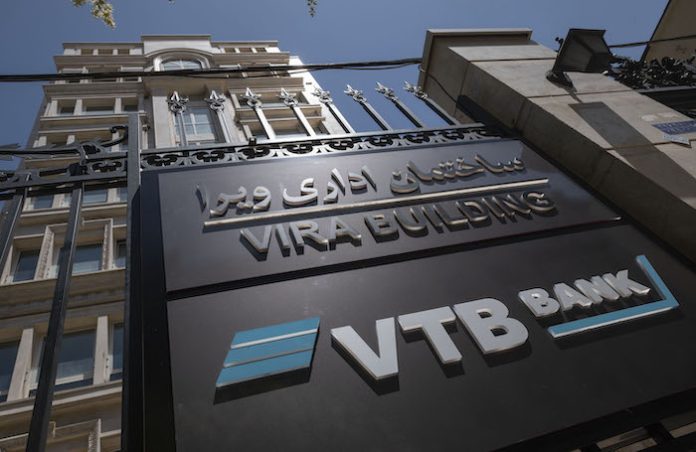 ---
May 17 (Reuters) – Russia's second-largest bank VTB VTBR.MM has opened a representative office in Iran, an Iranian official said on Wednesday, as Moscow and Tehran, both restrained by Western sanctions, seek to improve trade and transaction capabilities.
State-owned VTB plunged to a $7.7-billion loss last year as Western sanctions particularly targeted Russia's financial sector. The lender is one of many key Russian banks now blocked from the SWIFT international financial messaging service.
Ties with Iran, disconnected from SWIFT since 2018, have become ever more crucial for Russia since Moscow despatched troops to Ukraine in February 2022.
Iran and Russia Sign Rail Deal for Corridor Intended to Rival Suez Canal
The two countries have already connected their interbank communication and transfer systems, and Tehran has for months been planning to accept Russia's Mir payment cards, Moscow's alternative to Visa and Mastercard.
"The number of foreign banks' representative offices in recent years dropped from around 45 to 15, and VTB is the only bank to open its office during this period," semi-official news agency ILNA quoted Alireza Peymanpak, the head of Iran's Trade Promotion Organisation, as saying. "Due to its active presence in the banking networks of Iran's export destinations such as CIS countries, India, Vietnam and particularly China, VTB will help to attract export earnings and reduce foreign transfer costs for Iran."
A source familiar with the Iranian banking market said VTB had already opened correspondent accounts with Iranian banks.
VTB, whose CEO Andrei Kostin discussed cooperation at a meeting with Iran's ambassador last year, did not immediately respond to a request for comment.
Meanwhile, Bank of Russia Governor Elvira Nabiullina may visit Iran in the coming weeks to strengthen financial ties, a separate source told Reuters. The central bank did not immediately comment.
Dominant lender Sberbank's SBER.MM CEO, German Gref, has also discussed reinforcing ties with the Islamic Republic, but has not yet entered the market, another source said, while fellow state-owned lender Promsvyazbank, which focuses primarily on the defence sector, is already present in Iran.
Sberbank and Promsvyazbank did not immediately respond to a request for comment.
---
(Reporting by Reuters; Additional reporting by Elena Fabrichnaya; Writing by Alexander Marrow; Editing by Alison Williams)
---
Similar Articles to This Post